Cheela or Chilla are basically flavourful savoury Indian pancakes made with various kinds of flour. These desi pancakes are mostly made with unleavened batter so they are considered to be healthy. There are many kinds of chilla made in the households using various kinds of flour like oats, semolina, millet flour and even wheat flour.
Before you start making Besan ka Chilla, sieve the besan or gram flour so that the batter comes out smooth. While making the batter, mix it well and allow it to stand for five minutes, then mix again so it does not turn out lumpy. Made from gram flour, this dish is usually eaten in combination with curd, is an instant, nutritious, low calorie, protein rich recipe ideal for breakfast and snack time. Cheela can be a part of weight loss diet since it is low in calories and is also a good vegetarian protein source.
Moong Dal Chilla is a healthier alternative though. It is lighter and more nutritious in comparison to Besan ka Chilla. You can make a thin crepe with moong dal, thinly sliced onions, and half a teaspoon of oil on a non-stick. Eat it hot off the griddle, else it gets soggy, serve with fresh pudina chutney, and wash it down with a glass of jeera flavoured buttermilk or lassi.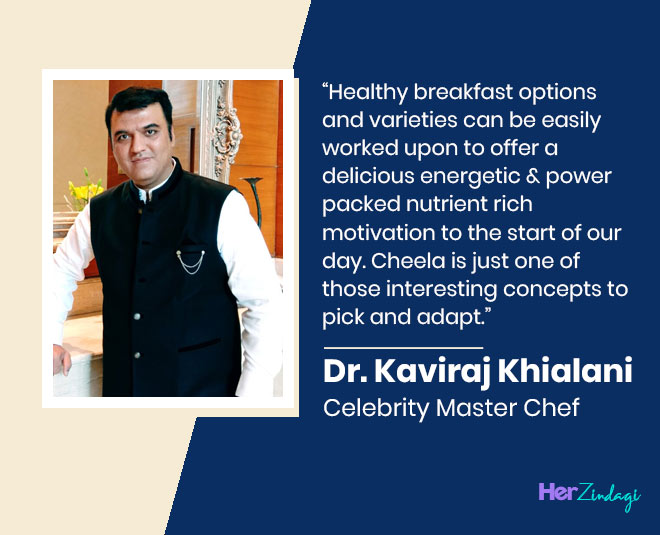 Here are a trio of easy and healthy breakfast recipes to try out & relish!
Teen Daal Wala Cheela
Ingredients:
½ Cup white urad dal
½ Cup yellow moong dal
½ Cup orange masoor dal
¼ Cup rice or 2 tbsp. rice flour
Salt to taste
1 Pinch of hing
Oil/ ghee as needed
1 Tsp green chili, chopped
1 Tsp ginger, chopped
2 Tbsp. sooji
Method
Clean and wash the dals and rice well and soak them together in 4-5 cups of water for 3-4 hours and drain the water.
Add the dals and rice to the mixer jar along with hing, ginger, green chili and add a little water and grind it to a nice paste and remove into a bowl add sooji and rice flour if not using the regular rice on top and mix well, cover and rest aside for 15-20 mins, adjust liquid content or water as needed to get the right pouring texture for your cheela mixture.
Heat a non-stick tawa, grease with a little oil or ghee and spread out the mixture and drizzle a little oil from the sides and allow to settle and cook for a few minutes.
Flip over and cook on both sides to get a nice crusty color, remove and serve hot with coconut chutney/south indian podi or ketchup.
Moong Daal Ka Cheela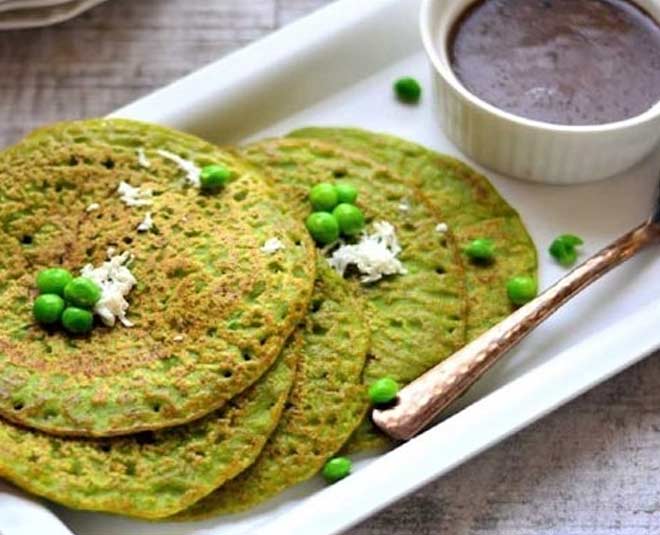 Don't miss; The Kofta Trio By Chef Kaviraj Khialani
Ingredients
1 Cup green moong dal, split or whole
1 Small onion, finely chopped
1 Tsp ginger, chopped
2 Tsp green chili, chopped
3 Tbsp. coriander leaves, chopped
2 Tbsp. rice flour
Salt to taste
Oil/ ghee as needed for cooking
1 Pinch of hing
2 Tbsp. sooji
Method
Clean and wash the moong dal well and soak in 3-4 cups of water for 2-3 hours.
Drain the dal and add it to the mixer jar. Also add in the onion, ginger, chili, coriander leaves and using a little water grind it all to a smooth mixture.
Remove the mixture into a bowl add in the rice flour, sooji, salt, hing and mix it all well.
Cover and rest aside for 15-20 mins. Using a non-stick tawa with a light greasing of oil/ghee spread out the mixture and allow to cook, use little oil as needed to cook on both sides and remove, serve hot with assorted dips/chutneys etc.
Chatpata Besan Ka Cheela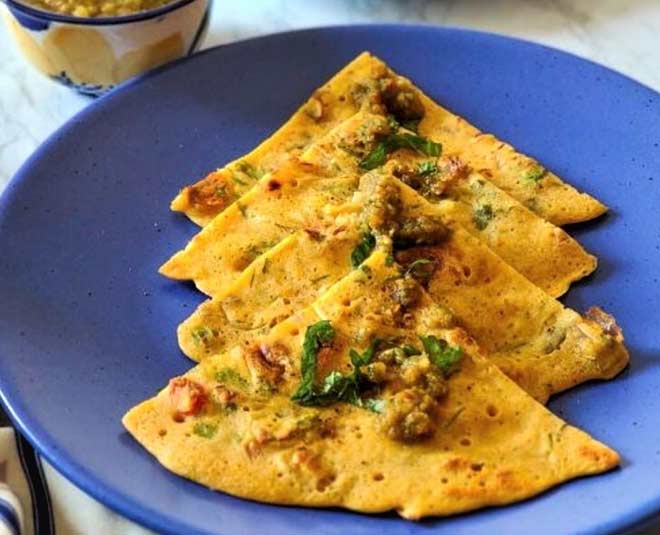 Don't miss; The Power Of Pulses; Pulsating Recipes Using The Protein Powerhouse By Chef Kaviraj Khialani
Ingredients
1 Cup besan
Salt to taste
¼ Tsp turmeric powder
½ Tsp coriander seeds, crushed
2 Tsp oil
Oil/ ghee to cook
Water as needed
1 Tbsp. rice flour
½ Tsp jeera powder
1 Small onion chopped
1 Small tomato chopped
1 Tsp green chilies, chopped
½ Green capsicum, chopped
2 Tbsp. green coriander leaves, chopped
Method

Sieve the besan, in a mixing bowl combine together the besan, rice flour along with salt to taste, all the powdered spices, little oil and make a nice thick batter to start with and allow to rest for 12-15 mins.
Now add in the veggies of your choice from onions, tomatoes, green chilies, coriander, green capsicum etc and give it a nice mix.
Adjust the texture to get it pouring by adding little water, rest for another 3-4 mins and grease a non-stick tawa with a little oil and spread out the mixture and swirl the pan to spread evenly.
Allow to cook on one side and using little oil/ghee, cook on both sides to a nice golden color and remove, cut and serve with buttered bread and tomato ketchup/chutneys.
Celebrity Chef Kaviraj Khialani has a varied experience with hotels and airlines. He is also a consultant, food designer and food stylist. For more recipes by Chef Kaviraj; stay tuned to HerZindagi.