Idli the word itself is so very inviting and appetizing to read and listen to. A popular South Indian native which is today a globally accepted preparation, simple-healthy and versatile when it comes to preparing it in its classic form to the contemporary and not to forget the fusion touch.
Idlis are basically made with rice and dal combination but today we come across a variety of grains, legumes, pulses and even superfoods being involved with idli-making concepts.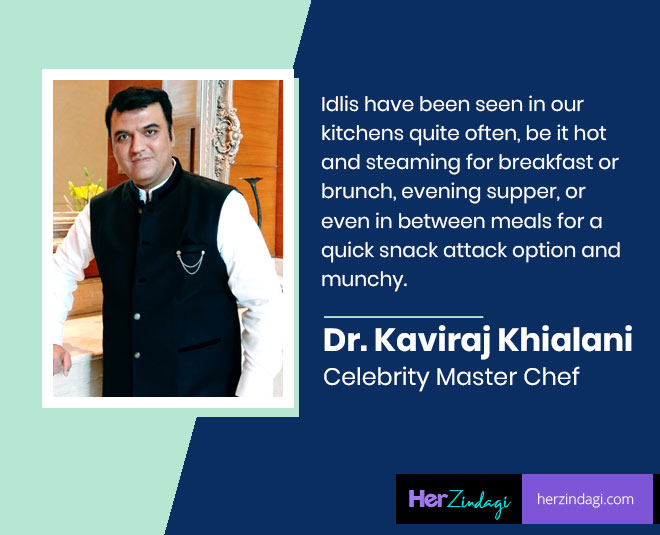 Oats, Millets, Ragi, Bajra, Quinoa, Couscous, Sago, Poha, Sooji and the likes all find themselves qualifying to be whipped and churned into that hot steamer and come out with a wondrous offering for us! Let us try defining this all time and all-day favorite delicacy Idli as I – Interesting, D- Delicate, L- Lovable, I – Innovative. While it continues to remain our most likable choice of a snacky affair we often end up making idlis a few more than we can actually compete over the dining table and be able to digest along with that chutney and refilled bowls of sambhar! There comes the question of what different and interesting to do with the leftover idlis the next day!
Here are a few ways of making tasty concoctions with varied tadka to the Leftover Idlis!
Jhatpat Tadkewali Idli
Ingredients
Leftover idlis 10-12
Oil 2 Tsp
Ghee 1 Tsp
Curry Leaves 8-10
Mustard Seeds 1/2 Tsp
Cumin Seeds 1/2 Tsp
Hing 1 Pinch
Chopped Green Chilies 2 Tsp
Ginger 1 Tsp Chopped
Onions 1 Small Chopped
Salt To Taste
Turmeric Powder 1/2 Tsp
Red Chili Powder 1/2 Tsp
Water 1/4 Cup
Coriander And Mint Leaves 2 Tbsp
Chaat Masala 1/2 Tsp/ Dried Anardana 2 Tsp
Lime Juice 2 Tbsp
Don't Miss:
Method
Prepare all the ingredients for the tadke wali idli.
Heat oil and ghee in a pan add in the ingredients from hing to the tempering ones and splutter and crackle them for a few seconds.
Add in the chilies and onions and saute them a few minutes add a little water and salt to taste.
Now add in the spices and cook for 2-3 mins, place in the idlis cut them into smaller pieces ideally and mix well.
Add coriander and mint leaves and chaat masala/anardana and cover and cook in steam for 3-4 mins, serve hot with a splash of lime juice along with a chutney.
Don't Miss: Try These Interesting Pineapple Recipes By Chef Kaviraj Khialani
Chaat Wali Idli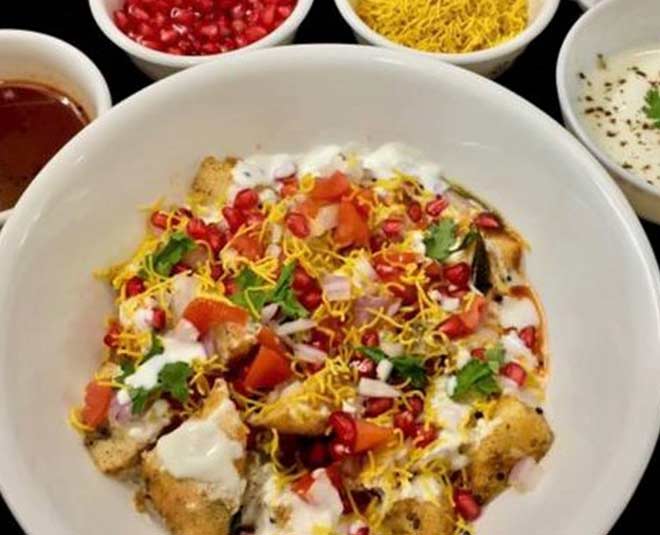 Ingredients
Leftover idlis 10-12 Cut Into Smaller Pieces And Deep Fried
For the chaat:
Curd 1 Cup Beaten (Sweet)
Tamarind Chutney 2-3 Tbsp
Green Chutney 2-3 Tbsp
Schezuan Chutney 2 Tsp
Onions 1 Small Chopped
Tomatoes 1 Small Chopped
Boiled Mashed Potatoes 1/2 Cup
Green Chilies 2 Chopped
Chaat Masala 1 Tsp
Roasted Crushed Jeera 1/2 Tsp
Mint And Coriander Leaves 2 Tbsp
Pomegranate Seeds 1/4 Cup
Sev/Papdis
Method
Prepare all the ingredients as per availability for this chaat.
Assemble the chaat ingredients and start doing the final set up on the plates just before serving.
Start with a base of little beaten curd and place a few crispy fried idlis, mashed potatoes, followed by the other ingredients to taste.
Top with the chutneys of your choice add sev, crushed papdis, some fresh anardana, mint and coriander, a splash of lime juice and a dash of chaat masala.
These kind of chaat recipes are pretty interesting for a change for the family to come together and enjoy on the dining table.
Nutkhut Idli Ka Nashta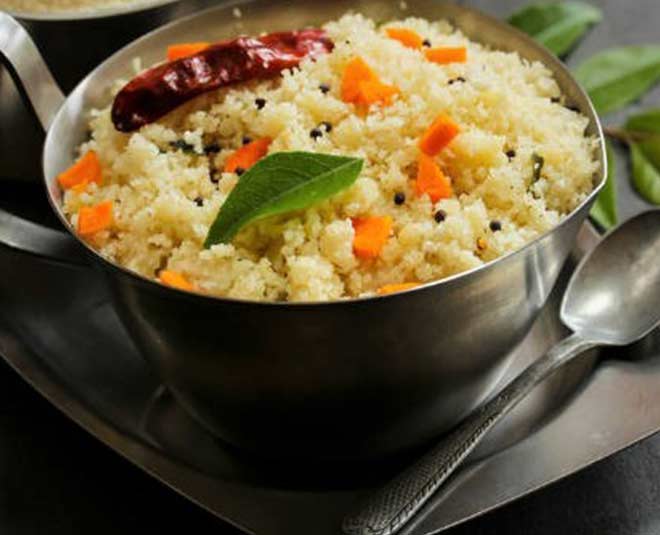 Ingredients
Leftover Idlis 10-12
Oil 1 Tsp
Ghee 1 Tsp
Curry Leaves 10-12
Slit Green Chilies 2-3
Ginger 1 Tsp Chopped
Onion 1 Small Chopped
Tomato 1 Small Chopped
Salt To Taste
Water 1/4 Cup
Turmeric Powder 1/2 Tsp
Red Chili Powder 1/2 Tsp
Fresh Grated Coconut 2-3 Tbsp
Coriander Leaves 2 Tbsp
Amchur Powder 1/2 Tsp
Roasted Crushed Peanuts 2 Tbsp
Lime Juice 2 Tsp
Assorted Veggies Like Cubes Of Boiled Carrots And Peas Etc.
Method
Prepare all the ingredients for the idli ka Nashta recipe.
Heat oil and ghee in a pan add in the ingredients for the tadka followed by onions, ginger, chilies and tomatoes.
Add in little water to prevent burning, add in the boiled vegetables of your choice and in goes the idli which has been processed to a coarse powder in the mixer jar.
Now add in some salt, turmeric, amchur and red chili powder, add in the fresh coconut, peanuts and toss it all well.
Cook the mixture for 2-3 mins and add coriander leaves and a splash of fresh lime and serve hot.
Tak-A-Tak Idli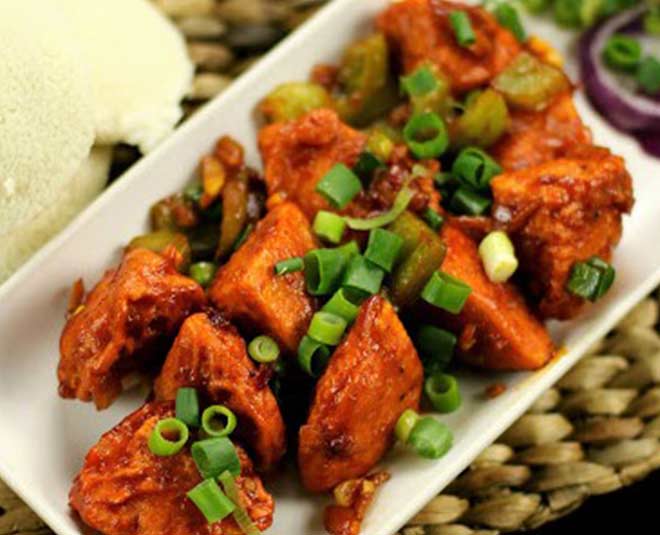 Ingredients
Leftover Idlis 10-12
Oil 1 Tbsp
Ginger-Garlic- 2 Tsp Mix Chopped
Green Chili 2 Tsp Chopped
Spring Onion 2 Tbsp Chopped
Capsicums 1 Small Chopped
Water 1/2 Cup
Soy Sauce 2 Tsp
Red Chili Sauce 2 Tsp
Green Chili Sauce 2 Tsp
Boiled Sweet Corn 1/2 Cup
Salt And Crushed Black Pepper To Taste
Corn Flour And Water Solution 2 -3 Tbsp
Coriander Leaves 2 Tbsp Chopped
Spring Onion Greens 2-3 Tbsp Chopped For Garnish.
Method:
Cut the leftover idlis into smaller pieces and deep fry them until golden browned, drain and keep aside.
Heat oil in a kadai add in the ginger, garlic, chili, onions and saute well for 2 mins, add in the capsicums and water, sauces, salt and pepper to taste.
Bring to a boil add in the corn flour solution thicken the sauce and add coriander leaves, the fried idlis and mix well cook for 2 mins.
Serve hot garnished with spring onion greens and serve with schezuan sauce.
Stay tuned to HerZindagi for more such recipes by MasterChef Kaviraj Khialani who is a food writer, food designer, author, consultant, and creative cuisine specialist. He has varied experience with hotels and airlines