A hugely popular Chinese dish, Chilli Potato is crispy, juicy and full of flavours that will force you to lick your fingers! With a zing of soya sauce, green chilli sauce, sautéd with capsicum and spring onions, Chilli Potatoes are the perfect snacks to binge on. What's more? They are so easy to make that once you learn how to cook it, you'll be tempted to throw it together every chance you get.
Ingredients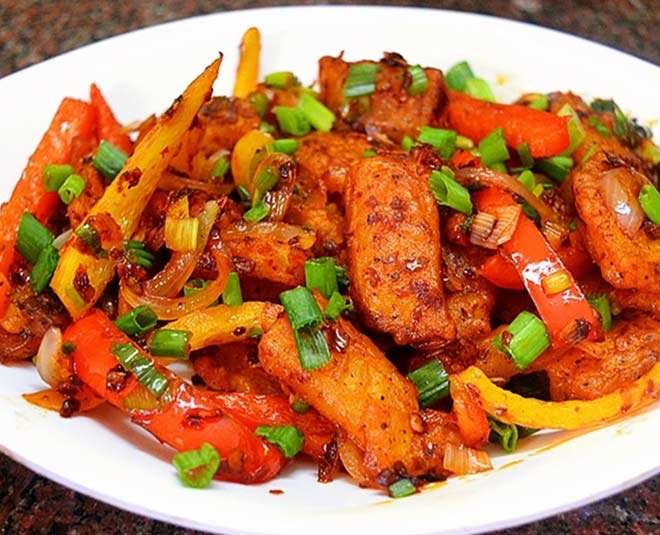 For Batter
¼ cup of cornflour
¼ cup maida
¼ tsp salt
1 tsp chilli powder
4 medium-sized potatoes
Pepper
Water
For Sauce
1 tbsp oil
1tsp chopped garlic
1 chopped onion
1 tsp soy sauce. Buy LEE KUM KEE Light Soy Sauce here at a discounted price of Rs 285.
½ cup chopped capsicum
1 tbsp red chilli sauce
1 tbsp green chilli sauce
2 tsp vinegar
2 tbsp ketchup
1 tsp chilli powder
1 tbsp cornflour slurry
A pinch of salt
Directions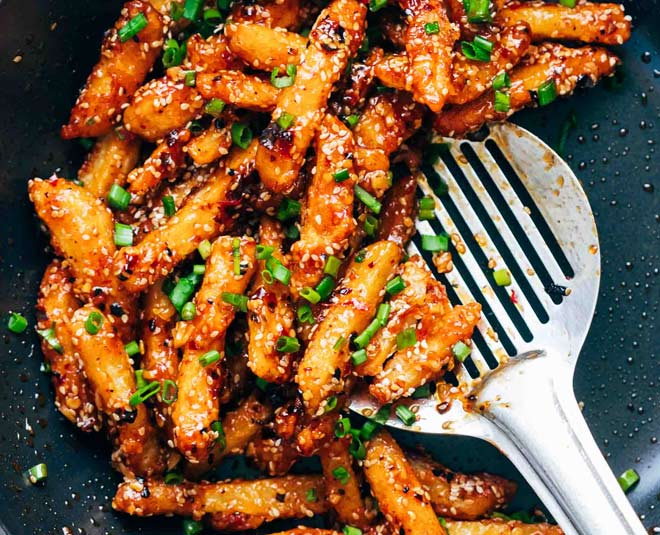 Cut the potato into long pieces
Mix cornflour, maida, salt, pepper powder and red chilli powder in a bowl. Buy Healthvit Natural Cornflour here at a discounted price of Rs 189.
Next, add water and make a thick paste.
Dip the chopped potato slices in the batter and make sure they are finely coated.
Now, heat oil in a heavy-bottomed pan and deep fry the potatoes on medium flame till golden brown and crisp. Buy Prestige Omega Non-Stick Fry Pan here at a discounted price of Rs 890.
Do not fry on high flame otherwise, they will burn from outside and remain uncooked from inside.
For Sauce
Heat oil and add garlic, chopped onion. Stir well until onion turns golden brown.
Now add chopped capsicum, red chilli sauce, green chilli sauce, soy sauce, ketchup, and vinegar. Mix all the ingredients well to make a sauce.
Add cornflour slurry, water and let the mixture cook.
Once the sauce is ready, add the fried potatoes and coat them well with the sauce.
Toss well and sprinkle the chopped coriander and chilli powder.
Combine the ingredients well and serve the hot, crispy chilli potatoes immediately!
So, try this recipe and share your experience with us.