8 Tips To Make Healthy Food Choices At A Chinese Restaurant
Like to feast on Chinese food but are worried about the calories? With the below-given tips enjoy your favourite cuisine in a healthy way.
Chinese foods undoubtedly taste appetizing but can be hard on your health. Most of it is deep-fried, loaded with salt, and soaked in sauces. It might be difficult to let go of this flavoursome food once and for all but you can make some healthy amendments to your food choices. If you too are a Chinese food fan and want to consume it in a healthier way, then here are some dining tips you can adopt the next you are at a Chinese food joint:
Opt for steamed dishes
Foods like steamed dumplings and steamed fish not only taste scrumptious but will also save you from consuming extra calories. You can also order steamed vegetables and pair them up with other side dishes.
Don't Miss: Craving For Chinese Food? Visit These 5 Restaurants In Delhi
Begin With Soup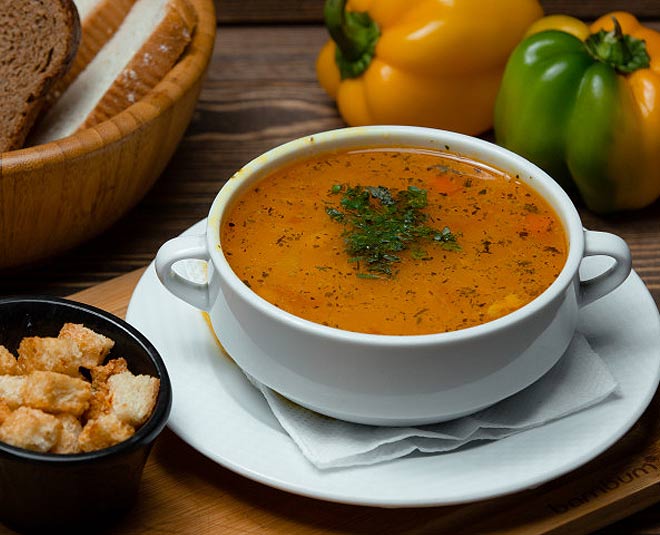 Soups are probably the best starters because of their health benefits. You must always begin your dining with a soup, which has a vegetable base instead of a cream base. You can opt for manchow soup, sweet corn soup, or vegetable soup. They will help you fill up partially so that you have a lighter main course.
Small Portion Of Creamy Curries
Chinese foods have a large variety of options right from steamed and fried to cream and saucy foods. Usually, Thai curry is prepared with loads of coconut cream and is high in calorie content. If you do not wish to avoid it totally, what you can do is reduce your portion size. Take a small amount of curry and pair it with rice and steamed vegetables for a healthier combo.
Ask To Serve Sauces On The Side
Usually, Chinese food is drenched in different types of sauces such as soy sauce, red chili sauce (Spicy Schezwan Chutney Recipe), green chili sauce, black vinegar, and many more. You can always ask them to serve the sauces on the side so that you are able to manage the quantity of sauce in your food. You add your sauce separately and make sure you don't go overboard with it.
Eat Vegetable Ridden Dishes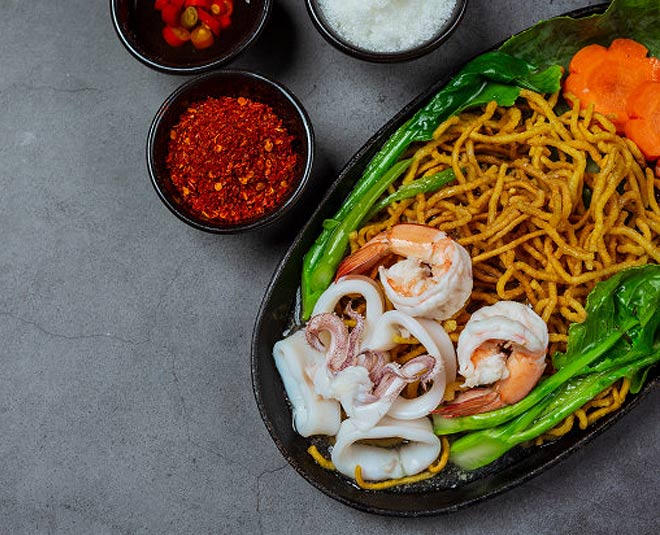 Even while ordering fried rice (Restaurant Style Fried Rice Recipe) or noodles, make sure you have an optimum quantity of vegetables in them. Vegetables will balance out the amount of fried food you consume and will ensure that you eat healthy. Always order in some vegetable dishes to maintain a balance of different food items you eat.
Fresh Fruit Juice Instead Of Sugary Drinks
You might feel like drinking a can of cold drink along with your noodles or rice. Make sure you make a sensible choice here and go for fresh fruit juice or lime juice. Sugar loaded drinks like soft drinks and sodas provide no benefit and only add up to your calories. Fresh fruit juice will help in cutting down on calories and will be a natural sweet in itself.
Don't Miss: Give Your Veg Momos A High-Protein Touch With This Easy Soya Bean Momo Recipe
Use Chopsticks While Eating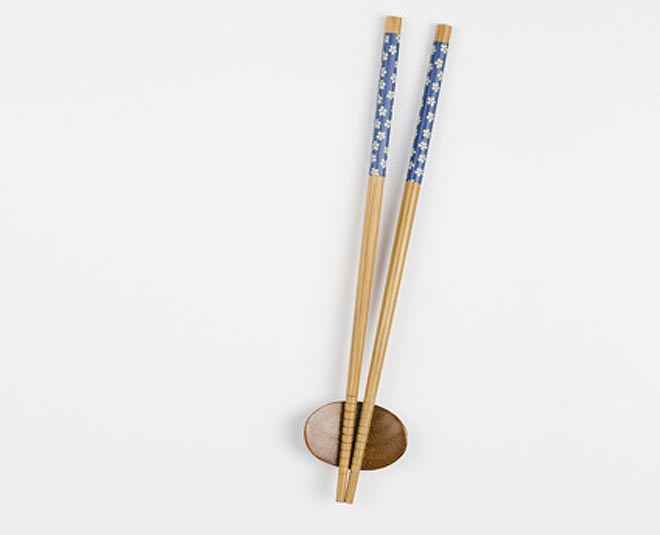 Eating with chopsticks is a smart way to reduce your portion size. Compared to spoon or fork, chopsticks usually take more time in finishing the food, as it picks up less food in one go. It will help you in savouring the food for more time and will prevent you from eating extra sauces at the bottom of the dish.
Resist Sugar Cravings
It is natural to crave something sweet at the end of your meal. If you cannot resist your sugar cravings, you must have a smaller portion of your main course in order to accommodate some desserts. You can have healthier desserts such as fruit tarts and fruit sundae, instead of having ice creams and brownies.
For more such articles, stay tuned to Her.Zindagi.com
Recommended Video