Want to make something different and exotic this Holi? We have some recipes dolled out from the house of Sahara Star which is a twist to your regular Holi must-haves and they are bound to impress your guests. Even if you are alone, make it for yourself, pamper yourself, why be dependent on people for happiness and such little joys? Go ahead try them out and let us know which one you gave a shot to as well on our Facebook Page!
Chaas Pannacotta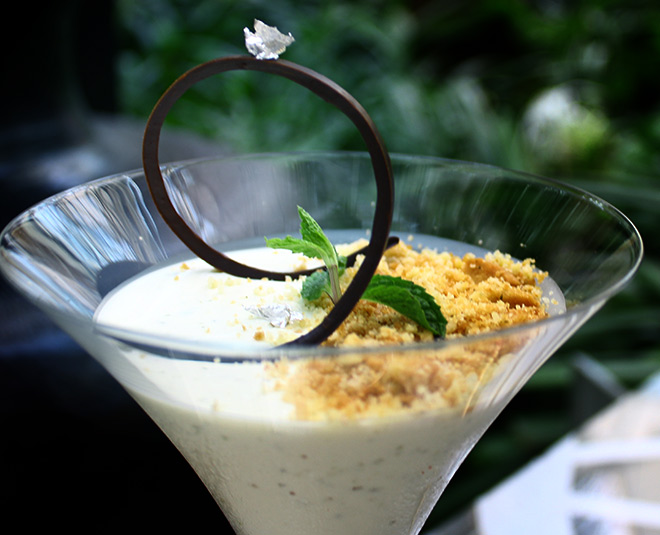 Ingredient:
500 ml buttermilk
250 ml fresh cream
1 lemon zest
100 gm sugar
4 leaves gelatine
Method:
Bloom the gelatine in cold water.
Bring the cream with lemon peel and heat.
Add the bloomed gelatine and let gelatine dissolve.
Rest the mixture to chill.
Add the blended chaas to the cream mixture and blend well.
Fill the mould evenly and refrigerate to set.
Serve cold with garnish.
Crab Mango & Raw Papaya Salad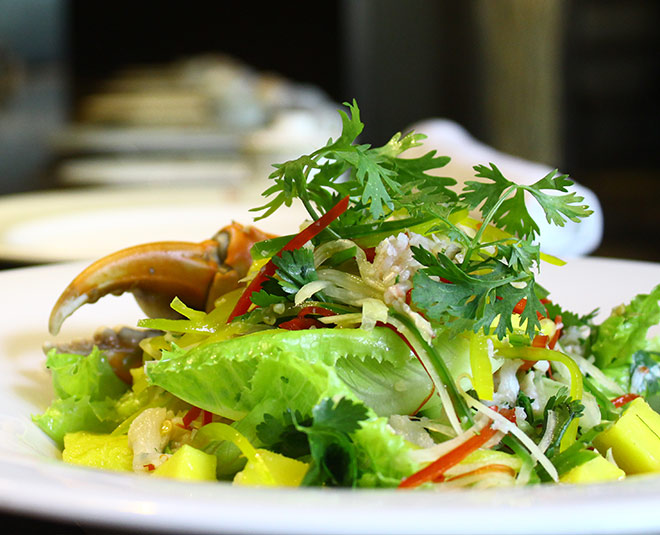 Ingredients:
60 gm ripe mango
30 gm raw papaya
20 gm red bell pepper
20 gm yellow bell pepper
Lettuce
Crab meat
Coriender leaves
For Dressing:
8 gm ginger
5 gm garlic
1 red chilli
5 gm coriander
10 ml sweet chilli sauce
1 tsp fish sauce
Half lemon's juice
salt to taste
Method:
Cut ripe mangoes in cubes.
Make julienne of bell pepper and raw papaya.
Cut coriander in sprigs.
Steam crab for 10 min and remove meat.
Wash cos romaine baby hearts and refresh bell pepper julienne and papaya in cold water.
For Dressing:
Chop ginger garlic red chilli coriander finely add sweet chilli sauce fish sauce, squeeze fresh lemon, season with salt.
In a bowl add lettuce bell peppers, crab meat, toss with dressing add coriander sprigs and mango cubes mix lightly and place in platter garnish with coriander.
Gujia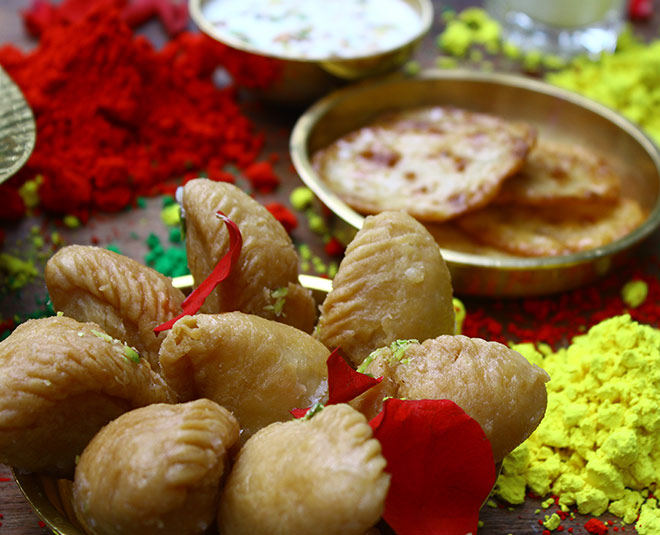 Ingredients:
For Dough:
4 cups all-purpose flour
1/4 tsp salt
1/2 cup water
2 tsp ghee
For Gujiya Stuffing:
200gms Mawa
1/2 tsp ghee
10 gms raisin
1/3 cups sugar
1 pinch cardamom powder
25 gms chironji
For Sugar Syrup:
500 ml water
300 gms sugar
For Garnish:
25 gms pistachio slice
Pinch saffron
Don't Miss: This Is How You Can Avoid Weight Gain During Holi
Method:
Take a bowl, add flour, ghee and water to make a soft dough.
To make the dough soft, knead well by sprinkling some water. Once the dough becomes perfect consistency, keep it aside for 60 minutes. In the meantime, take a deep fry pan then saute khoya till it turns golden and keep it aside to cool.
Add sugar, green cardamom and chironji to the cooled khoya and mix well. To make this stuffing even more delicious add some dry roasted nuts and raisins, this will add a nice crunch to the Gujiya recipe. Moving on to the next step, take two drops of ghee or refined oil and spread it well on your palms.
Then make small round balls from the dough and make a cup-like-space in the balls to fill the stuffing. After adding the filling seal corners in such a way that it secures the stuffing while frying the Gujiya. Roll the sides as per your choice of pattern.
Heat ghee in a pan over medium flame. Fry the Gujiyas till golden brown from all the sides.
Place the gujia in sugar syrup for 5 minutes.
Garnish it with some saffron strands and sliced pistachios.
Now get going with your chef mode on and slay this Holi. Stay tuned to HerZindagi for more such fun recipes.