It's always good to have a varied choice of ingredients on our plate be it the fresh pick of the day or a simple meal.
Sprouts is one of my all-time favorite choices to work with, be it for breakfast or an evening snack or a quick toss salad in minutes, it has always been a value added pop in since it has a bunch of beneficial qualities which can help us to stay fit and be healthy.
I often came across guests who loved sprouts in various forms and would love one of your meals per day to include a good handful of them at their best, ideally not to be cooked too much. Having tried a number of legumes and pulses in their sprouted form not only added a bit of spark into the new format of the dishes but also offered a single new variety per day to add into the recipes and present something better than the previous day.
For most of us sprouts start from the green moong sprouts to the long Chinese version of the sprouts which go well into spring rolls, stir fries and noodles.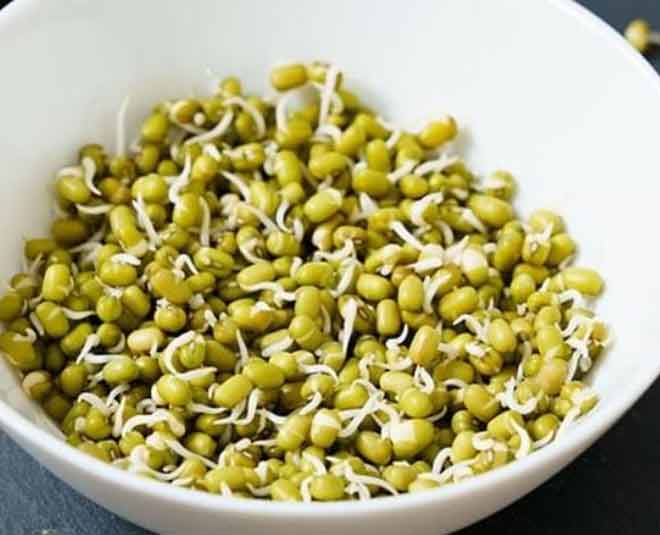 Health Benefits Of Sprouts
To list a basic variety of sprouts from the moong, alfalfa, lentil sprouts, kidney bean sprouts, soybean sprouts, wheat sprouts to the black eyed bean sprouts and the like there is a whole lot of variety available.
Sprouts are rich in folate, a good choice for pregnant women.
They also prevent constipation and keep the track clear.
They are rich in fiber, vitamins like A, C, K making it a great source of nutrients
Sprouts are also rich in omega-3 fatty acids, zinc, magnesium, iron and calcium.
It is a rich source of enzymes and essentials to good health.
Sprouts also assist a lot in weight loss management, helps lower cholesterol.
Is a good immunity boosting ingredient, low in fat content.
It is also beneficial for our eyes, skin and bones, they not only increase the blood circulation but also prevents thickening of the blood.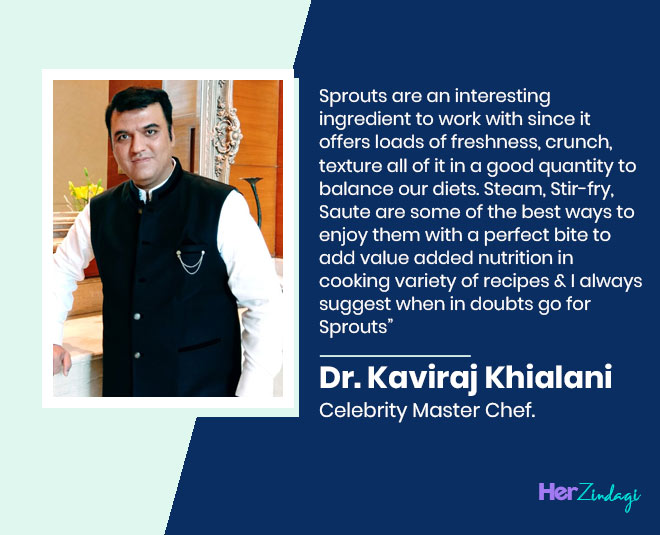 Culinary Uses Of Sprouts
Most of us love sprouting our own varieties of sprouts and it's fun to wait and see them germinate and grow in a muslin cloth. Growing your sprouts is actually quite easy.
Chickpeas, red lentils like orange masoor, usal and other varieties are quite popular with us in Indian cooking as well.
Sprouts can be added into soups, ideally the clear ones.
Tossing them up in a combination fashion in a light lemon, honey, ginger dressing and few bits of fresh fruits, tomatoes etc on a bed of crispy lettuce is good to go.
Some like it steamed a little as well with some add on flavors like fresh basil, nuts, a few spices, sauces etc.
They are a good option to add into various stir fry recipes from the Chinese, to the Malaysian stir fry, the Mongolian hot pot also includes a good crunch from the sprouts.
I also like to add them into a Buddha bowl, the Burmese Khow-Suey and also into Thai curries as they just give me that perfect touch of crunch in them.
Sprouts in a simple egg fried rice with spring onion greens taste good too.
Thay can also be used as ingredients with cream cheese in mini cocktail samosas, veg cigars, stuffing for parathas etc.
Sprouts in a raita format with crushed peanuts and mint leaves with a touch of roasted crushed jeera is just awesome.
Add a few sprouts to a coconut based Indian style curry and have it with steamed white rice, it's amazing.
Sprouts with fresh methi in a pulao or a steamed rice preparation with tomato rice tempered with curry leaves and mustard seeds is simply awesome to have with a bowl of rasam.
Here are a couple of my recipes for our readers to try out and enjoy the spirit of the sprouts!
Nutri-Rich Sprouts Toss Salad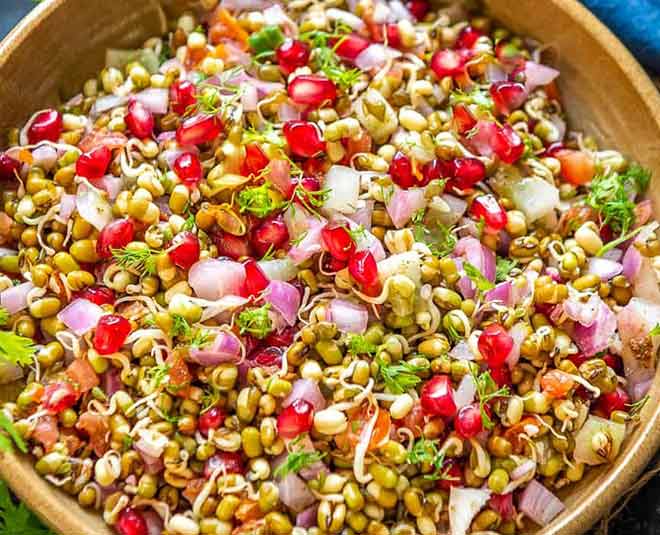 Ingredients
Green moong sprouts/ or any of your choice- 2 cups,
washed and steamed for 2 to 3 mins- optional.
For The Base Of The Salad
Assorted lettuce leaves- 2 cups
For The Body Of The Salad
Assorted sprouts- 2 cups
Green/black grapes- ½ cup sliced
Mint leaves- 10-12
Apple- ½ apple in cube
Cucumber- ½ cucumber in cubes
Tomato- ½ tomato in cubes
For The Dressing
Lime juice- 2 tbsp.
Black salt/ pink salt- 1/2 tsp
Orange segments- ½ cup
Olive oil-1 tbsp.
Honey- 1 tbsp.
Flaxseeds/ chia seeds/ pumpkin seeds- 1 tsp of your choice
For The Garnish Of The Salad
Pomegranate seeds-1/2 cup
Black/green olives- 2 to 3 for garnish
Method
Prepare all the ingredients for the salad.
In a salad bowl, combine together the sprouts with the other parts of the body of the salad.
Add in the ingredients for the dressing and toss well.
Prepare a bed of crispy lettuce leaves and portion it out.
Add seeds/leaves or garnish as per choice and serve.
Chefs Variations:
For non-veg- can try boiled cubed eggs, sliced chicken sausages, ham or salami.
Also try adding saute prawns, lobster or crab meat as well in a salad with sprouts for a nice texture and crunch.
Also try using a little garlic and ginger/ lemongrass/ basil and other fresh herbs as a part of the dressing.
Moong Sprouts Bemisaal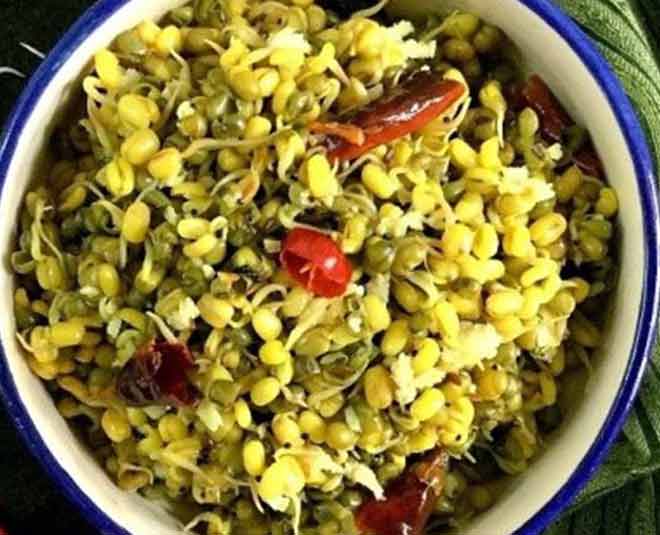 Ingredients
Sprouts- 2 cups, assorted/ of your choice.
Olive oil- 2 tbsp.
Garlic-1 tsp chopped
Dry red chilies-1-2
Lemon grass- 3 to 4 pieces
Red/green/yellow bell peppers- ½ each, cut into thin slices
Shallots- 4 to 5 shallots peeled and cut into quarters or use onions
Broccoli- 4 to 5 florets blanched
Yellow zucchini- ½ cups in cubes
Salt and pepper to taste
Turmeric powder-1/4 tsp
White vinegar-1 tsp
Soy sauce- 1 tsp
Cherry tomatoes - 1-2
Red chili sauce- 1 tsp
Mixed herbs- 1 tsp
Roasted crushed peanuts- 2 tbsp.
Spring onion greens- 2 tbsp for garnish.
Method
Prepare all the ingredients for the tossed recipe.
Heat oil in a pan, add in the shallots, red chilies, onions and cook for 20 seconds, add in the veggies, sprouts and seasonings, sauces and toss well.
Cook on a medium high flame for 3 to 4 mins, add seasonings, turmeric etc as per taste and mix, cook for 3-5 mins.
Add in the peanuts and spring onion greens, cherry tomatoes, and serve hot.
Chefs Variations
Try adding sliced boiled chicken into the toss recipe.
Prawns, fish, assorted seafood also works well.
Marinated tofu or paneer can be a good choice too.
Try adding a little brown sugar and little schezwan sauce in the same dish.
Desi Tadke Wale Sprouts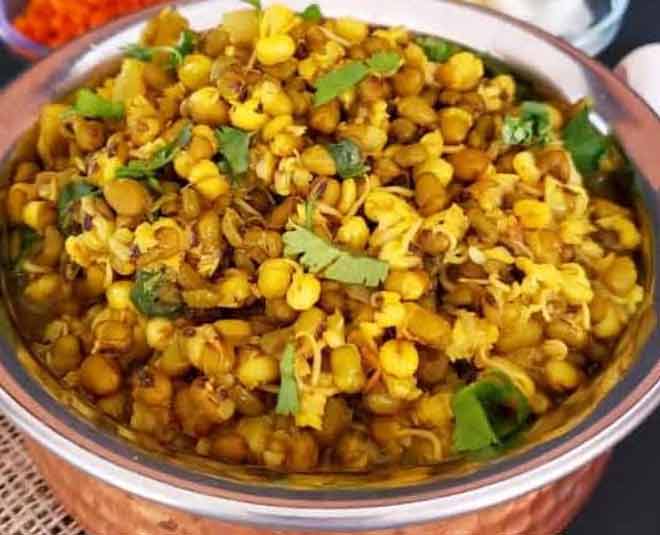 Ingredients
Moong/green sprouts- 1 and a half cup, washed.
Oil- 1 tsp
Ghee-1 tsp
Hing-1/4 tsp
Mustard seeds-1/2 tsp
Cumin seeds-1/2 tsp
Curry leaves- 3-4 no
Slit green chilies- 1-2 no
Dry red chilies-1-2 no
Onions- 1 small onions chopped
Ginger-1 tsp ginger chopped
Garlic- 1 tsp garlic chopped
Tomatoes-1/2 cup of tomatoes chopped
Salt to taste
Red chili powder-1/2 tsp
Turmeric powder-1/4 tsp
Coriander powder- 1 tsp
Water-1/2 cup
Grated coconut-1/4 cup
Fresh coriander leaves- 2-3 tbsp; chopped
Lime juice- 2- 3 tsp
Method
Prepare all the ingredients for the desi tadka sprouts.
Heat oil and ghee and saute the spices, adding them one by one into the pan and allow to crackle and splutter for a few seconds.
Add in the onions and saute until pink and add little water as needed to soften them well. Add in the chopped tomatoes and all spices, salt to taste and cover and cook for 5-7 mins on low flame.
Now add in the sprouts and mix, simmer and cook for 8-10 mins and finally add in the coconut, coriander, lime juice and serve it hot.
Chefs Variations
Try the same sprouts variety by adding fresh garden veggies like cubes of carrots, beetroot, sweet potatoes, capsicums.
I also prefer to add a few assorted sprouted pulses as well in the same recipe to add more color, crunch and mouthfeel.
Also try the same recipe in a curried form by adding fresh coconut milk into this recipe and have it with steamed rice, phulkas or brown rice.
Celebrity Chef Kaviraj Khialani has a varied experience with hotels and airlines. He is also a consultant, food designer and food stylist. For more recipes by Chef Kaviraj; stay tuned to HerZindagi.
Did you like this article ?
Disclaimer
Your skin and body like you are unique. While we have taken all measures to ensure that the information provided in this article and on our social media channels is credible and expert verified, we recommend you consult a doctor or your dermatologist before trying a home remedy, quick hack or exercise regime. For any feedback or complaint, reach out to us at compliant_gro@jagrannewmedia.com