As we are getting more careful and wise about our diet patterns these days and want to be modifying a few of our recipes as well be it daily cooking recipes or foods for special occasions there is a need to pick and choose a few beneficial grains, pulses, veggies, fruits and other categories of foods as well. Brown rice is a whole grain.
That means it contains all parts of the grain including the fibrous bran, the nutritious germ and the carb-rich endosperm. White rice, on the other hand, has had the bran and germ removed, which are the most nutritious parts of the grain. This leaves white rice with very few essential nutrients, which is why brown rice is usually considered much healthier than white.
Benefits Of Brown Rice
Brown rice has a big advantage over white rice when it comes to nutrient content. This type of rice has more fiber and antioxidants, as well as a lot more important vitamins and minerals. White rice is mostly a source of "empty" calories and carbs with very few essential nutrients. Man of the nutrients in brown rice help keep your heart healthy. It's a rich source of dietary fiber, which can reduce your risk of death from heart disease. Brown rice also contains high levels of magnesium, which can help make you less vulnerable to heart disease and stroke.
Recent times have shown us the importance of health over everything else and that's one of the reasons in an endeavor to share something healthy and wholesome we have a few easy-to-make tasty brown rice recipes for our readers to try and stay fit and healthy!
Healthy Herbed Brown Rice Salad
Image Credit: chef kaviraj khialani
Ingredients
Brown Rice- 2 Cups Cooked/Boiled.
Oil-2 Tsp
Garlic- 1 Tsp Chopped
Onion- 1 Small Chopped
Assorted Vegetables- Carrots/Beans/Cauliflower/Peas Etc -1 Cup Mix Should Be Cut And Boiled.
Salt And Pepper To Taste
Mushrooms- 4-5 Sliced
Sweet Corn-1/2 Cup Boiled
Fresh Herbs- 2-3 Tbsp. Like Parsley/Basil/Coriander/Mint
For The Dressing Of The Rice Salad:
Lime Juice- 2-3 Tbsp.
Brown Sugar- 1 Tsp
Salt And Pepper To Taste
Grated Jaggery-2 Tbsp
Peanut Butter-2 Tsp
Chili Flakes-1/2 Tsp
Roasted Crushed Peanuts-2 Tbsp
For The Garnish:
Fresh Pomegranate Seeds-1/2 Cup
Boiled Eggs/Boiled Or Roast Chicken Pieces/Fish Can Be Used.
Assorted Greens/Seeds/Nuts For Garnish.
Method:
Assemble all the ingredients for the salad recipe.
Heat oil in a pan add in the garlic and onions and saute for 2 mins, add in the vegetables and cook for 2-3 mins, add salt, pepper and mix well remove and keep aside.
In a pan warm together the ingredients for the dressing for 2-3 mins and remove keep aside.
Just before serving in a large mixing bowl combine together the cooked brown rice with the vegetables and prepared dressing and toss it well.
Serve it in a salad bowl and garnish with non-veg ingredients if desired or nuts/seeds/greens or fresh pomegranate seeds.
Add in the cooked brown rice and sauces as per taste and mix well on a high flame for 1 min and cook on a low flame for 3-4 mins.
Check for taste and adjust accordingly and serve the fried rice hot garnished with spring onion greens and roasted crushed peanuts.
Don't Miss- Chef Kaviraj Khialani Shares Some Scrumptious Soya Wadi Recipes
Veggie Brown Rice Cutlets
Image Credit: chef kaviraj khialani
Ingredients
Brown Rice- 1 Cup Cooked/Boiled And Crushed.
Oil-2 Tsp
Ginger-Garlic-Chilli Paste-1 Tsp Mix
Onion-1 Small Chopped
Green Chillies-1 Tsp Chopped
Capsicum-1/2 Chopped
Salt And Pepper To Taste
Mixed Herbs And Chilli Flakes To Taste
Cheese-2 Tbsp. Grated
Coriander Leaves-2 Tbsp. Chopped
Garam Masala Powder-1/2 Tsp
Chaat Masala Powder-1/2 Tsp
Boiled Mix Vegetables Like Carrots/Beans/Peas Etc- 1 Cup Mix Boiled And Mashed.
Maida/Cornflour/Bread Crumbs As Needed For Binding And Coating The Cutlets.
Boiled Mashed Potato-1/2 Cup
Oil To Deep Fry/Shallow Fry The Cutlets.
To serve with: tomato ketchup, chutney, dips, mayonnaise etc.
Method:
Assemble all the ingredients for the brown rice cutlets.
Heat oil in a pan and saute the ginger-garlic-chili paste, plus chilies along with onions for 1 min.
Add in the boiled mashed vegetables, salt, pepper, herbs, chili flakes, add in the masalas and mix well, cook for 2-3 mins.
Add in the cooked crushed rice and mix well. Add some boiled mashed potato and coriander leaves and remove them into a thali or plate and cool slightly.
Start shaping up the cutlets into a nice shape of your choice and dip in maida water batter and coat with dry bread crumbs and deep fry to a nice golden brown color and serve hot.
Nutty Brown Rice And Date Sweet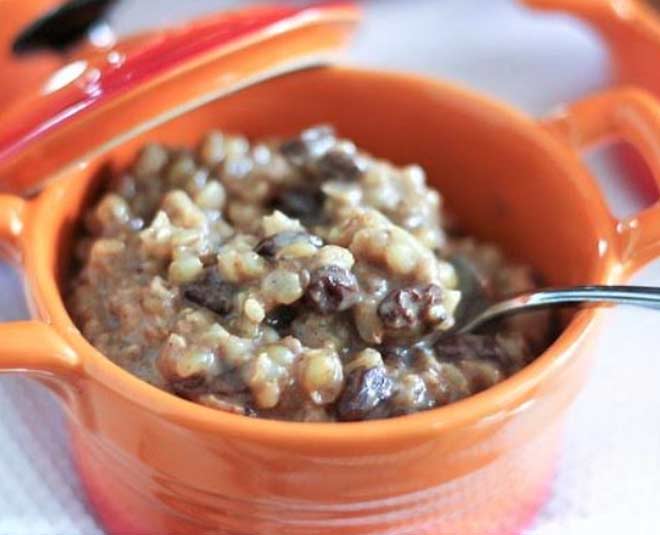 Image Credit: chef kaviraj khialani
Ingredients:
Brown Rice-1 Cup Boiled-Cooked And Mashed.
Milk- 750 Ml
Green Cardamom-2-3 No.
Cinnamon Stick-1-Inch Piece
Sugar/Jaggery As Per Taste.
Dates-3-4 Chopped
Almonds/Cashews-2 Tsp Chopped
Ghee-2 Tsp
Flax Seeds/ Sunflower Seeds/Melon Seeds- 2 Tsp
Assorted Fresh Seasonal Fruits Like Plums/Peaches/Custard Apple Etc Can Also Be Layered With The Dessert And Served.
Method:
Heat ghee in a pan add in the cinnamon and green cardamom and add in the rice and cook for 1-2 mins.
Add in the sweetener of your choice and mix well.
Now add in the boiled milk and dates and stir it all properly.
Allow the sweet to cook on a low flame for 15-20 mins.
Check for the texture and sweetness and turn off the flame.
Serve the sweet dish warm add chopped dates and nuts into it and choice of seeds as well and serve.
Don't Miss- Interesting Recipes To Prepare With Peas By Chef Kaviraj Khialani
On a Concluding Note: We do have to accept certain changes in life at times without being very choosy on what is coming our way and when it comes to health we surely should have no two ways about it. It becomes imperative to follow our mind, heart and soul in one direction and that is giving ultimate and immediate importance to what we eat and how we cook at the same time the kind of balance we create in our life with a little time being spent on self-well-being and also to towards achieving the correct path towards a life well spent on the whole.
Along with being a celebrity chef, author and consultant, Kaviraj Khialani is also a food designer, food writer and creative cuisine specialist. If you enjoyed these recipes and wish to read many such recipes, stay tuned to HerZindagi!