In India, human trafficking has become more like an industry today. Though there is a law in place, nothing seems to have changed. Young girls and women get trafficked everyday mostly for sexual exploitation.
These young girls and women lose it all. They undergo much trauma and often mental disorders. Many organisations in the country are working hard to fight this deep-rooted disease in the country and one of them is Kranti.
Run by Trina Talukdar, Robin Chaurasiya and Bani Das. Their organisation Kranti aims to empower girls and women to become leaders of social change. Earlier, Kranti co-founder, Trina Talukdar had made it to HerZindagi's list of women achievers. Ahead of women's day this year, we thought of taking you back to her story, the birth of Kranti, and more.
The Birth Of Kranti
Talking about the birth of Kranti, Trina Talukdar shared, "I have two co-founders at Kranti, Robin, and Bani. This is a story that's 10 years old now. So the three of us were working with different organisations, with women from red-light areas. While doing that we felt that we saw so much potential in these young women and there really isn't a space in India where they could realise their dreams."
"We felt like there were a lot of girls and women we met through our work whose potential was much beyond that they wanted to do. It wasn't fair to tell these women that the only option is making pickles or doing embroidery. So that's why we started Kranti, initially just as a space where these young women can come in and decide to do and be whoever they want to and we feel like it is our job to find them these opportunities," she added.
Getting A Deeper Insight Into The Stories Of Women From Red Light Areas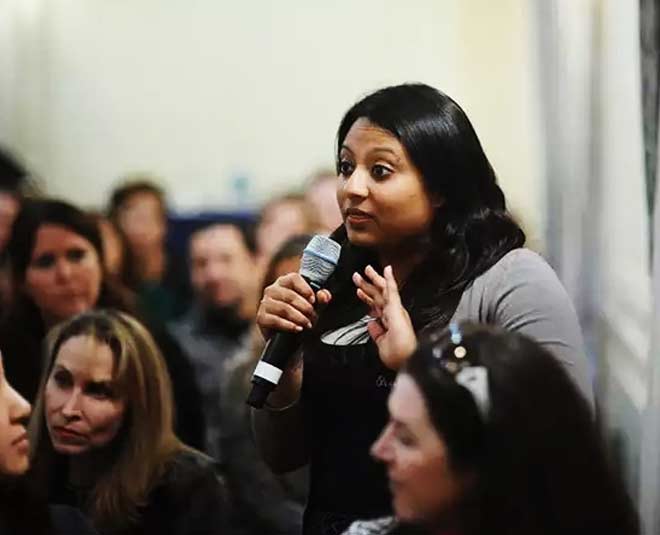 Trina Talukdar and her team work closely with young girls and women from Mumbai's red-light areas and get a deeper insight into their stories. We asked her how does she react to their vulnerabilities. She said, "Of course, the girls we work with have gone through many difficult experiences in their childhood and growing up years in the red light areas. They haven't had an education because schools don't want to admit girls whose mothers are sex workers or are living in the red light areas."
"Whenever I see these women, this is also Kranti's perspective as an organisation as well. We very much see their strength, resilience, everything that has helped them get through all these difficult experiences and be who they are today. I think that strength really stands out from the challenges they have faced or their vulnerability. It is because that these girls leave us with this feeling of strength and empowerment that they are capable of that we run Kranti," she added.
The Root Cause Of Human Trafficking In India
Human trafficking for both sexual exploitation and domestic slavery is on a rise in the country. Talking about its root cause, Trina Talukdar shared, "At Kranti, we think a lot about how do we address the root cause of the problem and we thought is it poverty because families living in poverty have to sell their daughters and most of the time they don't know its for sex work, they are told that they are being given domestic work in the city or something like that."
"Then we also come to think that the poor family doesn't sell their son because boys are seen as an asset, someone who would take care of parents in their old age, someone who has earning potential, and girls are seen as a liability. At Kranti, we attempt to change that perspective that we have towards girls."
Helping Girls And Women Become Agents Of Social Change At Kranti
View this post on Instagram
We asked Trina Talukdar about how these girls and women are helped at Kranti. She shared, "The girls who have graduated from Kranti's program have do take care of their families and now they are working and decision-makers in their families. We want to hold these girls up as role models, examples who put the value of what girls really are and that's what we need to do to change the root cause of the problem, change the way girls are seen and valued in society."
She added, "At Kranti, we believe that if we equip these girls with the right kind of knowledge and information and education and leadership skills then these girls are going to be our best bet for our future leaders."
Overcoming The Challenges
Helping young girls and women from red-light areas becoming leaders and agents of social change isn't easy. There is a lot that goes into making them one. Talking about the same, Trina Talukdar shared, "When the first girls come into our home, at Kranti we have a home in Mumbai, one of the first things we work on is their mental health because you can imagine the girls are coming from a lot of trauma and gone through a lot of difficult experiences and we realise very early on that if we don't address that or help them heal from their trauma then its very difficult to do education or anything else on top of it.
"All of our girls have therapists whom they meet weekly, one on one, and the therapists help them reach mental well-being, happiness, and some confidence. Then we do admit them to mainstream schools and colleges."
Don't Miss: HZ Women Of The Month: Aditi Kothari Desai On Financial Independence, Investments And More
On Trafficking Bill Or Laws Helping Make A Difference
Human trafficking is a punishable offense in India. There is a law in place under the Trafficking of Persons (Prevention, Protection, and Rehabilitation) Bill, 2018. There has also been a lot of debate on the Anti-trafficking bill 2021 which aims to prevent and counter-trafficking in persons especially women and children, to provide for care, protection, and rehabilitation to the victims, while respecting their rights, and creating a supportive legal, economic and social environment for them as per a press release by The Union Ministry of Women and Child Development (WCD). However, will just passing the bill help?
Don't Miss: HZ Women Of The Month: Zoya Lobo's True Story Of Breaking Stereotypes Is Inspiring
Trina Talukdar shared, "I definitely feel that the laws are really important and they need to be in place but that doesn't guarantee the social change we are after like gender equality for women. So, I think there is a lot of other work around the law to make sure the law is implemented and the mindset is changed."
Lastly, we asked her to talk about how we all can together fight trafficking in India. She shared, "What we can do is be more open-minded and inclusive about our circles. For instance, at Kranti, we have a home in Mumbai and it's a rented property and we have so many challenges all the time renting a home in Mumbai because people don't want to live in a building where there might be survivors of trafficking. But trafficking was not their fault, their shame so it's unfair that this kind of discrimination happens."
Tell us your thoughts on this exclusive interaction on our Facebook page. For more such interviews, stay tuned!
Did you like this article ?
Disclaimer
Your skin and body like you are unique. While we have taken all measures to ensure that the information provided in this article and on our social media channels is credible and expert verified, we recommend you consult a doctor or your dermatologist before trying a home remedy, quick hack or exercise regime. For any feedback or complaint, reach out to us at compliant_gro@jagrannewmedia.com