HerZindagi's first edition of WomenPreneur Awards felicitated women entrepreneurs from across the country. Women achievers who built businesses from scratch and made them scalable while overcoming all the challenges were recognised at the event. Among all the nominations we received for the awards, only a few managed to stand out and made it to the top. Lambu Subu Food and Beverages founder, Tage Rita from Arunachal Pradesh bagged the Businesswoman of the Year award.
Building A Winery From Scratch
"I must say, it was only after a field visit to different kiwi orchards of Ziro valley that I finally convinced myself of supporting the idea of starting a winery that my husband and I had perceived," Tage Rita shared when we asked her what led to the foundation of her winery.
A trained architectural engineer, Tage Rita quit her government job to build a winery with her partner from scratch. Rita's wine company offers wine prepared with local fruit produce like kiwis, peaches, pears and plums. Tage Rita's company, Lambu Subu Food and Beverages earns revenue of ₹12 Cr.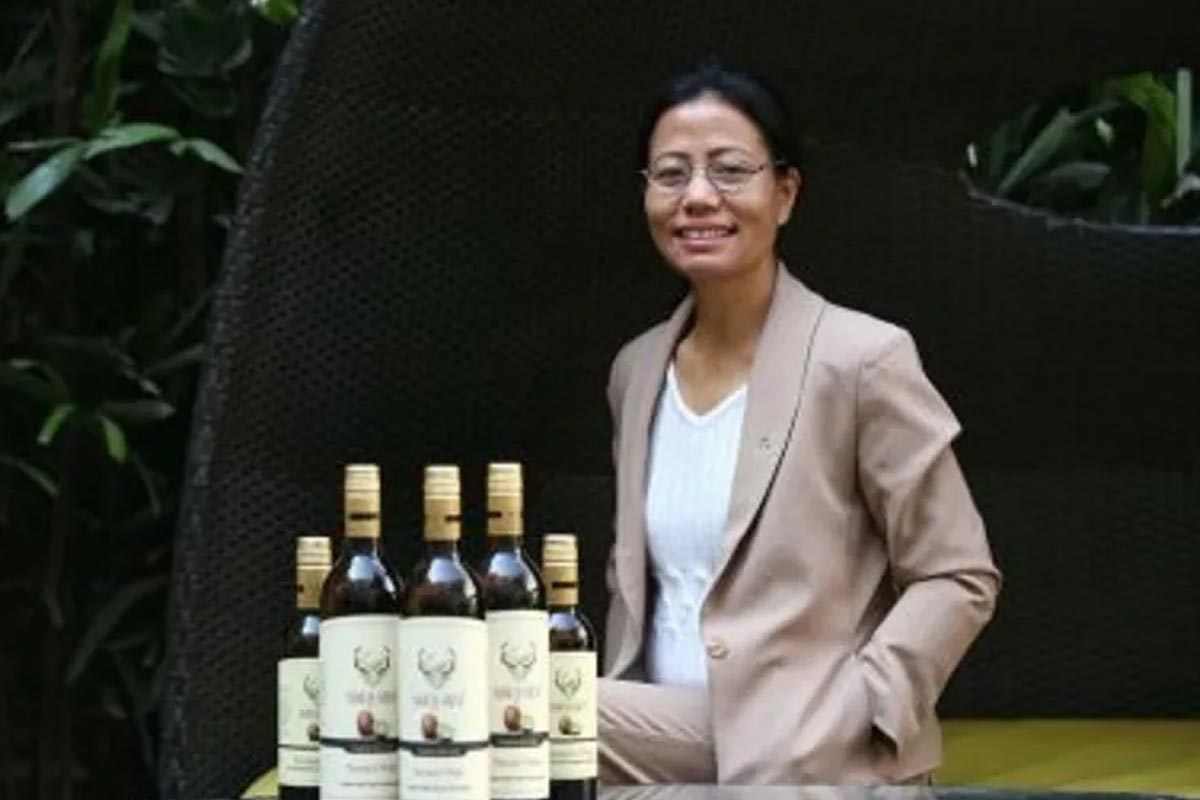 Tage Rita shared that the production of wine is aligned with the harvesting season of kiwi fruits. The wine-making process is four months long and it starts with the manual sourcing of kiwis, cleaning, sorting and grading them in the facility. The kiwi wine tastes a little tangy. The taste is kept as natural as possible to retain the fruit's nutritional value in the wine.
The Naara Aaba, India's first kiwi wine, offered by Lambu Subu Food and Beverages is one-of-its-kind. It is a pure kiwi wine made with organic kiwi fruit in Ziro, Arunachal Pradesh. We asked Rita why the name 'Naara Aaba' and its significance. "Literally, Naara stands for the name of a place and Aaba means father. The name is dedicated in the loving memory of my father-in-law who was called Naara Aaba by his grandchildren," she said.
Don't Miss: Meet Laxmi Idulwar, Entrepreneur Empowering Maharashtra's Tribal Community
Journey From Being An Engineer To An Entrepreneur
Tage Rita has come a long way from being an engineer to now an entrepreneur. Talking about her successful journey, she said, "At this point in time, I must say, it's still a long way to go in terms of professional achievement as a company. But I am happy that many have accepted my role and endeavour as a first-generation woman entrepreneur. People's love and encouragement have added a kind of big responsibility upon me. But yes, I believe persistent effort is the way."
Further speaking about working as an entrepreneur, she said, "As an entrepreneur, I feel creatively more involved and unleashing my energy. I am a bit of a restless person, I always felt like a captain from within and often wanted to lead from the front. The idea and freedom of doing things on your own are very precious to me."
Don't Miss: Meet Pallavi Utagi: Winner Of HZ Woman Gamechanger CEO Of The Year
Women are often considered less capable on the professional front because of their gender, however, women achievers like Tage Rita always overcome the bias to prove their mettle. Talking of the same, Rita shared that the general mindset of her surroundings is that women are incompetent than men which she doesn't believe in.
Tage Rita's Achievements
Tage Rita is an alumnus of the US Department of States -Fortune Most Powerful Women-22 batch. On the occasion of International Women's Day 2022, she received the Nari Shakti Puraskar from President Ram Nath Kovind in the year 2020. She has many other accolades to her name for her exemplary work.
Did you like this article ?