On January 4, A Supreme Court judge passed two dissenting judgements that took the internet by storm. Justice BV Nagarathna was hearing petitions against demonetisation (2016) and hate speeches by Azam Khan, a Samajwadi Party (SP) Leader and M. M. Mani Community Part of India (Marxist) leader when they were a part of the cabinets in Uttar Pradesh and Kerala government, respectively.
The justice said, "Hate speech strikes at the foundational values by making the society unequal and also attacks citizens from diverse backgrounds especially in a country like us that is Bharat."
View this post on Instagram
She called the demonetisation of ₹1,000 and ₹500 notes 'unlawful', a word that many in power did not have the courage to use. She also noted that in a case like that the Parliament cannot be 'left aloof'. She pointed out that there was no independent application of mind by the Reserve Bank of India, and the entire process was carried out in just 24 hours.
Who Is Justice BV Nagarathna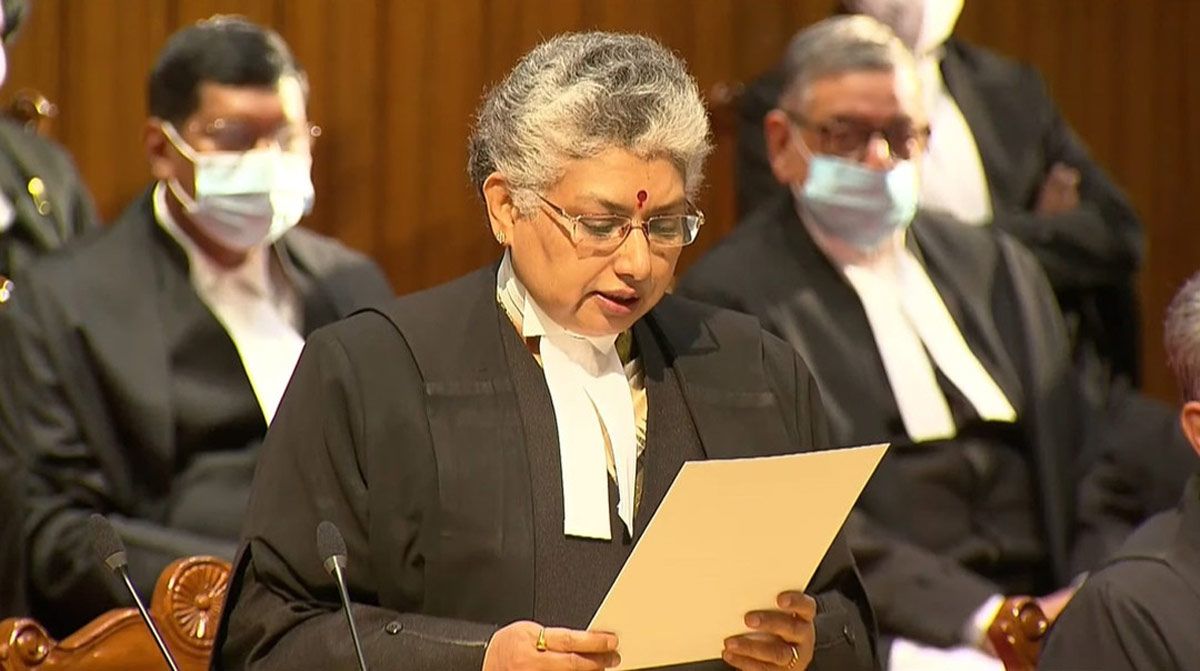 Image Courtesy: LiveLaw
Born in October 1962, Justice BV Nagarathna is the daughter of former Chief Justice E. S. Venkataramiah. She did her schooling and Bachelor's in Arts from New Delhi. Later, she completed a degree in the Faculty of Law from the University of Delhi.
In 1987, the justice enrolled with the Bar Council of Karnataka. In 2008, she was appointed as an additional judge of the Karnataka High Court, and in August 2021, she was appointed as a judge of the Supreme Court of India.
Justice Nagarathna is in line to be the first woman Chief Justice of India in 2027.
Praise-Worthy Statements By Justice BV Nagarathna
Vehicle Taxation
View this post on Instagram
In 2016, the justice was hearing a case against the Karnataka government imposing a 'lifetime tax' on vehicles bought outside the state. She held the policy to be unconstitutional.
Setting Up POSCO Courts
View this post on Instagram
The SC was hearing the Central Government's petition to set up around 400 new fast-track POSCO courts. This came in the wake of the understanding that nearly 2.26 lakh cases were pending.
While the justice agreed with the need to fast-track courts in such cases, she also raised the issue of a lesser number of judges. The justice also pointed out that fast-track courts can only work efficiently if there are more judges to hear the cases.
Presence Of Women Judges In The Supreme Court
Justice Nagarathna was among the judges who made history when the SC appointed three female justices simultaneously. As low as the number seems, it is yet the highest. Justices Nagarathna, Hima Kohli and Bela Trivedi joined Justice Indira Banerjee, who was already a judge at the SC. It was also the first time when four female judges started hearing cases at the apex court simultaneously.
She defined this historic moment as, "Presence of women judges gives more democratic legitimacy to courts by enhancing diversity."
Don't Miss: Property To Maternity Leaves: 6 Rights That Indian Women Must Know About
Crèche Facility Equals Empowerment Of Women
Justice BV Nagarathna inaugurated the crèche facility in the Delhi High Court. She said that access to quality child care at the workplace can play a significant role in ensuring that motherhood does not become a barrier to women's empowerment.
Don't Miss: Supreme Court Bans 'Two-Finger' Test, Calls It 'Patriarchal, Sexist & Unscientific'
It is one of the basic needs of a new mother. If she has to join her job after maternity leave, she should be able to do it without worrying about the safety and security of her newborn. It is only possible she has access to a good crèche.
Did you like this article ?