We love our teas and green teas in winters but as the weather starts to get hot and humid it kills our love for our favorite beverages too. We run towards having more chilled and cool drinks like coconut water, masala lemonade, Jal jeera, and so on. These are also a great option to beat the heat and hydrate yourself, but why ditch your most loved drink when you can make it into a summer drink too? There are many refreshing ideas and recipes to consume your Matcha tea in hot weather.
Chilled Matcha tea
Matcha teas are usually consumed by putting them into the hot water just below the boiling point and strain them directly into your cup or glass. However, for summers there is a slight twist to the same process, just take some chilled water and ice directly from your fridge and put it into a glass. Now, add your matcha tea to it and stir well, and voila! Your matcha summer drink is ready. The cold-brewed matcha tea has the same nutritional value and benefits as the hot matcha tea.
Matcha Tea Lemonade
This again is a very refreshing drink to give break from the hot and humid weather conditions. For making this drink you have to repeat the same above process but with some added ingredients. Take a glass, half lime, or lemon and squeeze the juice out of it, add 3-4 fresh mint leaves, some sugar, and a pinch of rock salt and black pepper to it. Now, add your matcha powder to the glass, pour chilled water, and mix it well. You may face some difficulty while dissolving the solution so you can also make it in a bottle. Just like how we make our cold coffees by shaking everything in a bottle? You can even make use of your shaker to make it more frothy and delicious.
Don't Miss: Consume Matcha In Several Forms After Knowing Its Benefits
Matcha Cucumber Juice
Cucumber is 90 % water and is widely consumed in summers be it in form of salads or juices, it keeps your body cool and hydrated for a longer period. Whereas Matcha teas are high in anti-oxidant, great for building immunity and preparing the body to fight chronic diseases. This healthy concoction of cucumber and matcha tea does not only taste great but is highly beneficial for your health as well. To prepare this all you need to have are below ingredients:
1 sliced cucumber
Half lemon or lime juice
Honey
1tsp Matcha Powder
How To Prepare?
In a blender jar put the sliced cucumber and make a puree
Now in a glass or shaker take some chilled water
Mix lemon juice, matcha powder, and honey in the chilled water
Then stir and pour it in the same jar with cucumber puree
Blend all the ingredients and strain it in a cup with ice and enjoy!
Some Health Benefits Of Matcha Tea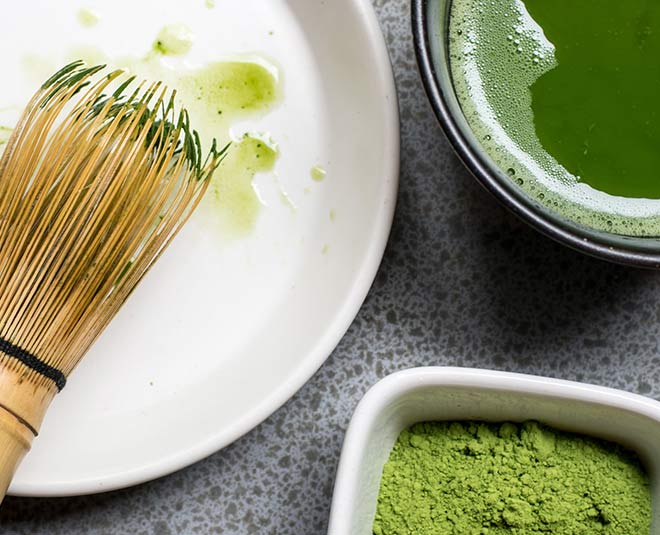 Don't Miss: Whip Up These Healthy Vegan Recipes While You Welcome The Fall Season
Helps Relieving Stress
Matcha helps you with combating stress by reducing stress levels. It contains theanine which is an amino acid that shows stress-reducing effects.
Great for brain functioning
Matcha tea helps you with improving attention, sharping your memory, and making your brain function faster.
High In Anti-oxidants
Matcha tea comes from the same plant as green tea but it contains more antioxidants which are great for your skin and hair.
Tell us about your favorite match tea recipe for summers. Stay tuned to Herzindagi for more.
Image courtesy: unsplash.com