Saree is one of the most elegant drapes that everyone, including Bollywood divas love to wear. They are often seen exuding glamour in one or the other trendy pieces.
While sometimes it is ruffle saree, other times, they give an indo-western look to the traditional attire by pairing it with jackets and belts. Now, there is a new saree trend that has been introduced by gorgeous Dia Mirza and stunning Vidya Balan. Their sarees, which comes with a hole in the pallu is making fashionistas sit and take notes.
What Is The Purpose Of The Hole In The Saree?
The whole purpose of the hole in the pallu is to help keep the drape in place. Your hand is supposed to pass through the hole, which will keep it from falling and disturbing you, as it generally happens if you don't make pleats and pin it up on the shoulders.
We also love the intricate print design surrounding the hole on both the actresses' sarees. While Dia is wearing a beautiful pine green saree, Vidya, on the other hand, is sporting a candy red piece.
Don't Miss: 5 Ways You Can Rock Paithani Saree At A Wedding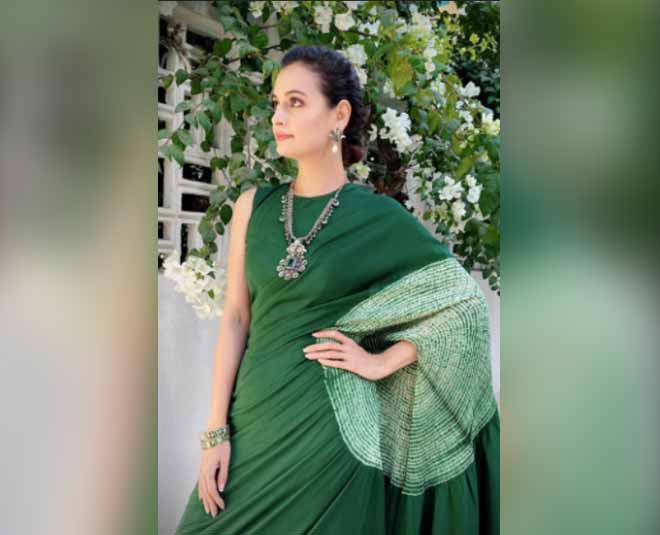 The sarees, which have been designed by Studio Medium with the traditional tie-dye technique, is garnering much love from celebrities and fashion lovers. Stars like Mandira Bedi gave a thumbs up to the latest saree trend and called it "stunning" on Vidya's IG post. The red saree was also exhibited on Lakme Fashion Week, along with other sustainable attires.
How To Style This Ensemble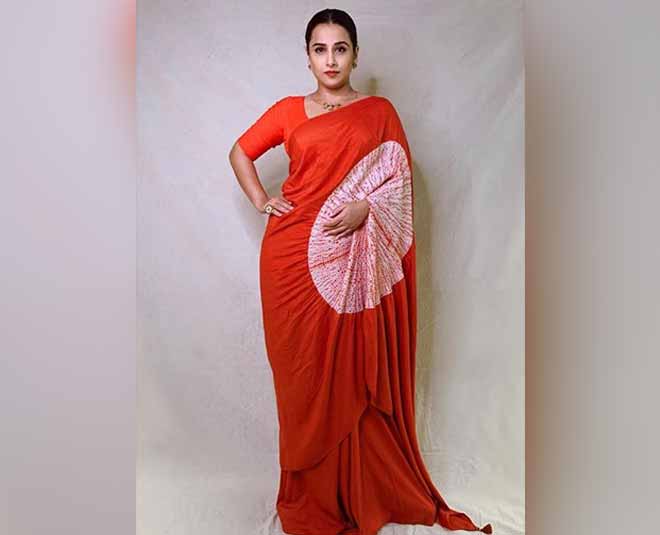 Blouse
Either you can go with the same look as Vidya and Dia. They are wearing a matching blouse, with their respective red and green sarees. Or, you can add a pop of colour, by clubbing the piece with an off-white blouse. The same hue that has been used on the print that is surrounding the hole.
We think both sleeveless and half sleeve blouse will go with it. Even a one-shoulder blouse will help you to ooze oomph. However, avoid wearing a full sleeve blouse, it will be going overboard and might not appear smart with the hole. Since most of the front part will be covered, try playing with different styles of blouses, such as backless, cutwork, open back, V-neck, or round pot neck designs at the back.
Accessories
While Dia has opted for a long black metal neckpiece to pair with her saree, Vidya accessorised her look with a simple metallic gold necklace. Both are looking amazing on the red and green pieces. You can also try to give this ensemble a bit more modern look. Sport long charm necklaces and finger rings. Or, if you want the saree to be the star and create a minimalistic look, just wear a pair of a metallic dangler. A matching black metal knuckle ring will look ravishing along with it. In order to create a bit more edgy look, club the saree with a skinny belt. Make sure to not pass it over the pallu, but under it.
Don't Miss: Wedding Special: 10 Bridal Lehenga Colours Which Will Rule 2020
Coiffure
Since, a lot is already going on with the saree, accessory, and blouse, you don't want to create a very loud look. So, try keeping the hairstyle as simple as possible. Make a high ponytail or go with chic hair buns, just like Dia and Vidya. The whole idea is to not let the hair cover the face and saree too much.
If you liked this article, do comment on our Facebook page. Stay tuned to HerZindagi to read more such articles.
Image Courtesy: Instagram