This wedding season wear a Paithani saree! What is a Paithani? Well, this saree is named after the Paithan town in Aurangabad, Maharashtra where it is handwoven. It is made from extremely fine silk and considered for sure one of the richest sarees India has to offer. It mostly has borders of an oblique square design and a pallu with a Peacock design. A peacock design is extremely common in this work. You also get plain ones and other varieties which include single-coloured and kaleidoscope designs. This art is dying but there are many who are trying to keep it alive. Some handloom lovers whom I follow on Instagram or the handloom saree handles that I stalk on Instagram have been sharing pics of themselves and I would love to share them with the world to let them know how exquisite this saree looks and how can you flaunt one in different ways. Two include Bollywood celebs who look beautiful in sarees.
Heavy Bordered Paithani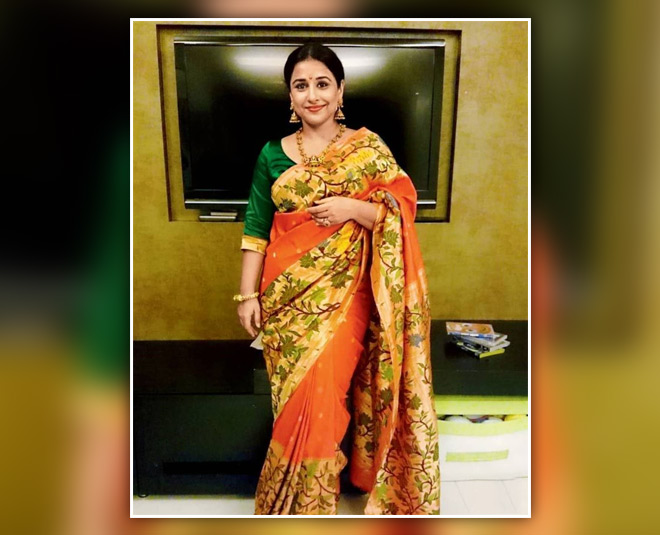 Now, this saree worn by Vidya is Paithani with a big border and pallu with bold motifs. I recommend this for women who are less curvy though (without body shaming) as it makes us look bulkier and as it is it's silk. Unless you have the right kind of attitude of course.
Simple Paithani With Paithani Work Blouse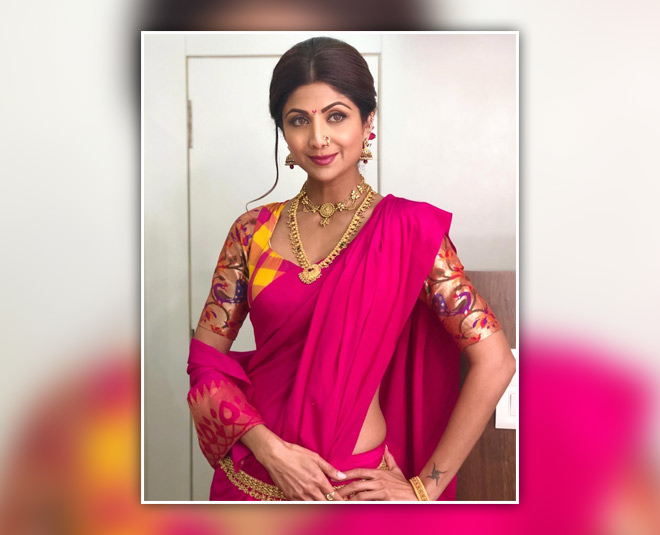 Now, this is Shilpa Shetty Kundra we are talking about who looks amazing in whatever she wears and has the attitude to carry off anything but you too can wear a plain Paithani saree with a nice simple pallu and the rest all plain and team it with a blouse with Paithani work. Here it is perfectly balanced with heavy sleeves work and contrast quirky neckline with a plain saree. Shilpa has played it up with typical Maharashtra Mulgi jewellery with a nath, waist belt, necklace, chand shape bindi, and a bun.
Don't Miss: Here's Why Aarti Baandal Is Hell Bent On Reviving Paithani Sarees!
Black Paithani With Pearls
Image courtesy: Instagram/ svkokanepaithanimumbai
I fell in love with this saree! The colour combination is beautiful and so different from pinks and oranges. Here what looks nice is the pearl jewellery and not gold. Wear a dark lipstick and look super elegant!
Silver Jewellery With Paithani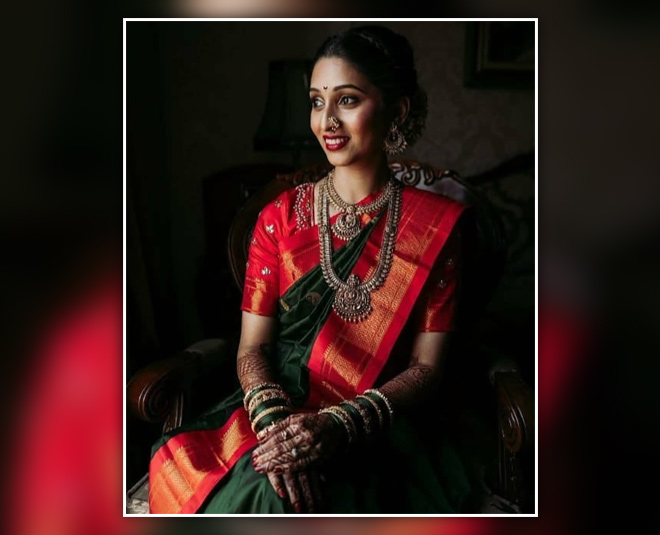 Image courtesy: Instagram/designer_paithani_/
This looks so beautiful! Wear brass golden or silver jewellery with your red and green Paithani and carry it off with a beautiful smile like the woman above! Wear your green bangles and flaunt it off.
Contrast Paithani Blouse With One Hued Saree
Image courtesy: Instagram /zintanvi/
Wear a monotone Paithani with a contrast blouse and wear with a belt. You can skip the bun here and go all out with your makeup. In the case of your eyeshadow, you can match it with your blouse.