With the arrival of August, wedding season is just around the corner. If your wedding is scheduled this year, then you must have started planning for the venue, outfits, jewellery and other details already. Give yourself a break and have a look at these off-beat colours, which can be perfect for your wedding lehenga. So, to-be-brides, take notes and choose your favourite one.
Peachy Rose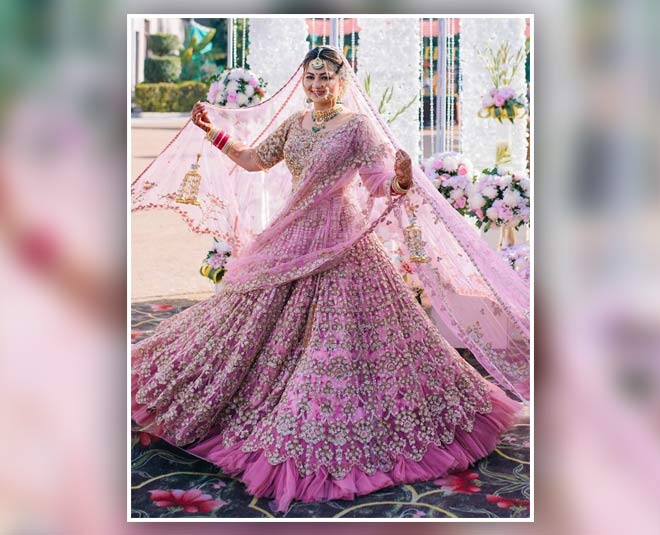 Image Courtesy: Weddingz.in (Instagram)
When it comes to a perfect girly wedding outfit, all we can think about is a twirly pink lehenga. If you do not want to go for a traditional pink lehenga, you can always experiment with the colours. From hot pink to salmon pink, the shade card of pink is full of variety. You can choose either gold or silver work on your outfit, to complement your jewellery.
Aqua Blue
Image Courtesy: Weddingz.in (Instagram)
Who said that one can't wear blue to their wedding? The colour of power, blue, is enough to add the extra oomph to your bridal look. You can experiment with the plethora of shades this colour offers, ranging from navy blue and royal blue to sky blue and aqua blue. When paired with golden dupatta or jewellery, your outfit will look ethereal.
Don't Miss: Sabyasachi Mukherjee's Drool-Worthy Heritage Jewellery Collection Is A Treat To The Eyes
Sunshine Yellow
Image Courtesy: Weddingz.in (Instagram)
Look like a happy ray of sunshine by wearing a bright yellow lehenga to your wedding. This beaming colour has its own elegance and grace, which is perfect for a daytime wedding. Yellow leaves a lot of space for experimentation, be it accessories or jewellery. You can either pair up contrasting shades for blouse or pair up gold temple jewellery and kaleerein, to complete your look.
Ivory White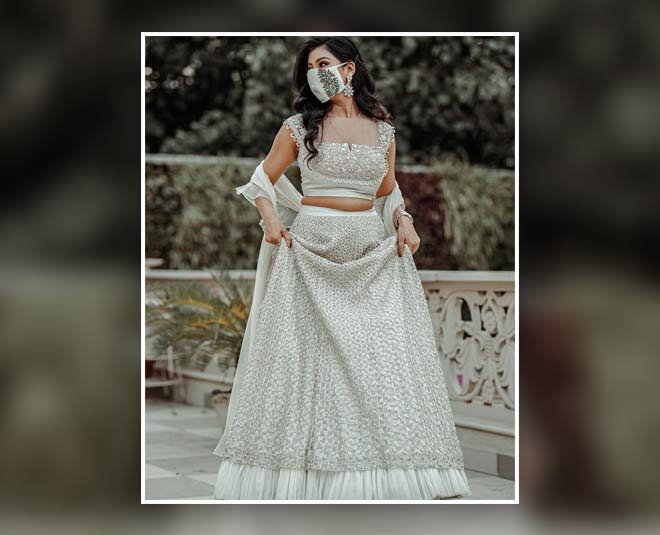 Image Courtesy: Weddingz.in (Instagram)
If you wish to don a totally off-the-charts look, white ivory is the colour for you. The subtleness and finesse of this colour is what makes it so aesthetic. Ivory or white is usually avoided by people because of its dull shade. You can always add a splash of colour to your lehenga, by either getting it embroidered or pairing multi-colour dupattas with it.
Pretty Purple
Image Courtesy: Weddingz.in (Instagram)
Shades of lilac, mauve and lavender, all belong to the family of purple. Wearing these shades will not only add a different vibe to your wedding outfit but will also make you look beautifully unconventional. You can pair other pastel shades in the form of dupatta with it, which will perfectly complement the whole look.
Don't Miss: Mistakes That Every Bride Should Avoid!
Pista Green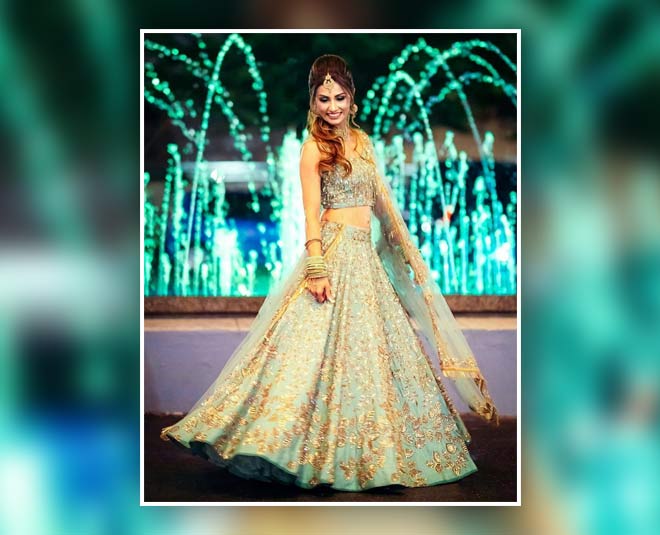 Image Courtesy: Weddingz.in (Instagram)
From red and pink to purple and ivory, wedding lehengas have seen a paradigm shift over the past few years. Another stunning colour which is popular amongst unconventional brides is green. A hue to pista green with sequins all over, with a monotone dupatta is perfect to make you look surreal.
Slate Grey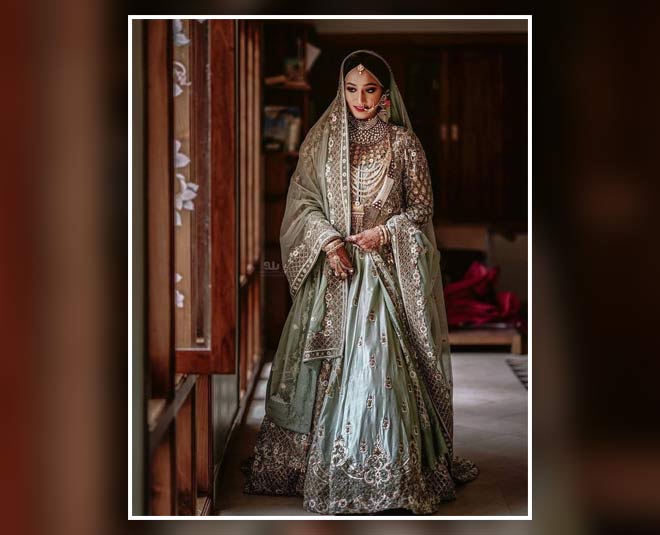 Image Courtesy: WeddingSutra.com (Instagram)
If you wish to break the shackles of stereotypes and stand apart from other brides, opt for a grey lehenga. With heavy embroidery and vibrant coloured dupatta, a grey lehenga will be your perfect yet unique wedding outfit.
Coral Orange
Image Courtesy: WeddingSutra.com (Instagram)
A mix of saffron-gold lehenga along with a coral dupatta, paired with heavy kundan jewellery. Sounds like a perfect wedding outfit, right? Orange is an easy to pair colour and looks gorgeous with shades of pink and red alike. The best thing about coral is that it looks equally beautiful on women of all skin shades.
Shimmery Gold
Image Courtesy: Weddingz.in (Instagram)
A glimmery gold lehenga is all you need to keep all the eyes on you. Perfect for a nighttime wedding, a gold lehenga can be paired with maroon or studded jewellery. You can also go for a monotone look by wearing the same gold shade for blouse, dupatta and jewellery.
Royal Red
Image Courtesy: Weddingz.in (Instagram)
When talking about wedding lehengas, how can one leave the all time favourite colour 'red'? You can opt for solid lehenga along with a bold golden border to keep the outfit subtle yet stylish. Glittery and shimmery lehengas too came into fashion, since Priyanka Chopra donned one at her wedding.
Be it any colour, brides have a way with looking bewitching in any outfit they wear. So, go on and choose the perfect colour combination, which goes the best for you.
For more such fashion and wedding related articles, stay tuned to HerZindagi.com