Indian women love their lehengas just like any other traditional wear. If media reports are to be believed lehenga choli became the popular post-Mughal rule in India, which was in the 10th century. However, even before that, there were a couple if Indian states where different designs of lehengas were donned as daily wear.
One among them is the stunning kali lehenga. The women used to enjoy wearing their 12, 24, 32 or even more kali lehengas. The bigger the occasion, the more kali to make them stand out. There are various styles that are becoming popular among women, but nothing can beat the beauty of a kali lehenga. If you love them too, have a look at these amazing pieces, which we believe you should totally have!
Banarasi Kali Lehenga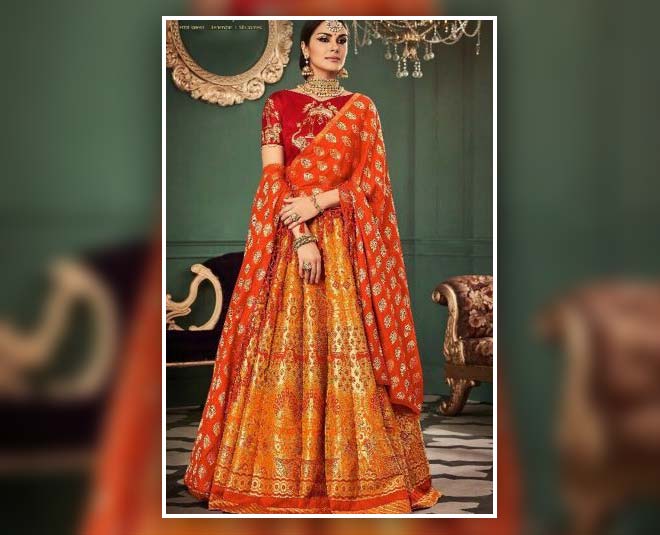 This gorgeous tangerine kali lehenga is a banarsi piece. We absolutely love the intricate work on it with gold that is making look royal! Generally, the banarsi kali lehenga does not come with too much flare, but the scenario is not the same with kali lehenga. With a couture-like this, you will like dancing and enjoying yourself.
Velvet Kali Lehenga

For weddings and festivities, we all want something that looks larger than life, yet in a subtle way. Pairing a regal fabric with striking embroidery can solve the purpose. Just like this stunning ocean green kali lehenga is doing, which as the most bewitching aplic work on rich-velvet fabric. The border work, dupatta and blouse are to die for too!
Multi-Colour Kali Lehenga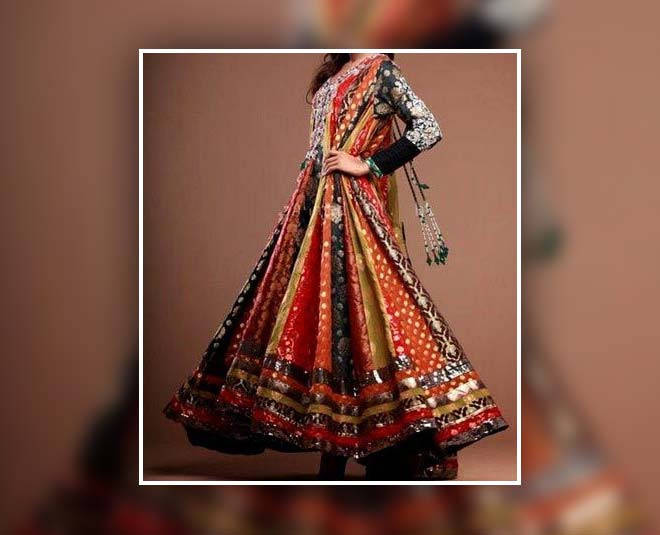 Kali lehengas are mostly multi-colour, different prints and patterns mixed together give beautiful look. Just like this ravishing piece that has shades of orange, black and gold. Together they are creating a very chic look, which can be sported on any pre-wedding events. If anyone has to attend a party with multiple occasions going on, a garment like this will help you stand out!
Pink Bridal Kali Lehenga
On her wedding day, every bride dream to look like a queen. And her wedding attire plays a significant role in it. If you also are hunting for an outfit that looks larger than life, what's better than a 24 kali lehenga. This multi-pink ensemble is everything we are talking about!
Red Bridal Lehenga
If you have a petite frame and are looking for something that can do justice for your body type, we recommend going with a kali lehenga. It is because the vertical patterns in it will create an illusion of a taller and slimmer body. Something that will balance out your heavy ornaments and even makeup, depending on the colour of the bridal lehenga!
Don't Miss: Dhanteras Special: Expert Suggests Silver Jewellery Pieces Which You Can Buy
Multi-Colour Butik Lehenga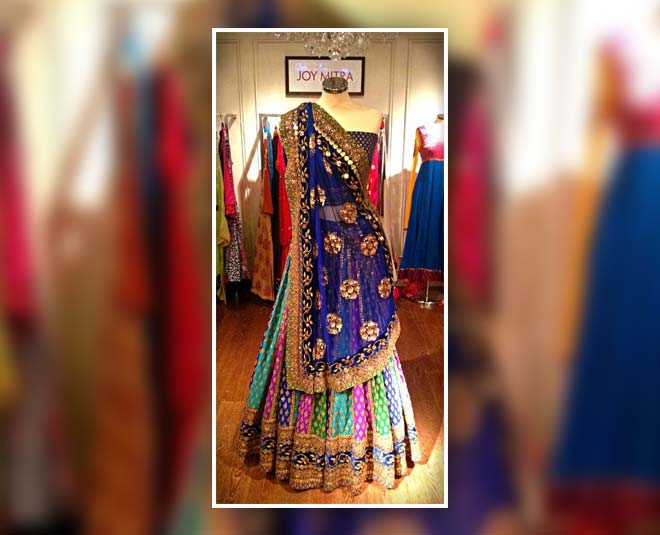 The butik work in India is quite popular and is used to enhance the beauty of several garments. The multiple shades of this lehenga combined with rich butik work are to die for! As the festive season is here, you want to wear something like this to make others sit and make notes. We also love the stunning see-through dupatta (must-have dupatta) of the piece; it is elevating the appearance of the ensemble.
Don't Miss: 6 Things You Need To Keep In Mind While Wearing Cancan Petticoat Under Lehenga Or Gown
If you liked this article, do comment on our Facebook page. Stay tuned to HerZindagi to read more such stories.
Image Courtesy: Freepik, Pinterest