The festive season is here and we can't wait to mark the biggest Hindu festival, Diwali that is just around the corner. It kick starts with Dhanteras which is falling on Friday, 13 November. It is considered an auspicious day to make new purchases, especially gold or silver items and new utensils. The word Dhanteras is made from two words, wherein 'Dhan' means wealth and 'Teras' means thirteenth, that marks the thirteenth day of the dark fortnight of Kartik and the beginning of Diwali.
While it is a day to bring home new items, we know how tricky it can get to decide what do you want to purchase and is not worth putting your money into. Various factors go into making the final decision, such as your budget, latest fashion or market trends. To ease things down for you a little bit, we spoke to Anil Kumar Yadav, Founder, Maniram's Jewellers.
He explained "people mostly are preferring to buy 925 sterling silver jewellery crafted in certified American diamonds and oxidised silver jewellery nowadays. Apart from that, marcasite silver jewellery, matte silver jewellery and silver pieces coated in rose gold that are 70% imported and 30% made in India are also in high demand this season."
Therefore, if you are looking for pure silver, then go for the articles like "utensils, silver coins, ritualistic thaal, kalash, aarti, aachwani, agarbatti (incense stick) stand, diyas, krishan jhula, idols of god and goddess, showpieces, jewellery store boxes, etc," suggested the founder, Maniram's Jewellers. However, when it comes to ornaments for ladies, he particularly recommended the following pieces:
Engraved Sterling Silver Bangle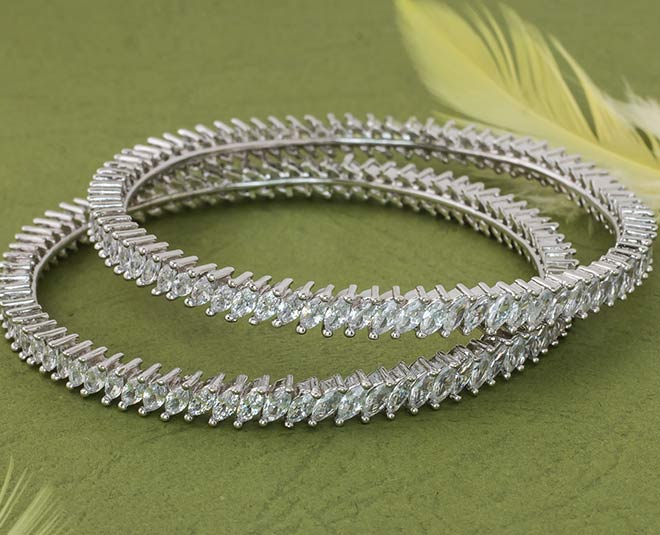 It's always been a ritual of buying jewellery during the festival season and what's better than buying a pair of bangles. Bangles have a feminine charm that adds an extra oomph to any Indian outfit. The best thing is that this season it is available in the most pleasing designs. The bangles made of 925 sterling silver can be an amazing option to make a silver purchase this Dhanteras.
Silver Rope Neckpiece
From pendant to chokers to long necklaces, such neckpieces can enhance the overall look by adding an extra style to your outfit. Crafted in certified American diamonds, silver neckpieces will do wonders by uplifting an ethnic or even a simple western outfit this season. Also, they look so minimalistic, you can definitely don them on a regular basis to your work, or even at home. Silver neckpieces are easy to maintain and can be cleaned using easy hacks.
Tassel Earrings
When it comes to accessories, earrings have always an upper hand as they highlight the beauty and features of a woman by adding balance and shape to a woman's face. Whether you go for oxidised silver earrings, matte silver earrings, and just silver earrings coated in rose gold, just remember it must compliment your face. However, while making the purchase do look for stones that have been embedded on the piece. You want everything to look balanced, especially when buying something for festivities.
Don't Miss: Diwali special: Try Out These Easy And Beautiful Hairstyles This Diwali
Motif Silver Enamel Nosepin
Just like earrings, nose pin (various styles of nose pins) also accentuates a woman's looks. Made of sterling silver, oxidised silver or marcasite silver, the subtly designed nose pin can be used as daily wear and is one of the best options to buy this Dhanteras. It is also a great option for those who are on a budget this season due to the effect of the pandemic. While it is not important to buy hefty pieces every year, one must also not compromise of traditions.
Don't Miss: Diwali 2020 Party Looks: Fabric To Style, Here Are Some Tips By Designer Gautam Gupta
If you liked this article, do comment on our Facebook page. Stay tuned to HerZindagi to read more such stories.
Image Courtesy: Pinterest, Freepik