Actress Sonam Kapoor and husband Anand Ahuja, a businessman have their second wedding anniversary on May 8. The couple got married in Mumbai on May 8 last year in a typical Punjabi style with a lot of celebrations and ceremonies. When we look att their Instagrams we not just see the sheer love they have for each other but also the fact that how stylish the couple is. So to celebrate their anniversary here is a small walk through the couple's adorable moments which exude style as well, giving us all couple style goals.
Their wedding anniversary plans are always under the weather. When they got married, Sonam had to go to the Cannes festival and they managed a small honeymoon in Japan later in the year. Then after The Zoya Factor released they managed a short trip to London but again not on their anniversary date and this time as well, due to the pandemic coronavirus lockdown, the couple will not be able to go outside. But well it will be more special as they can this time be stress-free and just enjoy each other's company and not be on some or the other schedule.
The couple has since Day 1 proven that they love to dress up and make statements together. Aand underplays it a bit and lets Sonam shine is one observation I have made judging by most of their pictures together. Oh, before I dig in deeper, these pictures are from Sonam Kapoor and Anand Ahuja's Instagram accounts.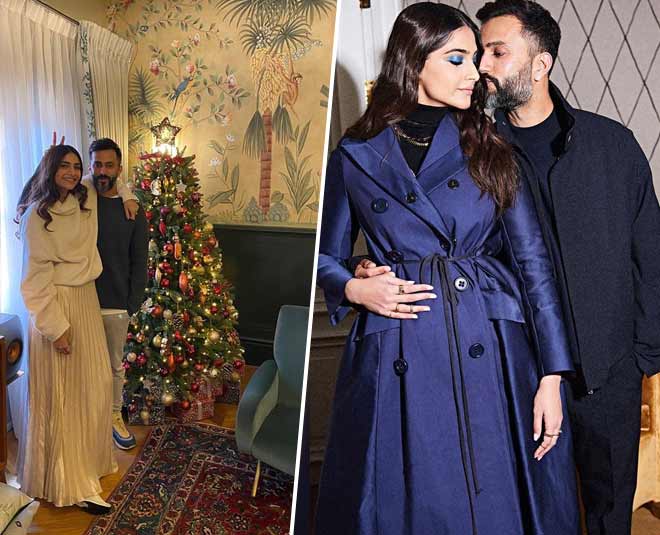 The first pic on the left is when the two were celebrating Christmas and probably not in India. While Sonam wore a white long skirt paired with a turtle neck which seems to be a very cosy sweater as well, Anand kept it casual but you cannot miss his shoes!
On the right is the pic when Sonam got ready for the NBA game. Sonam captioned the pic: "Yeah, you got that something, I think you'll understand. Then I'll say that something, I wanna hold your hand. I wanna hold your hand." She wore a blue Trench Dress by Dice Kayek and was styled by her own sister Rhe Kapoor. Her blue eyeshadow was certainly "eye-catching" and Anand was dressed a bit more casual in black.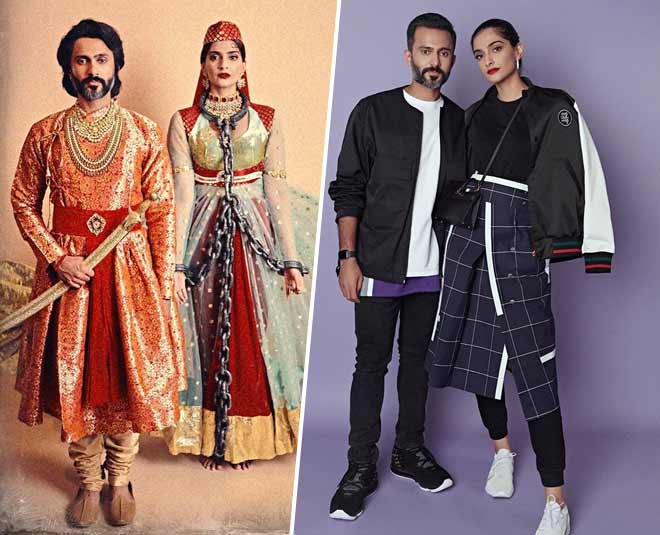 Next up is the couple ready in a theme, on the left. This is what they wore for Halloween. Needless to remind our readers that Anand has his own clothing brand called Bhaane which is meant for the urban youth and Sonam too promotes in whatever ways possible as one has noticed in her Insta stories and the official account as well.
The pic on the right is one such example when the two looked uber cool. Sonam shared this pic with the caption: "With my MVP @anandahuja. For NBA @nbaindia @nba. Look - @31philliplim. While the Bomber jacket is from Veg Non Veg, the bag is from Hermes, for the earrings, Sonam gave credit to gehnajewellers1 and Mahesh Notandass FineJewellery. The shoes she wore were from Nike and ofcourse styled by Rhea Kapoor. For the makeup, she kept a scarlet red lip and a winged eyeliner.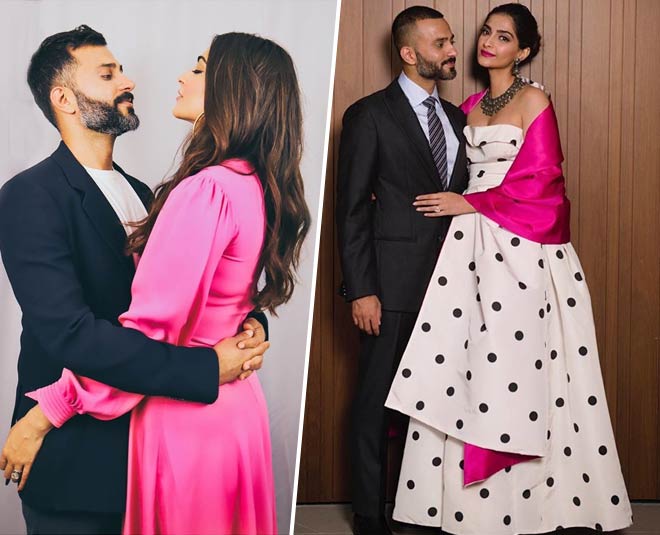 With black being Anand's colour, Sonam looks seriously pretty in pink and the polkas.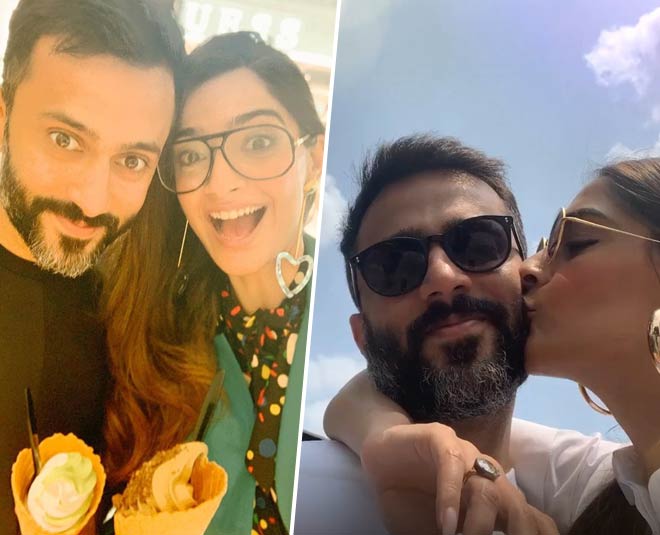 In an interview earlier, Sonam had spilled some beans regarding her marriage and husband. She had spilled the beans on how Anand Ahuja had initially tried to set her up with a friend. The actress also revealed that when he proposed marriage to her didn't even have a ring, he just had a moment and spilled it out.
Don't Miss: Sonam Kapoor Gives Makeup & Skincare Tutorial On How To Recreate Her Everyday Makeup
She said, " "It was supposed to happen sometime in October but a few months before that we were in New York and this one day I was being a brat having a crappy day. I was complaining about how there was no good person in New York when he was biking and I was walking alongside. He just got off and got on one knee and asked If I wanted to marry him."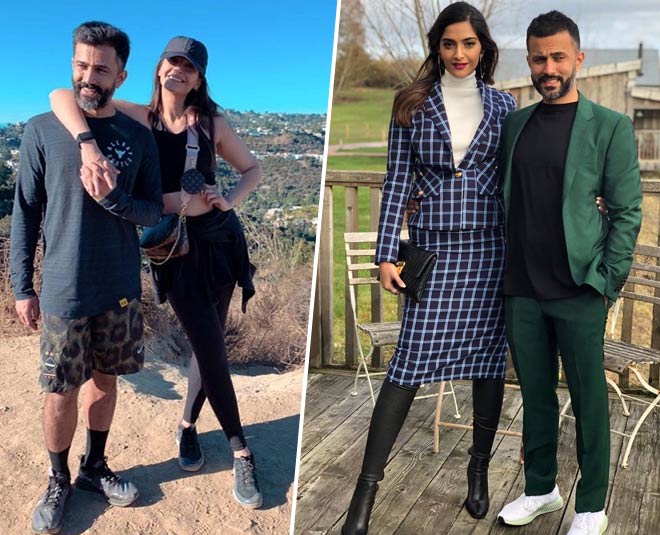 Meanwhile, the pic on the right was shared by Ananad with the caption: "miss you more my more gorgeous girlfriend/wife... who is, yes, smarter, kinder and even more stubborn!" Aand's green trousers, coat and the black t-shirt paired with white shoes, with Sonam in black knee-high boots paired with blue and white is a chic combo one cannot miss.
In another interview, Sonam shared the moment when she first met Anand. She said: "My friends were trying to set me up with Anand's best friend. That's how I met him. The first time I met Anand was while I was busy with the promotions of Prem Ratan Dhan Payo (2015). One evening my friends conned me into visiting a bar at the Taj. I went there quite irritated. When I reached there, I realised my friends had called these two-three boys whom I had no interest in meeting. I was like, 'I don't want to date anybody. I don't believe in marriage and all this nonsense'. I saw Anand and his friend. His friend was tall like me, liked reading like me and was a huge fan of Hindi movies. He was an educated and a nice guy."
She realised that the guy reminded her too much of her brother Harshvardhan Kapoor, and that's when she decided to not date him.
"Sometimes, people believe that when they have similar interests, they can be together. No one would think of Anand and me together because Anand is totally different. He had no idea that Anil Kapoor was my father. I ended up speaking to Anand the whole evening. Anand was trying to get me to talk to his friend...like being the middle man. But we ended up talking more," said the Khoobsurat actress.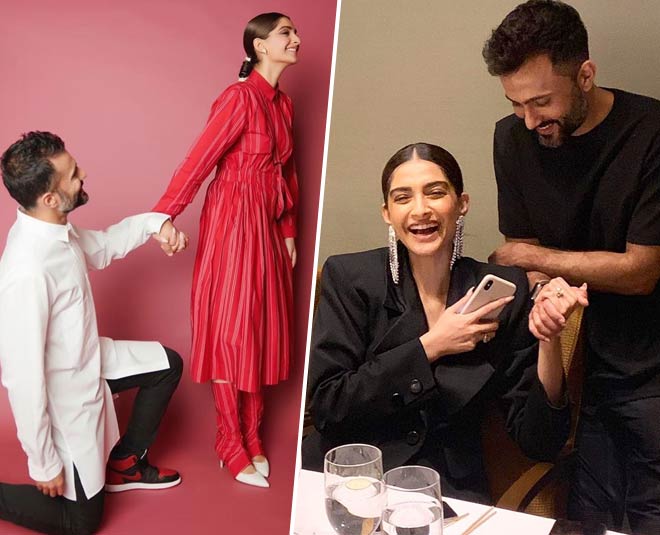 On the left is a pic when Sonam was busy promoting The Zoya Factor with the colour red as her lucky charm. Anand shared the adorable pic on his Instagram and captioned the pic: "girlfriend, best friend, wife, life partner".
"Then one day I got a Facebook request from Anand saying, 'Hey! Are you still single? Because so and so is still single and if you're ever in London, please connect with him.' That message came at 2:30 am. I messaged him saying that first you shouldn't be messaging me so late in the night. I'm like a school teacher in matters like these. Don't mess with me so late in the night. And if the friend is interested then he should message me himself. Why are you messaging me? That's how the conversation started. We began talking on the phone. Then we met," added Sonam.
The 34-year-old actress, added, "Two weeks later, we were talking on the phone when I asked him, 'Do you still want me to talk to your friend?' He said, 'No, No! Not at all. Talk to me. I'm keeping you for myself.'"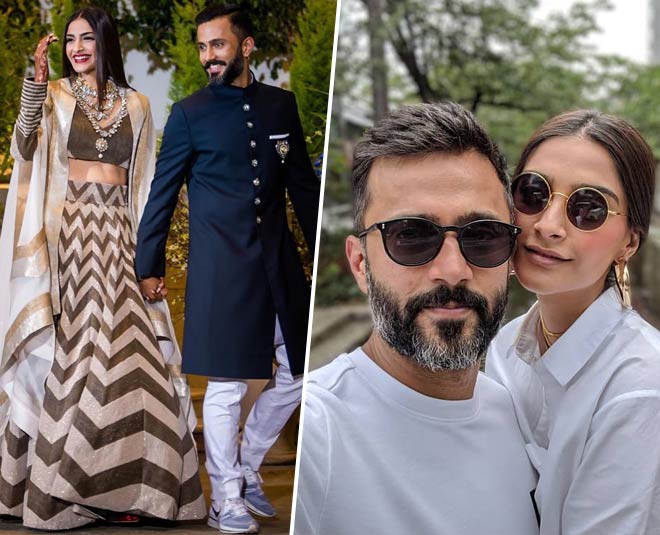 This is the most adorable pic that made me go "aww"... The books and their love gives an aura that may all couples have in their lives. Rest Anand's caption to it is cherry on top as he wrote: "@sonamkapoor finds libraries/bookstores the most romantic ... that's why I'm lucky enough to get this kiss from her!..."
View this post on Instagram
Happy Anniversary to the lovely couple and wish you many more decades of togetherness.