She has been declared as the most beautiful woman of the Indian Kingdom Dynasty by Forbes magazine and Maharani Radhika Raje sure does fit the title! An epitome of beauty and grace in the modern era, the queen of Baroda, Gujarat is married to Maharaja Simarjit Singh Rao Gaekwad. She keeps posting pictures of the royal family heirlooms and gives us a few glimpses of her gorgeous saree collection which also consists of a 100-year-old Paithani saree, mentioned in this collection.
There is a reason the maharani was chosen as one of the beauties who was almost transformed into one of the subjects of legendary artist Raja Ravi Varma's paintings by Pankaj Heritage. Scroll down and feast your eyes on her saree collection. Feel free to take inspiration for her looks for the upcoming weddings you have to attend.
Tissue Kotah Saree In Golden Yellow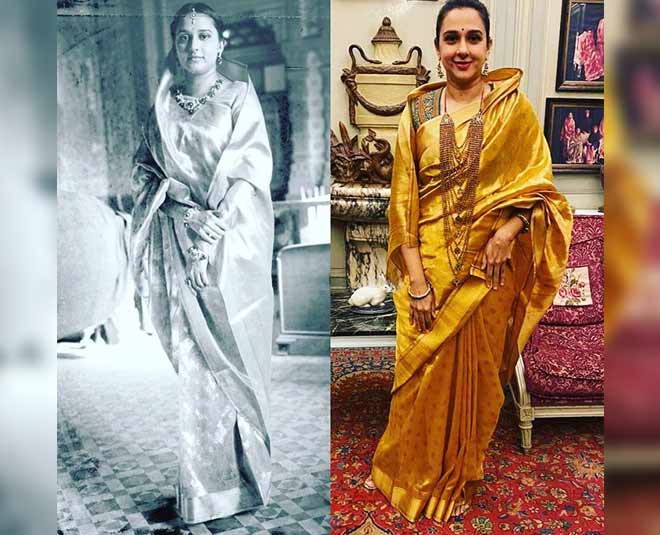 Image courtesy: Maharani Radhika Raje Instagram
This beautiful saree has been presented in a then and now post by Maharani Radhika Raje, which is 14 years apart. She described the saree and the occasion in her caption, saying: " This is a tissue Kotah in real zari given to me by my mother in law for my Haldi ceremony at my wedding and I have worn it on endless occasions."
This beautiful saree has been teamed with a contrast green blouse by her with a deep drop rani haar. We cannot compete but we can definitely take cues from the maharani on how to flaunt a yellow weave and amp it up with the best of our jewellery.
Don't Miss: Meet The Maharani Whom Forbes Called The Most Beautiful Woman Of The Indian Kingdom Dynasty
Ghatchola Saree In Vermillion Red & Golden Zari Work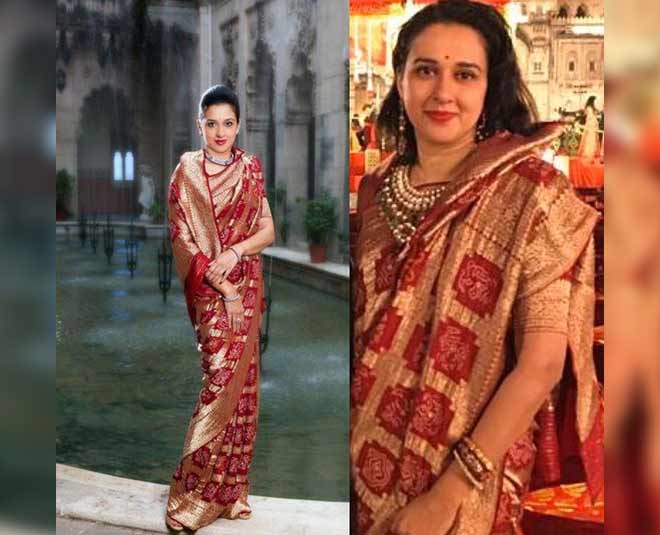 Image courtesy: Maharani Radhika Raje Instagram
This saree in a before and after comparison post by the Maharani herself is a Ghatchola saree which she was gifted by her mother-in-law and Rajmata Shubhanginiraje at her wedding in 2002. Describing her post, Radhika Raje shared that this post is an "ode to the unsung craftsman enduring untold hardships at the face of COVID 19".
Ghatchola saree as explained by the Maharani, "is a rich traditional textile of Gujarat and a combination of bandhani (tie and dye) and zari, gifted to the bride by her mother in law. The image on the left was taken in our courtyard in 2009 for a magazine and the one on the right was clicked in January 2020 for a wedding.
Don't Miss: Nirmala Sitharaman's Handloom Saree Game Is On Point!
Purple Silk Saree With Golden Borders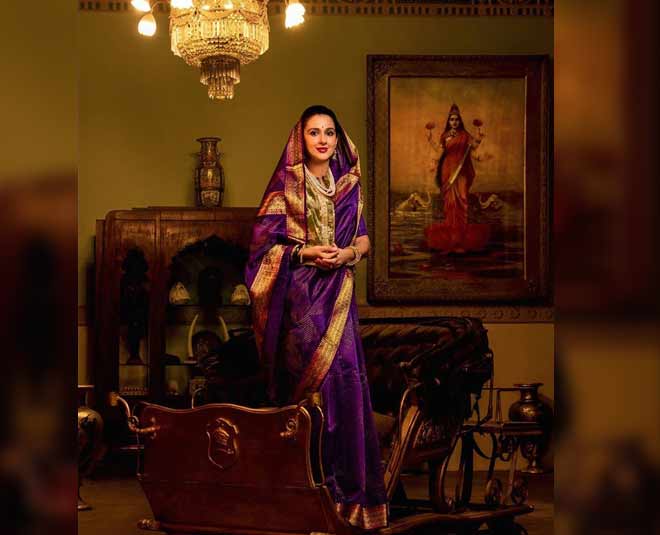 Image courtesy: Maharani Radhika Raje Instagram
With a little self-work woven into the saree, the silk nine-yard-wonder is extremely classy with that thick golden border. If you are getting married or have to attend a wedding then take inspiration from Maharani Radhika Raje's look and demeanour which defines royalty in every way.
This was a photograph taken by Bandeep Singh, where he caption on Instagram was: "One of the most graceful women I have ever photographed .... and with a setting to match... after a heady experience of watching so many Ravi Varma paintings at one place. Maharani Radhika Raje Gaekwad of Baroda photographed in the Lakshmi Vilas Palace in Baroda."
Don't Miss: Have Stored Your Silk Sarees The Right Way? Make Sure You Have Followed These Guidelines
Tissue Saree Exclusively Weaved For The Royals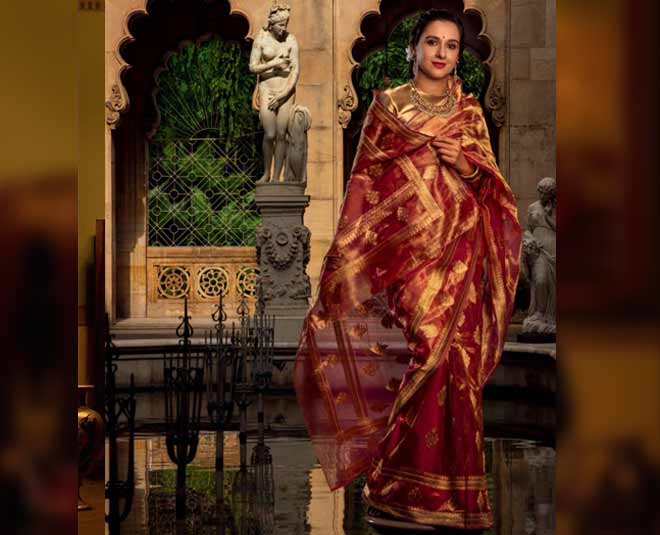 Image courtesy: Maharani Radhika Raje Instagram
Clad in a "vintage real tissue Baroda Shalu", Maharani Radhika Raje explained on her Instagram that this exquisite piece was woven especially for the Baroda Royals in Benaras or present-day Varanasi. The look has been completed with a golden blouse, a neckpiece and simple earrings with a red pout and bindi.
100-Year-Old Paithani Saree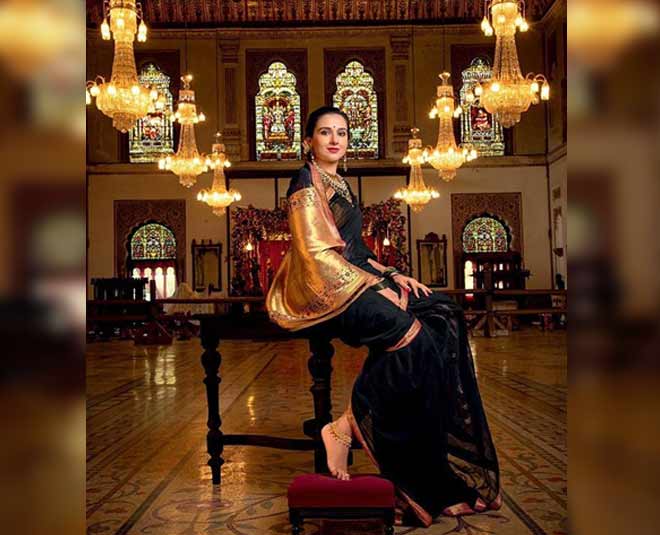 Image courtesy: Maharani Radhika Raje Instagram
My favourite in this collection, the Maharani took to her Instagram and shared a pic of her in this saree which was also a part of a cover shoot for a magazine. The Heavy golden and black saree, is a rare Paithani saree. She wrote: "I'm seen wearing an almost 100-year-old cotton nine-yard Paithani saree.
Don't Miss: 5 Ways You Can Rock Paithani Saree At A Wedding
Paithani is a variety of saree, which is extremely rare to find now, if you are looking for a genuine piece. It is named after the Paithan town in Aurangabad from the state of Maharashtra where the saree was first made by hand. Some individuals are trying their level best to revive the dying art.
Stay tuned to HerZindagi for more such amazing saree collections.