Shang-Chi and the Legend of the Ten Rings; the marvel blockbuster finally got released in theatres on 2 September 2021. Not only did the movie have amazing plot lines, cast and cinematography; Shang Chi also have amazing costumes. From Shang Chi's iconic red and black outfit to Katy's creatively absurd neon legging; the movie had a plethora of stunning costumes.
We have taken inspiration from the movie's big three (Shang Chi, Xialing and Katy) and customised three outfits inspired by the movie which you would love.
Shang Chi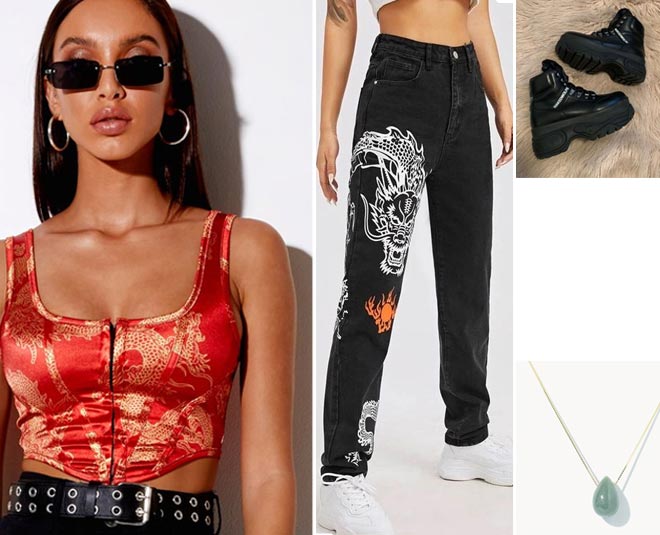 Image courtesy: usmotelrocks.com, romwe.com, nakedwol, saasil.co
The down to Earth and strong character of Shang Chi portrayed by Simu Liu had to be first on our list. For the outfit inspired by our main protagonist we took his final yet most iconic look in red and black dragon scale fit from the final fight scene.
For the top we choose a beautiful red crop top with a corset look and golden dragons. For the bottom we choose black wide legged black jeans with a white dragon. The dragon theme was definitely prominent in the movie therefore we decided to make sure it is prominent in our outfits too.
Shang Chi's mother gave him and his sister jade pendants and he got the 10 rings from his father so we decided to add a simple teardrop jade pendant as well as golden hoops as accessories and for the shoes we choose some simple chunky black sneaker boots to finish the outfit.
Don't miss; 5 Times Kareena Kapoor Khan Has Given Us Poo Vibes Outside K3G
Xialing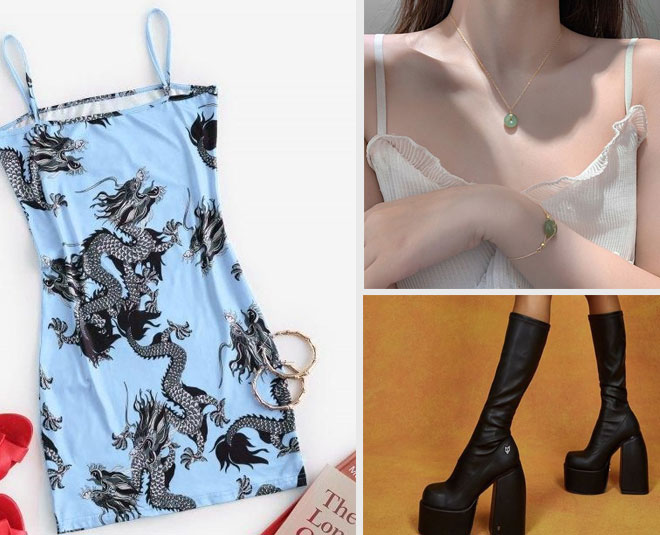 Image courtesy: nakedwolf, zaful, etsy
Xialing is Shang Chi's badass sister who also runs an underground fight club! Xialing most definitely is one of the most well designed character with a nice backstory. Her outfit in the final fight is sleek with a silver, almost pale blue and black dragon scale fit. A dragon queen like her deserves the best fit so we started with a beautiful pale blue slip on dress with black dragons on it.
We also added black till the knee boots to give the look a femme fatale aesthetic. For accessories we added a similar jade pendant as Shang Chi.
Don't miss; Modern Day Princess: Rapunzel Reimagined
Katy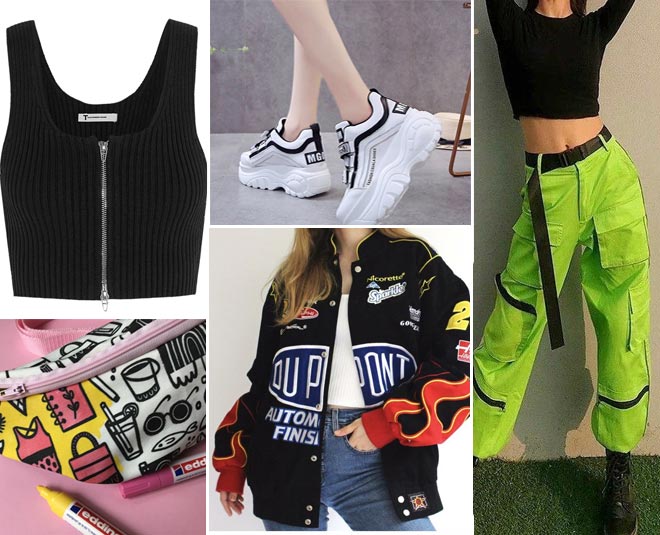 Image courtesy: Alexander Wang, shein, oasisjoy.com, aliexpress, andacorrie.com
Katy is by far one of the funniest characters in Shang Chi and a great comic relief from the whole family drama in the movie. One look which was remembered by all from Katy is her neon green leggings, bomber jacket and fanny pack. Katy has that k-pop style in her which makes her stand out as she is not afraid to experiment.
For Katy's fit we started with a plain black crop top with neon green cargo pants in ode to her beautiful neon leggings. We also added a black bomber jacket but with big patches and flames over it since Katy loves cars and speed.
For accessories we added a fanny pack; if anyone can rock a fancy pack it is her and this outfit inspired by her definitely needed a fanny pack. And to wrap it all up we added some comfy white sneakers to run in.
For more outfits inspired by movies and celebrities stay tuned to HerZindagi.