Rapunzel; the lady with long, golden, magical locks and the power to heal is definitely a Disney powerhouse. Sadly after COVID we all know how it feels to be caged in a tower like Rapunzel. What if Rapunzel lived in these modern times; how would she look and what would she wear?
Rapunzel is a royal with a spunky attitude who has a frying pan so you better beware because she is not afraid to use it. We also get to see her feminine side later. Undoubtedly in the modern day and time she would still hold all her personality ttrait.
Everyday Look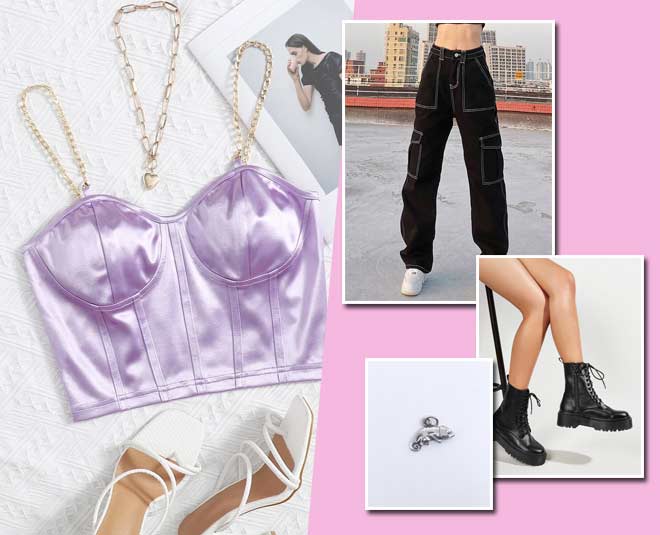 Shein.com, Urbanic.com, goldfishjewellery.co

An everyday outfit should be comfortable and something you can run in and for Rapunzel she definitely needs an outfit she can run in given her fiery personality. Even in the movie we can see that when Rapunzel met Flynn for the first time she almost hit the poor man with a pan.
Given that for an everyday outfit she needs something in which the she can move in and even fight if she has to. She would definitely be seen in a sleeveless lavender corset top. Corset tops have a bit of royal look but our modern corset crop tops have that feminine yet badass character to it especially if combined with a denim wide legged jeans to give her the movement she needs.
For shoes and accessories she needed to have some black combat boots so that she can run around free. Rapunzel would definitely not be wearing a lot of jewellery but small meaningful pieces. Like a beautiful chameleon necklace in an ode to her trusty companion Pascal the Chameleon.
Don't miss; Top Luxury Fashion Brands That Your Favourite Celebrities Love
Date Night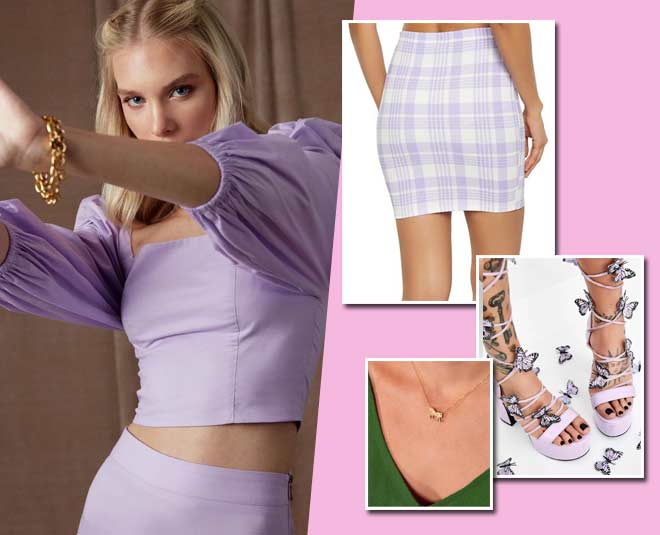 https://www.instagram.com/rocklola_/, rainbowshops.com, dollzkill.com
Oh the date Flynn took Rapunzel out on is the date of any girl's dreams. Most definitely for Flynn; Rapunzel will show a bit more of her feminine side with a romantic puffed sleeved crop top and a beautiful plaid lavender pencil skit. The white and lavender colour scheme would definitely be Rapunzel's romantic colour scheme.
For accessories and shoes Rapunzel would up her game and wear beautiful lace up lavender heels with butterflies on it to go with her date night outfit. And as always she would wear a minimalistic necklace like a horse pendant necklace for Maximus; Flynn's horse who, she love and adore so much.
Don't miss; 10 Celebrity Inspired Midi Dresses For Your Monsoon Closet
Wedding Bells
twitter.com, etsy.com, shopmasongrace.com
Now our journey has finally come to an end with a Big Bang i.e. the big royal wedding. Rapunzel is a princess and deserves a big beautiful princess gown and her long beautiful locks styled beautifully which matches her personality. Her gown is a beautiful lavender gown with a corset on top with lace detailing everywhere.The lower part of the gown is lace with flower detailing showcasing her love for nature, she longed to see the world and so she did. For accessories she wouldn't be wearing much; just a turquoise wedding ring as it matches Flynn's vest. Instead of shoes she would wear anklets completely made up of white flowers, solidifying her connection with the nature. A princess like her deserves a woodland goddess theme.
Stay tuned to HerZindagi for more articles like this.