Karisma Kapoor is one of the most popular family members of the Kapoor clan. She is known for her acting prowess, besides her beauty and style. The actress is always spotted in some of the most stunning couture. Unlike most actress of her age, she has maintained herself and also keeps giving us major fashion goals!
However, it is not just her attires that make us envious of her style, but also her uber-chic hairstyles. If you are her ardent fan, you know Karisma carries gorgeous hairdos that look amazing along with her traditional attires. Wedding season is just around the corner.
We know, you must be hunting for that perfect hairstyle to match your outfit. Take inspiration from Karisma Kapoor, and try these three awesome hairstyles.
Double Twisted Buns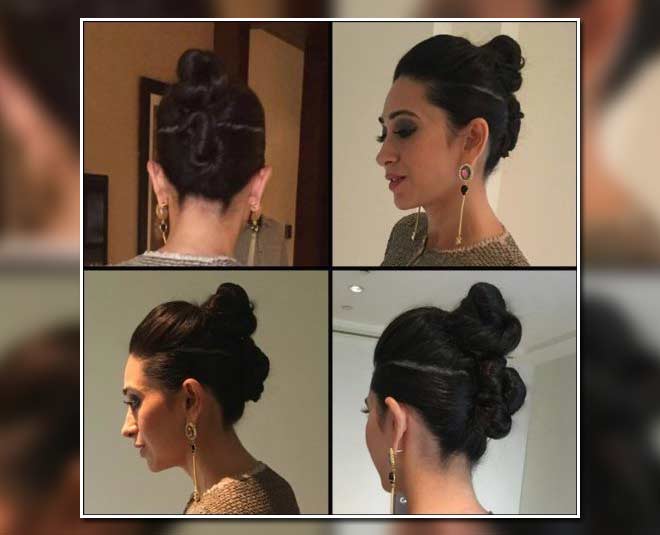 The first one is this high-fashion double twisted buns. If you are donning some chunky earrings and want to show them off with style, try this hairdo!
Steps
Begin by combing your hair, and detangling all the strands.
For a cleaner look, you can use a flat iron to straighten your hair.
Take a tail comb, divide the crown section from the rest of the hair strand.
Tie it up and start working on the lower portion by making a ponytail.
Divide the ponytail into two equal sections, and twist it until the very end.
Then wrap it around to make a hair bun.
Secure with juda pins or bobby clip.
Make a hair puff on the crown section by lifting your hair a bit. Secure with pins and make a ponytail.
Once done, follow the same steps to make another bun.
Finish it off with hair spray so that the buns remain intact.
Dutch Fishtail Pony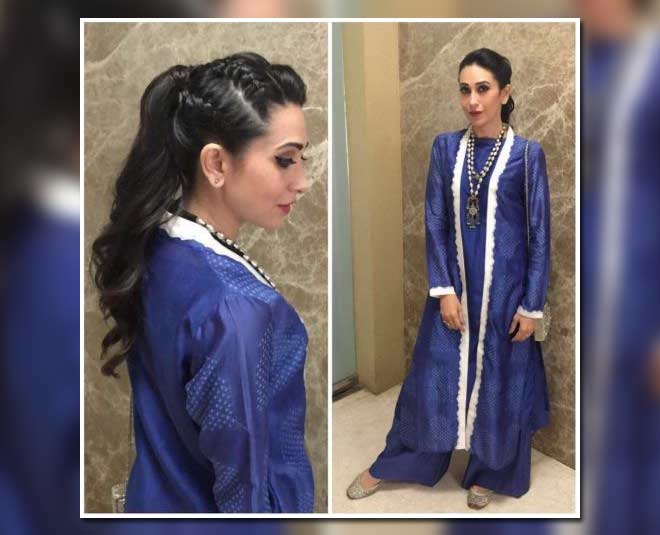 This hairdo will go with anything and everything we girls love to wear to wedding parties. For instance, the Dutch fishtail will look fab on a simple sharara and also on gorgeous saree.
Steps
Start by brushing your way to the end.
Use a tail comb to part hair from the temple of your head.
Separate the hair strands to make a small hair puff. Secure the puff with bobby pins.
Just next to the hair puff, make another hair parting to make Dutch fishtail.
Split the section into two equal portions.
Take a small hair strand from the first strand, and cross it underneath the second one.
Then again take a small section from the second hair strand and merge with the first one.
Keep repeating these steps until you make 5-6 stitches. Secure using a clear elastic band.
Right below the first braid, make the second braid following the same steps.
Also, make two more braids on the left side of your head.
Once done, gather your hair in a ponytail and tie using a hair tie.
Take a small hair strand from the ponytail and wrap around the hair tie.
Voluminous Fishtail Braid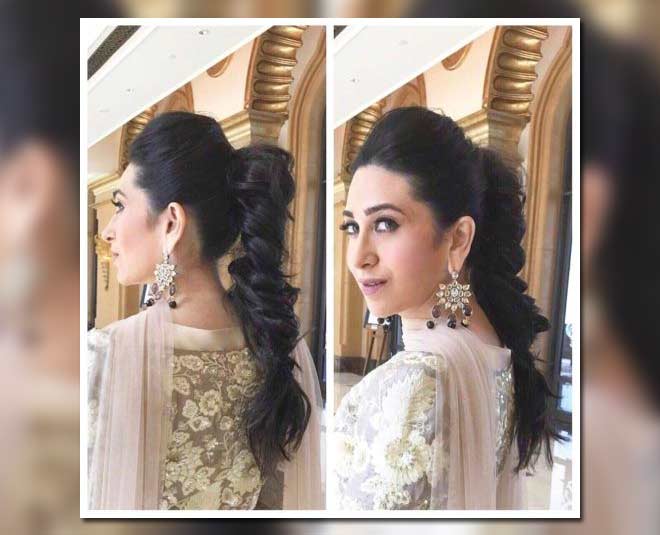 For all those girls, who have thin hair (home remedies for thin hair), this hairdo will give an illusion of voluminous mane. It is super easy to make and will also help you stand out.
Steps
Prep your hair by detangling (ways to detangle your hair) it all the way to the end.
From the temple of your forehead part your hair to make a hair puff.
Secure it with bobby pins and then gather all your hair into a ponytail.
Divide the ponytail into two equal portions; A and B.
Take a small hair section from the outer edge of part A and merge it with part B.
Then again take a hair strand from the outer edge of part B and mix with part A.
Make more stitches following the same steps, until you reach the end.
Tie the end with a hair tie.
Then take a tail comb and start pulling your hair strands from the edges gently to add volume.
Once done, apply hair spray to keep your braid intact.
Do let us which of the following Karisma Kapoor's hairstyle is your favourite by commenting on our Facebook page. Stay tuned to HerZindagi for more such stories.
Picture Courtesy: Pinterest