If you follow Nita Ambani's sartorial picks, you know her fashion game is OTT. She like to take the big and bold route when it comes to her wardrobe choices which includes a good collection of statement making ethnic wear.
Most days, Nita Ambani likes to carry eye-catching sarees, lehengas and suits with striking jewellery picks.
Among all her looks that caught our attention to date is this one handwoven saree which she wore for an event. The hero of her outfit was the blouse that had a beautiful embroidery of Lord Krishna at the back. Read on to know more about this saree that costs in lakhs.
When Nita Ambani Wore One Of World's Most Expensive Saree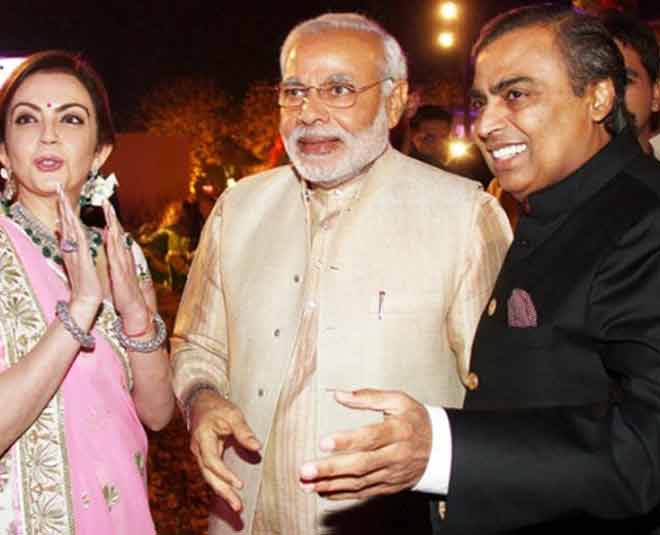 Nita Ambani wore this saree for the wedding of the Reliance Group of Industries CEO's son in Ahmedabad. The saree was designed by the director of Chennai Silks, Sivalingam. The saree features Lord Nathdwara or Lord Krishna at the back. The image of Lord Krishna has been beautifully represented using a variety of colours and intricate embroidery.
The full fledged image of Lord Krishna or Srinath ji is inspired by their temple situaed in Rajasthan.
Don't Miss: Nita Ambani Vs Tina Ambani, Whose Saree Picks Are On Point?
Use Of Precious Gems On The Saree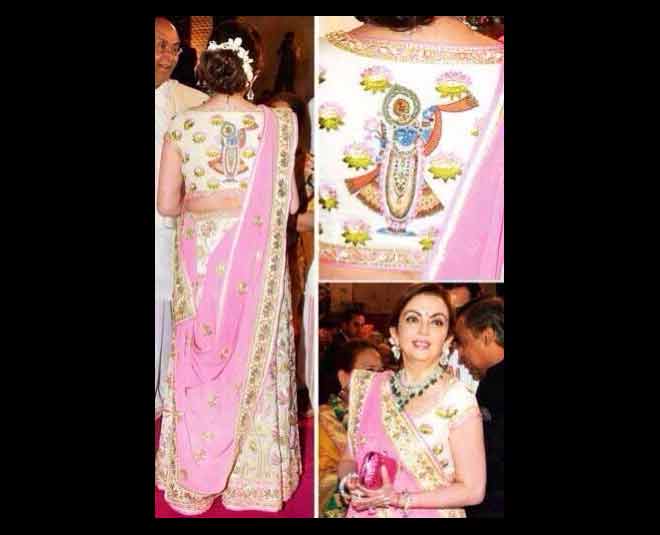 Nita Ambani's INR 40 Lakh saree features precious gems like emerald, ruby, pukhraj, cat eye, pearl among others as per a report by kalamtimes.
For jewellery, she teamed her stunning saree with a striking diamond necklace with emerald drops and matching earrings. Diamonds and emeralds are an all time favourite among the Ambani women. Nita Ambani is often snapped wearing diamond necklaces with hint of emeralds for festivities.
Beauty wise, her makeup was kept minimal as always. A natural pink shade on the lips and eyes highlighted with an eyeliner, lots of mascara and eyeshadow. Her hair were beautifully done in a classic juda and adorned with white flowers.
Don't Miss: Can You Guess Nita Ambani's Salary As A Teacher After She Got Married To Mukesh Ambani
Well, we would just say that this saree is one among a wide variety of expensive things Nita Ambani owns. There are a lot of other things that Nita Ambani owns which cost a bomb. Let's quickly take you through the list:
Shoes That Nita Ambani Never Repeats
She is the wife of Asia's richest man, Mukesh Ambani and she has it all. Nita Ambani loves shoes and she never repeats them. Her collection includes the biggest brands of the world right from Jimmy Choo to Gucci. The minimum cost of her shoe is around INR 1 Lakh.
Nita Ambani's Personalised Lipsticks
Nita Ambani doesn't have regular lipsticks in her beauty closet. She is more fond of personalising things as per her likings so she gets lipsticks customised as per her outfits. As per a report by Marketingmind, her lipstick bottles are made with bottles of silver and gold. Her entire collection costs somewhere around INR 40 Lakh.
Tea Set From Japan's Oldest Crockery Brand
Nita Ambani begins her mornings with tea which she drinks in a cup by Japan's oldest crockey brand, Noritake. This one was specially ordered for her and costs somewhere around INR 1.5 Crores.
Coming back to Nita Ambani's sarees, she has donned celebrated designers of India in the past and she continues to pick the most stunning, statement making ethnic wear from the celebrated designers. However, this one saree is immensely loved by all her followers, for it is unique and every bit royal. Don't you agree? Share your thoughts with us on our Facebook page. For more such fashion related stories, stay tuned!