Buying clothes online can be fun as there are more options and many discounts as well. However, the catch is that you need to know your size. Sure there are return and exchange policies but it does get a bit tedious and disheartening when you are so excited for a certain dress or pants but it does not fit you well. So here are some tips and key points that you must keep in mind when selecting jeans or denim online.
Hips & Waist Size
It is very important that you know your measurements and it does not take very long either. Take a measuring tape at home or a shoelace which you can then spread on your ruler and see what size should you be getting. The waist is the smallest part of your torso while the hips should be measured from the widest part of your torso.
The Size Chart
Many brands have their own size chart which may differ from others so you must know your basic which can be calculated later. From personal experience, I would recommend a size bigger than yours for that breathing space. Also, remember that the zip area takes up half an inch. So, if you are a size 30, go for a size 32. Don't go for something that will make breathing difficult. For a better idea, you can also see what size the model in the picture is wearing. Sometimes that gives us a direction as well.
Comparison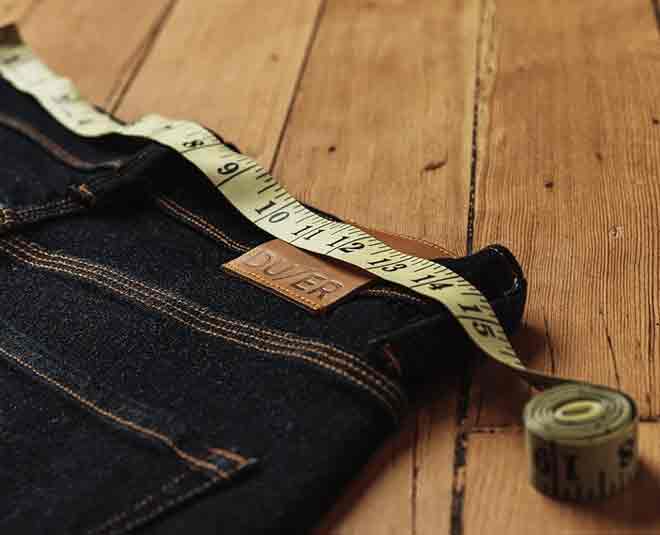 If you are still confused, it is best to compare it with your old jeans which fit you snuggly. Measure the backside, the waist, and double that number.
Don't Miss: 5 Factors That Are Making You Look Bulkier In Your Favourite Pairs Of Jeans
The Fabric
Today the market is full of different kinds of denim especially the fabric variation can be confusing. If you are someone like me who is heavier on the scales then go for a spandex mix rather than pure cotton as the latter restricts movement. Elastane or spandex makes a denim easier to fit on curvy women. Look for denim that has at least 2% spandex.
Order 2 Different Sizes
Nowadays the shipping charges are waivered when your cart has crossed a certain amount and that is hardly an issue with us online shoppers. Since it is not an issue and the return exchange policy is sound of the particular website then it is best to order 2 different sizes and see what fits best. Return the other with the tags and packing intact. This is the best way to solve your confusion when it comes to online clothes shopping.
Stay tuned to HerZindagi for more such tips.