If you are a true fashionista you definitely know polka dots and already have a lot of them in your wardrobe. They are basically equal-sized dots forming an array over the fabric and may further range from smaller sizes dots to larger ones.
Polka dots are one of the most popular and trendy patterns that never go out of style. The best part about this print is that they are super versatile, from making you feel at home, to making you rock a party, polka dots can literally be taken anywhere. All you need to have is a sharp sense of fashion to be able to style your polka dots in the best ways possible. So, read on and find all about how to style polka dot outfits.
Polka Dot Overalls/Jumpsuits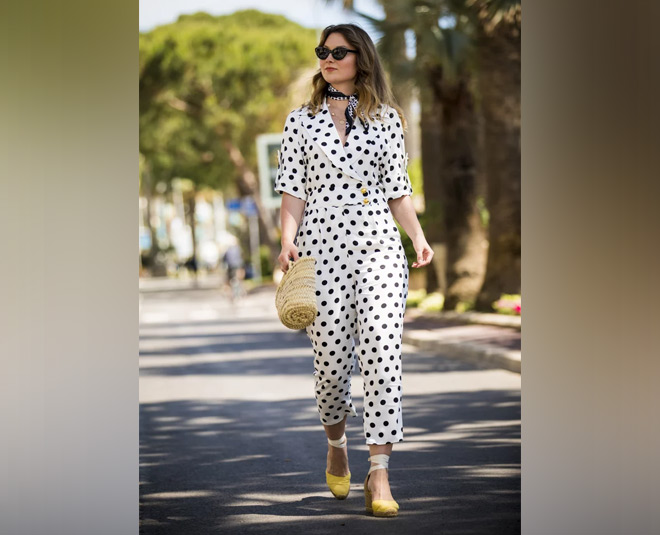 Wearing a classic black and white polka dots look is one of the best ways to rock your outfit. And to add to that, just wear a jumpsuit or an overall. Team it up with a waist defining belt, a straw handbag, sunglass a scarf tied around the neck and finally a neon pair of sandals. You can do your makeup in mild shades and try a natural hairstyle to make the attire both classy and subtle.
Pair Different Sized Polka Dots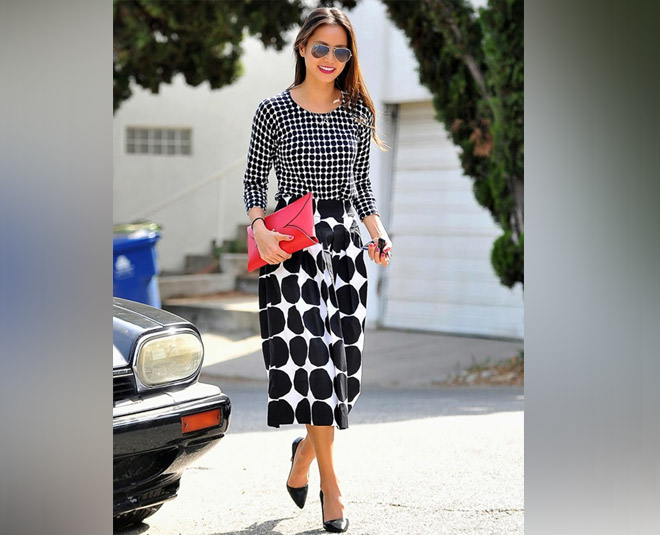 Just like colour blocking, you can also wear your favourite pieces of different size polka dots together and make a perfect attire. So be a head-turner by wearing a big sized polka dots skirt with a small-sized polka dots top. Style the look with a neon envelope purse, along with a matching watch. Also, pair up matching black heels with this look and complete the styling by adding reflective sunglasses. Add a nude makeup look or perhaps a natural look would do wonders to this outfit. Lastly, just style your hair in a natural wave or straighten them up for that impeccable look.
Dual Colour Polka Dots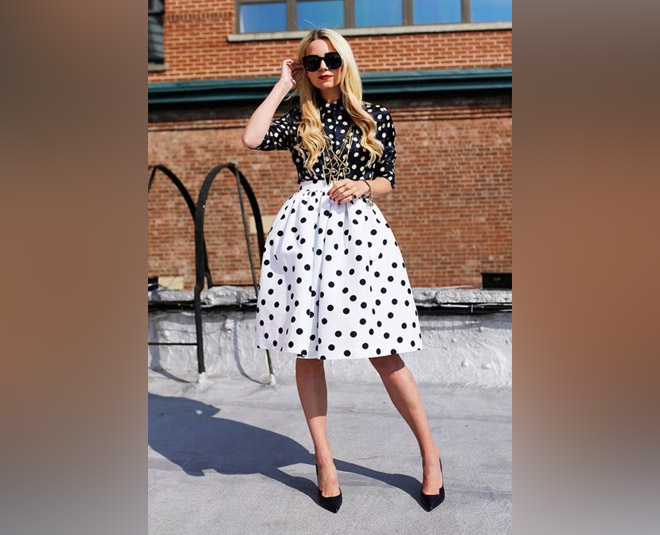 Another great way to style your polka dot outfit is to grab a contrasting colour that highlights both your top and the bottom. Therefore, for example, you can take a black polka dot shirt and team it up with a white polka dot skirt, pants or any bottom you like but what is important that you maintain polka dot uniformity in the look. Apart from that, you can pair this look with a simple bracelet, a matching pair of sunshades(sunglasses shopping guide), a pair of black heels, etc. And you can then, complete the outfit with a light pink makeup look and wavy hair.
Mix And Match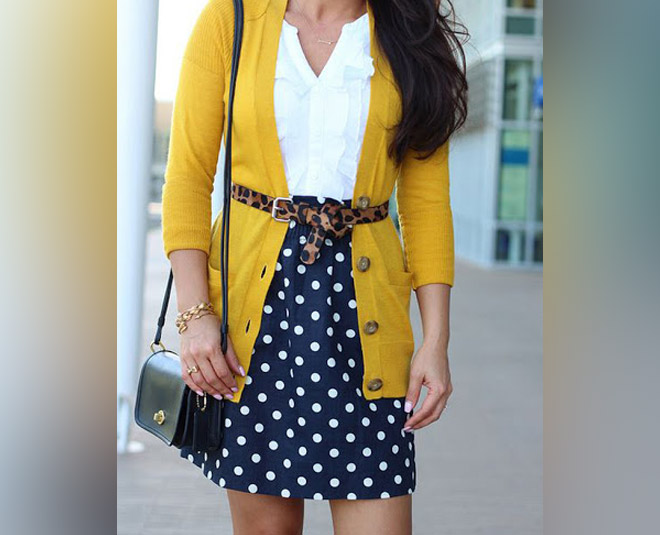 Well if done right, mixing and matching is one of the most creative ways of doing your look. There are endless possibilities that you can experiment with, all you have to do is go with your instinct and that's it. Like here, a blue and white polka dot skirt is paired up with a white shirt, and a yellow summer cardigan. Further, the look has been styled minimalistically with an animal print belt(belt ideas to try), a black sling bag, and transparent heels. And you can do a natural makeup look along with a side pony tail to round up this look.
Don't miss: Fashion Brands/Designers Are Going All Over These Prints This Season
Wear A Polka Dot Shrug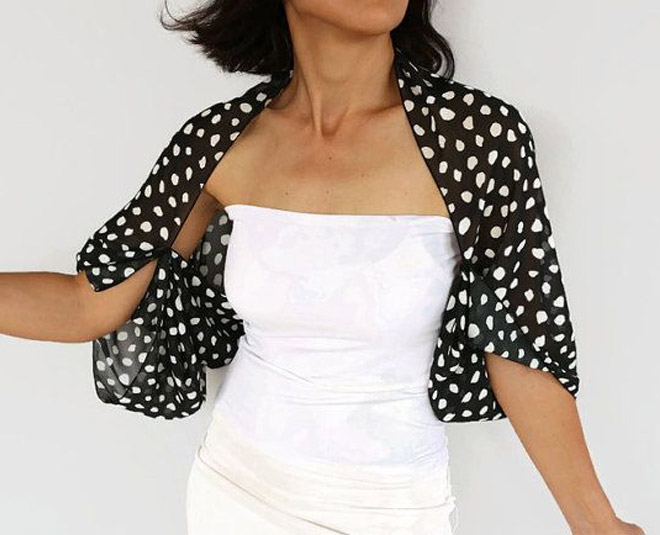 Team up your favourite basic dresses or tops with a polka dot shrug and grab all the eyeballs. Polka dot shrugs are very lesser-known apparel but they add immense oomph to your look. Just pair your outfit with jeans, skirts or pants and there you go! Stay in the minimal vibe by pairing this look with a multi layered chain, small studs, or teardrop earrings. Go in with a little heavy makeup and finally do your hair in a veteran way and voila!
Don't miss: 5 Cool Ways To Style Your Bandeau Tops
Tell us which look did you like? Stay tuned to Her Zindagi for more.