We know if you're a bride-to-be you have to focus on so many things. Your diet, attire, makeup and of course, your ornaments. Most emphasis is given on deciding the right kind of maang tikka and neckpieces. While we love nose ring or nath a lot, we somehow don't pay much attention to picking the most flattering piece as per our face cut.
But anything that's largely visible on the face can make or break your look. Not just the design, but also the shape and size of the nath matters a lot. Anything too bulky can hide the best features of a small face, and anything too compact can make one's profile look bigger than it is. To avoid all this last-minute fiasco, it's best to know how you can invest in the most suitable bridal nathani. Allow us to help you in this with our detailed guide on picking the right bridal nath designs for all your face shapes.
Bridal Nathani For Long Face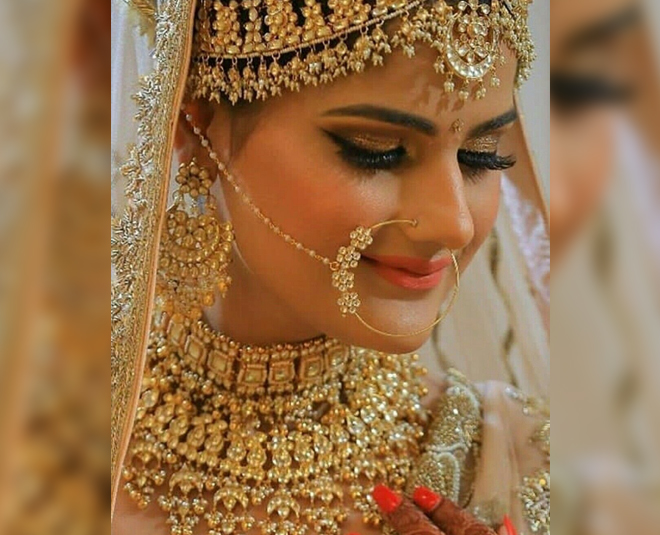 People with long face have enough room to decorate their heads with gorgeous maang tikkas and maatha pattis. However, you want to create a balance with every element you add on your face. So, for your lengthy face, pick something that will focus on increasing its breadth. A nathani with intricate work or beading around will look nice. Make sure the nath is round and do not have design towards the bottom, otherwise, it will give the illusion of a much longer face. You can also add a chain to your nath that comes with drop beading. The horizontal line will enhance the existing features in the best way possible.
Bridal Nathani For Oval Face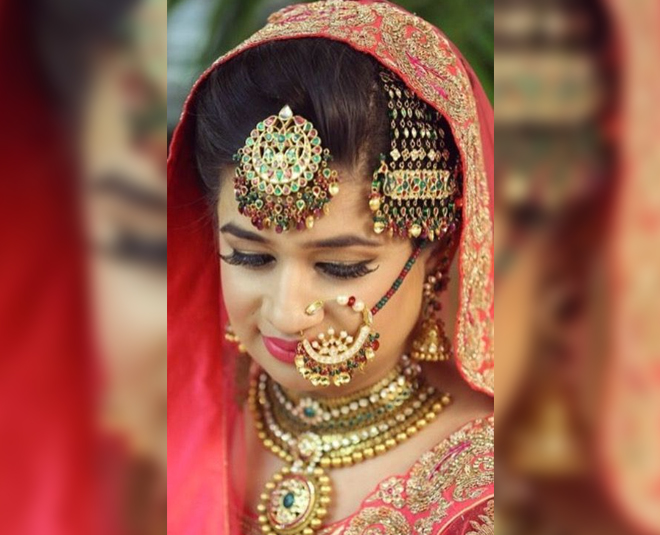 You're one of those blessed souls who can experiment with anything and everything they want when it comes to your face! You nath however should not be too big. As you don't want to hide away those amazing facial feature. Go for a medium-sized nose ring and add a thick chain from the nath. However, if your heart is still screaming for a big nath, invest in one that comes with a simple plain texture, without much encrust.
Don't Miss: Anju Modi's 2020 Collection 'Sindoori' Is Specially Curated For Millennial Brides
Bridal Nathani For Round Face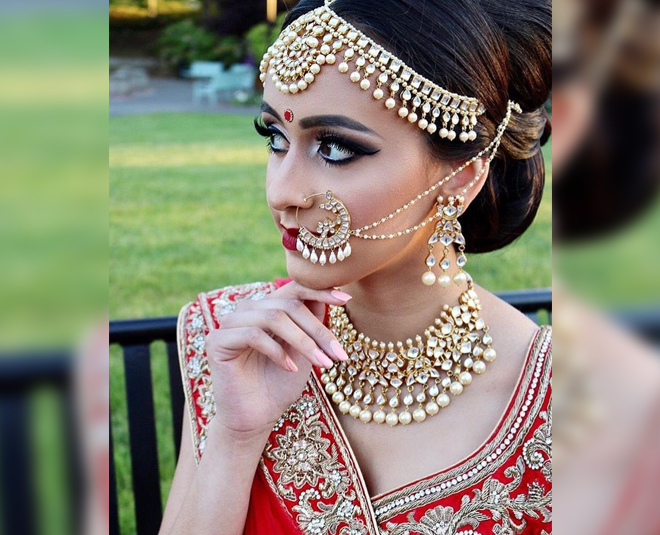 We know you are having a hard time to decide the ideal ornaments for your face. That's why we're here to take away a little bit of your tension. A round face is tricky to decode, but the key is to create an illusion of a slightly longer face, and you will be dazzling not only on your wedding day but at other given occasions too. Pick a nath that somehow doesn't look round on your face. The beading or the embellishments must all point downwards. This will create illusionary length on your profile. Also, cut the chain, as it will make the face look wider. Go for those vintage pieces that come with hanging pendant and no chain.
Don't Miss: Manish Malhotra Serves Perfect Style Guide With Biggest Bridal Trends & Lehenga Designs For Fall 2020
Bridal Nathni For Heart Face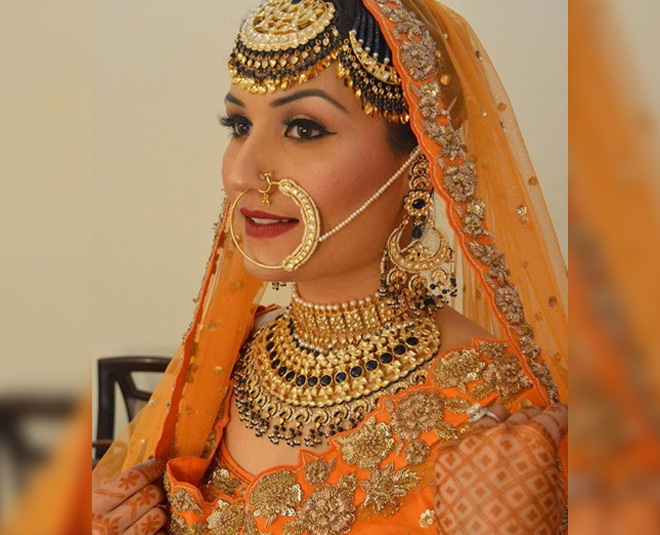 One of the most desirable face cut is heart shaped-face. The wide forehead along with a sharp chin looks perfectly proportionate. When doing nath shopping, don't think too much, because every shape of nose ring would look great on you. However, to further enhance your jawline (how to define perfect jawline), do not pick a piece that is too big making your face appear smaller. You most likely have sharp features, if you want to create a soft bridal look, go with delicate, draped chains. Even the trending multi-stand nose ring can help you ooze oomph!
Bridal Nathani For Square Or Rectangle Face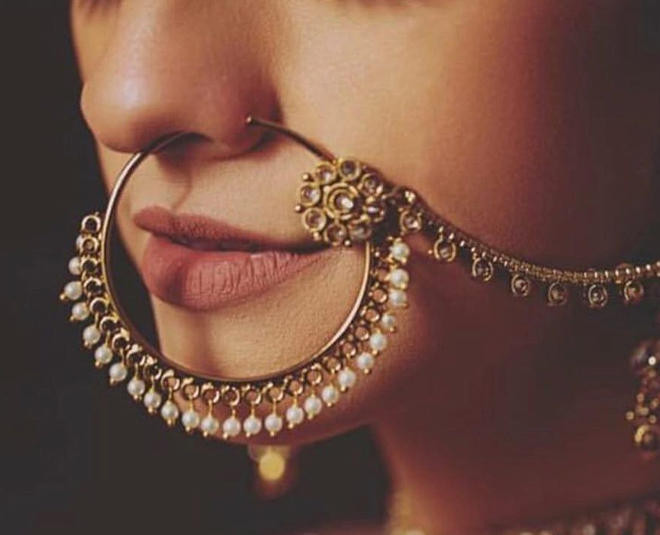 You already have depth on your face, you need to define it further with the right ornaments. First, go for maath patti (hairstyles to style maang tikka) for your forehead and then invest in a nathani in a round, oversized nath. Given the one-side appearance of a nath, your face will already look sleek and soft. However, be mindful about that nath chain. You want to have a thin chain or perhaps no chain at all on your wedding day because it will give your face an illusion of more breadth and you don't want that.
Bridal Nath For Diamond Face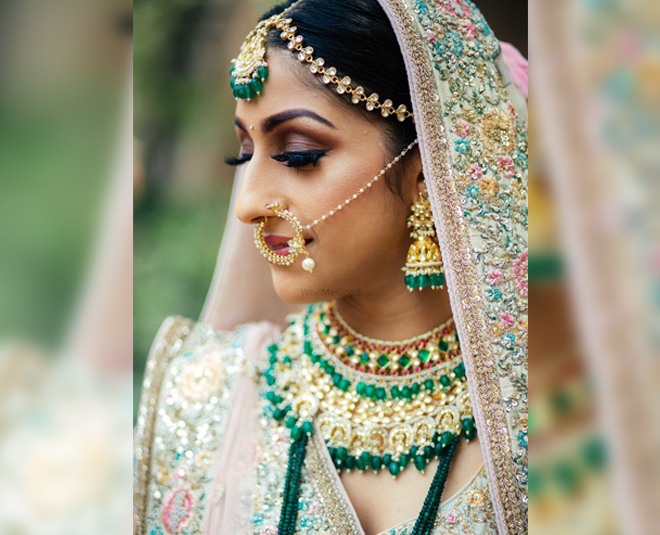 Perhaps these are the girls with sharpest features. The high point of their faces are really prominent. That's why go with something that doesn't distract the onlookers from such amazing features. Don't buy big pieces, otherwise it will cover your cheekbones. The vintage nathanis with a small diameter will allow you to show off cheekbones.
If you liked this article, do comment on our Facebook page. Stay tuned to HerZindagi to read more such stories.
Picture Courtesy: Pinterest