With temperatures soaring, it is certainly time to ditch those synthetics and go for easy, fun and breezy cotton clothes. Since cotton is 100% organic, it reduces the chances of prickly heat, rashes or other skin infections. To keep your cotton clothes cool, soft and colourful, here are some easy and interesting hacks, so you don't have to sweat it out!
To retain the softness and colours of your lovely cotton clothes this season, use these simple hacks listed by Sakshe Bhatt Somani, Founder, Humra, and keep them bright:
Hand Wash Cottons With Cold Water
Hand wash your cottons separately and gently in cold water. Remember, do not machine wash or soak cotton in warm or hot water, as it leads to breakage of fabric and sagging or loosening of it. So, while giving a hand-wash to your cotton, twirl the clothes around in the water, let soak for five to ten minutes, twirl again, and hang to dry. Do not wring harshly.
'Shade-Dry' Not Sun-Dry Your Cottons
After a gentle hand-wash make sure you spread your cotton clothes flat to dry or hang on a line. It's best not to use a dryer. Also, do not spread or hang your cotton clothes in the sun. Instead, always them in the shade as the fabric can't take the harsh heat of summer sun.
Do Not Machine Dry
Machine dryers give a rough/harsh treatment to the cotton clothes, which can cause loss of colour and texture in the longer run. So it's best to give your cottons a gentle wash and dry, so they stay bright and lustrous for a long-long time!
In The Case Of Washing Machine; Opt For 'Vinegar Therapy'
Yes, if you must machine-wash your cottons then wash them in the gentlest cycle and give them 'vinegar therapy'. A cup of white vinegar in a drum full of water in the washing machine keeps cotton clothes from fading and preserves their brightness. Do not worry about the vinegar leaving behind an acrid smell. It does not happen as the concentration of vinegar in the water is so less. So, keep your cottons soft and fresh, with this simple tip.
Don't Miss: How To Get Rid Of The Damp, Musty Smell In Clothes Especially Amid Monsoon
Do Not Use Harsh Detergent Powders Or Liquids
Always use gentle soaps or shampoo for washing cotton clothes, and avoid using harsh detergents or powders or liquids. This will give your fabric great health and longevity.
Wash Whites & Colourful Cotton Separately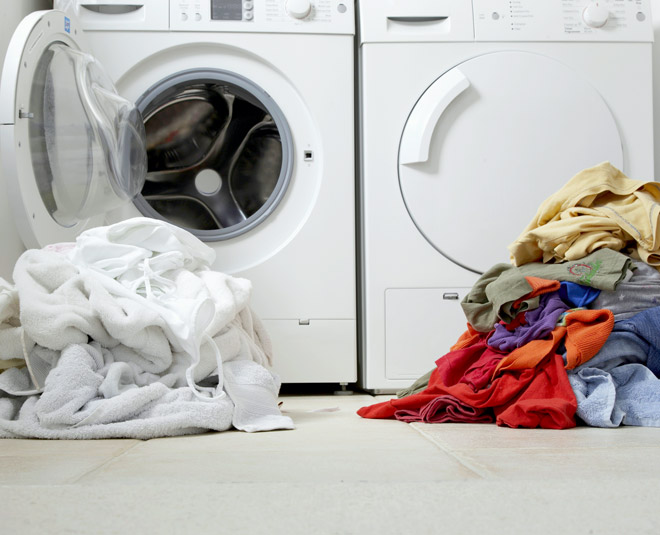 Wash different colours separately. Dark coloured cotton clothes often bleed dye for the first couple of washes. If you wash dark clothes with light ones, you will end up with a pile of discoloured clothes. And always separate out whites from all other coloured cottons. Adhere to this simple thumb rule, to keep your whites sparkling with shine!
Don't Miss: Here's A Complete Guide To Wash Silk Clothes
Turn Your Clothes Inside Out
Yes, although it's a lesser-known practice but washing or drying your garment inside out will protect the outer fibre from wearing down! Since the inside of the garment mostly remains out of exposure, it is absolutely fine even if this side fades or wears out a little more than the outer layer.
So go ahead wash and dry those hand block prints or just simple plain cotton inside-out and save them the fade-off effect! Stay tuned to HerZindagi for more tips on taking care of your clothes.