To all the chubby girls out there, this one is for you. We have all grown up in this split between struggling to accept our body as it is and hating it at the same time. While the society plays with our confidence in several ways, making us hate our bodies is the worst thing it does. We begin to become so conscious of our bodies that after a certain point we completely stop going out. Especially at parties and other outings where we need to wear fashionable clothes, we feel there is nothing in the market that would actually look good on us. We either avoid the mirrors all together or spend hours in front of it pinching our love handles and hoping for them to disappear.
While we are in full support of body positivity and strongly believe that every girl should embrace her body, we also don't think that till the girl learns to love her body she should be trapped in her room too embarrassed to go out. So ladies! While you learn to love yourself, don't let the hate stop you from stepping out. Sometimes it is okay to hide something that bothers us, just for our peace of mind and that is what you will master today. If you are someone who has love handles, here are a few dressing tips and tricks to hide them!
The Magic Of Black
Black is not just a colour, it is a blessing. Black colour creates an illusion and makes your body look well in shape. This is the perfect colour to wear if you have love handles but you still want to wear a tight-fitting dress. The colour black hides the fat and makes you look thinner!
Buy The Right Shapewear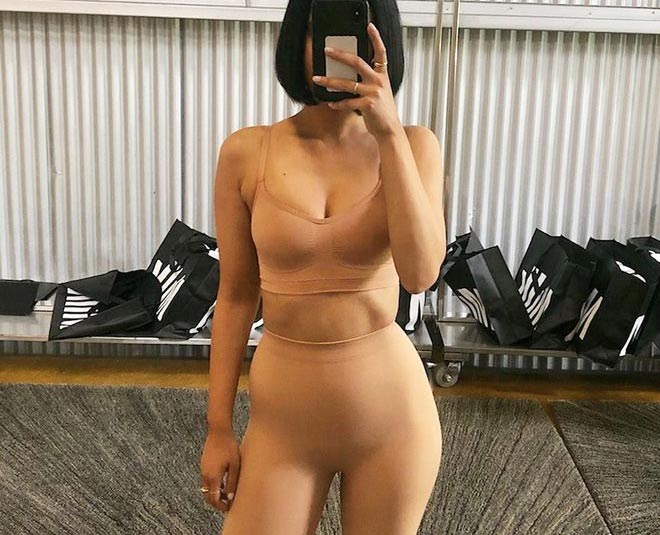 Image Credit: cdn.cliqueinc
There is absolutely nothing embarrassing in wearing shapewear inside your outfit. This helps in defining your shape and holds the flabby and loose skin tightly. If you are wearing dresses or even sarees, a good shapewear can change your look miraculously!
Vertical Stripes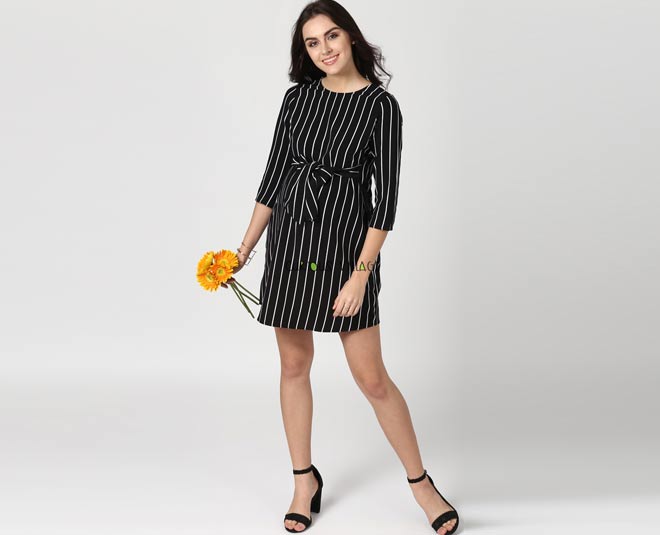 Image Credit: curiousvillage
The first rule in hiding your fat, especially in your lower body is to avoid horizontal stripes. They make you look broad. On the other hand, vertical stripes create an illusion of a leaner body just like the colour black does.
Read How You Can Hide Belly Fat In Jeans- Your Ultimate Style Guide To Hide Belly Fat In Jeans
Bottom Flares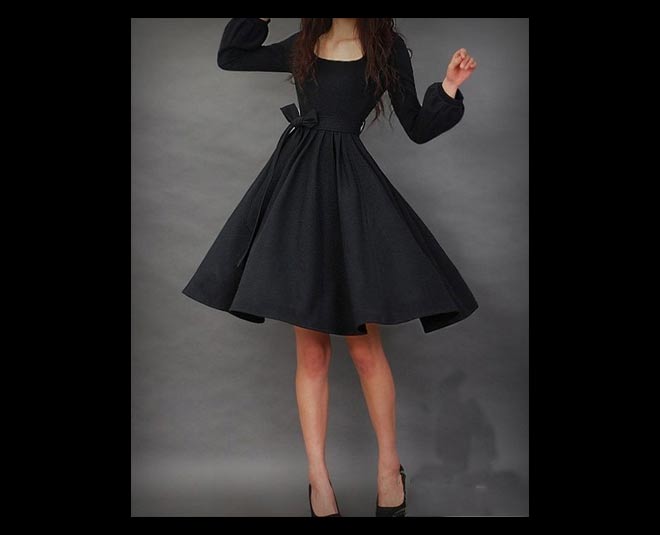 Image Credits: i.pinimg
One thing that you can do if you really want to wear a dress but are conscious of your love handles is that you can wear a dress that is tight on the top but has a bounce down the waist. This way, there will be no fabric touching your love handles to magnify them and you can easily boast a dress as well!
Dress In Layers
This is also an easy way of hiding your love handles. Wear any dress you want to and then pair it up with an overcoat, a shrug, or even a thick belt. This way the attention won't be drawn towards your love handles and you will be good to go!
Read How To Get Rid Of Love Handles- Easy Workout To Lose Your Love Handles and Underarm Fat
These were just a few tips to hide your love handles. Stay tuned to Her Zindagi for more such content!