While it is okay to have belly fat or love handles, it may make you feel conscious at times. After all, somewhere we all want to have a flat stomach. However, we must learn to appreciate all that we have while also trying to better ourselves.
Belly fat is something that shows when we sport slim-fitted clothes. This also includes wearing a pair of jeans. The tight-fitting around the belly may end up revealing your tires. If you don't want this to happen, try some of these style hacks.
Reach Out For Shapewear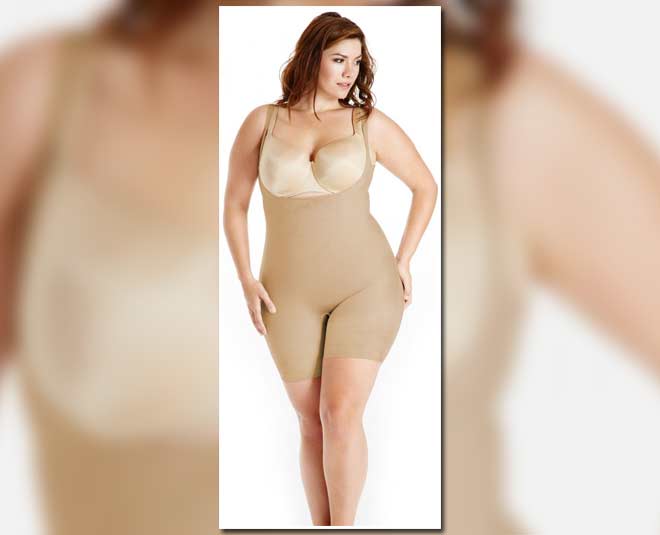 Shapewear is a must-have in your closet. While it doesn't remove the trace of belly fat, it does smoothen things down. By wearing good quality shapewear underneath, the stomach will look even, instead of tires being visible. For the summer season, invest in nude colour shapewear. You are likely to feel less hot in it, and it also goes with dark or light tones fabrics. You can buy full coverage shapewear or the one that is only to tuck your tummy in and also shape your thighs.
Go For Darker Shades
Denim pants are available in a variety of shades; ranging from dark to light. If you want to hide or cover your belly fat, buy solid colour jeans. This is because dark colours do not reflect too much light, making everything look uniform. Also, avoid shades pieces. You don't want to draw extra attention to the area that you want to hide.
Pair With A Tunic Top Or Loose T-Shirt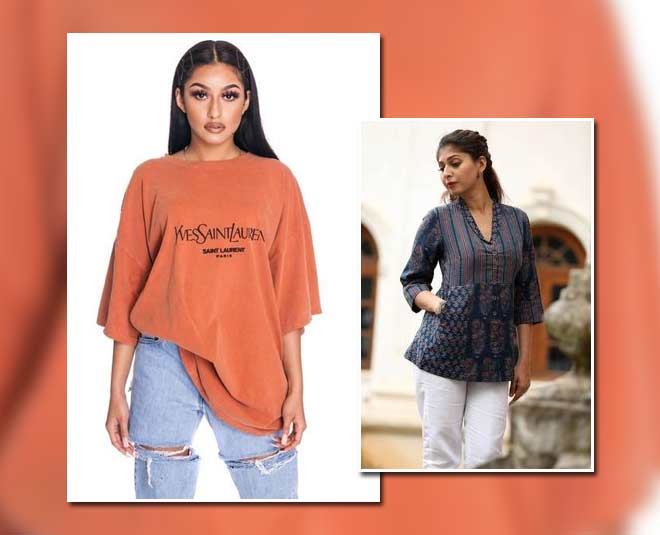 There are various styles and designs of tops available in the market. The key is to pair your denim with something that creates an illusion of a flat stomach. Some of the great options can be loose t-shirts, tunic tops, short kurtis, etc. Avoid tight-fitted tops, tunics and t-shirts.
Try Layering
If dressing up for the office or some professional meet up, you can use the art of layering to hide your belly fat. Along with shirts or tops, sport a blazer or a shrug for a cool look. Not only these get look sophisticated and classy, they are great to hide and cover the belly fat that is making you feel underconfident. While investing in a blazer, make sure that it has a slim-fit style.
Don't Miss: 6 Different Ways You Can Style Pencil Skirt To Look Chic
Use A Corset Belt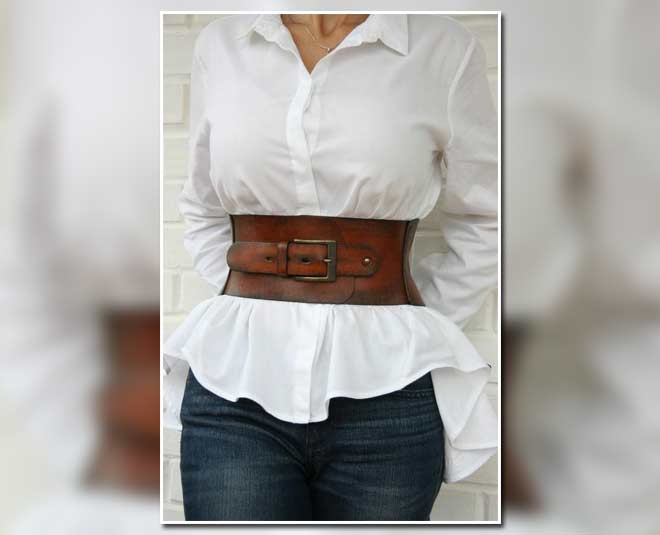 You can also hide your belly fat in style by using a corset belt. You won't be needing to sport shapewear (benefits of wearing shapewear while exercising) underneath if you are going for this option. Simply don a plain shirt and dark blue denim, add a corset belt over it. Not only you will look glamorous and slim, but you will also be making heads turn!
Don't Miss: Hide Or Remove Camel Toe From Your Bottoms Using These Tricks
Do let us know which of these hacks are your favourite by commenting on our Facebook page. Stay tuned to HerZindagi for more such stories.