Have recently cut short your hair that you regret now? Don't worry as you can still make your hair seem longer. Without any hair extensions or difficult hairdos, these simple hairstyling tips will let you tie your hair to make them look extended in a jiffy.
Dutch Braids
Image Courtesy: Pinterest
If you are a fan of braids, then this braid must be on your list. This hairstyle not only keeps hair in place but also makes you look super cute.
Steps to make the hairstyle-
Step 1- Divide your hair from the middle and part them into two.
Step 2- Take the right side and divide it into three equal sections.
Step 3- Take the left section and cross it under the middle one. Then take the right section and cross it over the middle one.
Step 4- For the next step, take a small section of hair from below.
Step 5- Repeat the above step and keep adding hair to every section, with every step.
Step 6- Keep crossing the sections of your hair till you reach the bottom of your head.
Step 7- Now use a hair tie to secure your ponytail in place.
Step 8- Repeat the same process with the left side of your head and you are done.
Your cute dutch braids are ready. The hair left open, below the hair tie will give an impression of a long hair-length. This will make your locks look longer than they actually are.
Don't Miss: Fashion 2020: Pro Tips To Look Luxurious & Expensive Without Spending Much
Double Ponytail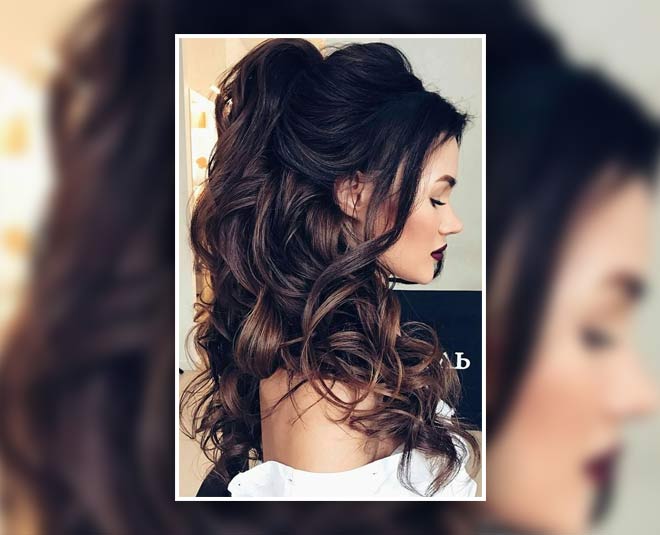 Image Courtesy: Pinterest
Ponytail is the go-to option, which suits all kinds of outfits. Nobody likes a thin or drooping ponytail, which further spoils the whole look of yours. Get a fuller ponytail with this hairstyle and make your hair longer as well.
Steps to make the hairstyle-
Step 1- Brush out your hair properly to ensure there are no tangles left.
Step 2- Now divide your hair horizontally by creating a partition, starting just behind your hair.
Step 3- Take the upper part and use a hair tie to make a pony.
Step 4- Now gather the leftover hair and make a low ponytail.
Step 5- Spread the ponytail above properly to cover the pony below.
This hairstyle will give you two ponytails but will give the impression of one. With hair tied towards the lower end of your head, it will also make your hair look longer.
Don't Miss: These DIY Wedding, Festive, Zoom Call Hairstyles Will Amp Up Your Look In Easy Steps
Half Bun Or Pony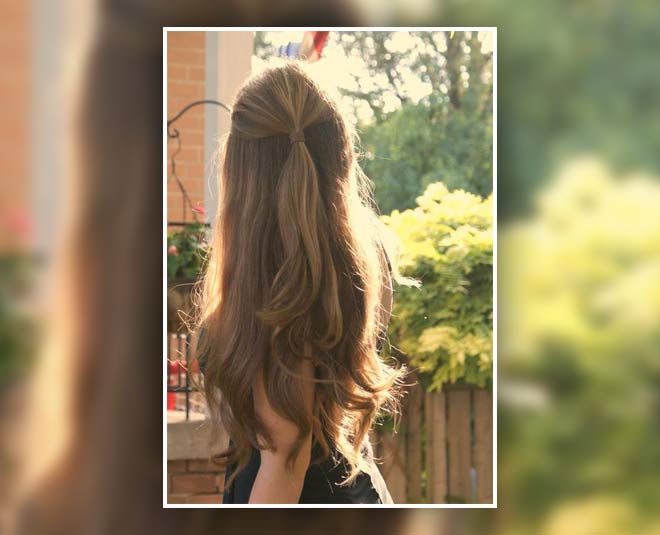 Image Courtesy: Pinterest
Want to make a messy bun or pony but can't because of the short length of your hair? Fret no more and don a half bun or pony with this super easy tutorial.
Steps to make the hairstyle-
Step 1- Brush your hair towards the back and take a small portion of hair from the front.
Step 2- Back-comb it to add some volume to your front hair.
Step 3- Now use your fingers and take your hair towards the back.
Step 4- Begin from the side of your ears and gather it with your hands.
Step 5- Avoid using a comb to give it a cute and messy look.
Step 6- If you wish to make a half pony, just use a hair tie and secure the hair on the back of your head.
Step 7- To make a half bun, just twist your hair and wrap it around to make a bun.
Step 8- Use pins or hair ties to secure your bun and you are good to go.
The leftover hair below will make your hair seem long, while the hairstyle will make you look chic.
The simplest way to make your hair look longer is by gathering all your hair and tying it at the bottom of your neck. This will not only give you a sleek look but also highlight the long length of your hair.
For more such hair styling tips and tutorials, stay tuned to HerZindagi.com