Dressing Tricks And Tips For Every Woman
Did you know that you must pair cool blue-based colours with similar hues only? Take a look at the following dressing tips!
We often hassle while deciding on clothes. We frequently find ourselves struggling to pick the right clothes that can amplify our personality and boost our confidence. We bring you smart tricks and tips that will help you enhance your look without investing much.
Why Are Dressing Tips Crucial?
Our outfits are an integral part of our everyday lives. The way we dress up influences our personality. Whether we accept it or not, our attires affect our confidence as well. The casual style also creates an impression in the eyes of peers and others. The tips below are no rules or instructions, but they are merely helpful tricks that can heighten your look.
Dressing Tricks For Every Woman
Invest In The Right Size Brassiere
Women must invest in the right size bra. A wrong-sized bra not only affects your clothing, but it can also affect your health adversely. Therefore, you must first measure your bust and cups to know your bra size before buying clothes. Most of the stores have attendants who can help you find the apt bra size.
It helps with the posture and allows your clothing to fit impeccably. The style of bras also plays an important role while selecting your outfit. For example, with a strap dress, you can wear a strapless bra or attach transparent straps to a regular bra. According to a famous YouTuber, Audrey Coyne, you must not wear a white bra under a white top. Nude would be better.
Choose Styles That Add Definition To Your Curves
Whether it is skinny jeans or a shirt dress, if a piece of clothing accentuates your shape, you must invest in a similar kind. However, most of us are not aware of what suits our bodies. This also includes colours, embellishments and fabrics.
Hence, we can try the clothes in our closets to see what looks the best on us. Experimenting with different clothing styles is always one of the best ways to find a piece of garment that would add definition to your curves.
Pair Clothes According To The Colour Palette
Audrey Coyne says that colours play a crucial role in the mix-matching; therefore, we must pair warm shades of yellow and cool shades of blue with the hues matching their respective colour contrast. Such a mix usually pleases the eyes.
This advice does not stay with mixing-matching clothes, but it also extends to the accessories. For example, if you are wearing a dress with orange flowers, you can pair it with shoes and a bag belonging to the contrasting hues of yellow.
Look Tall And Slim
We find all bodies equally attractive. However, if your personal preference is to look tall and slim, we have a quick trick for you. According to Audrey Coyne, women must choose neutral or skin-coloured sandals. The hue must be as close as it can get to your skin tone.
Once you have picked a pair of footwear, you must match it with high-waistpair of denim. It tricks the eyes and gives an impression of long legs. Thus, it makes you look tall as well as slim. It works for everyone, and you can choose this look for a casual outing with friends.
Purchase Quality Clothes
For every person, it is always a good choice to make a quality purchase when it comes to clothing. Whether it is a coat or jeans, every woman must check the nature of the fabric. Cotton, wool, silk, linen, cashmere and rayon are some of the best clothing fibres to invest in.
They are easy to carry and maintain. Moreover, these types of fabrics offer comfort, if you wear them according to the climatic conditions. You must also see the finish of the clothing. For example, you must check the stiffness of the zippers and thread in a pair of jeansyou are going to buy.
Don't Miss:5 Ways You Can Slay In Tulle Tops This Summer
Get In Contact With An Amazing Tailor
This is not a piece of dressing advice as much as a tip that can help you change the outlook of any dress. Many times we like a dress, but we cannot find it in a perfect size. Sometimes, a dress might not fit our curves to perfection.
In such a case, an established tailor can help you out. The person can help you fit effortlessly in your favourite clothing. For example, you can change the cheap buttons to a fancier style and add a few embellishments to amplify the pattern of the dress. It is also an inexpensive option over buying new expensive clothes.
Don't Miss: How To Style Kurti With Different Bottoms
Accessories Go A Long Way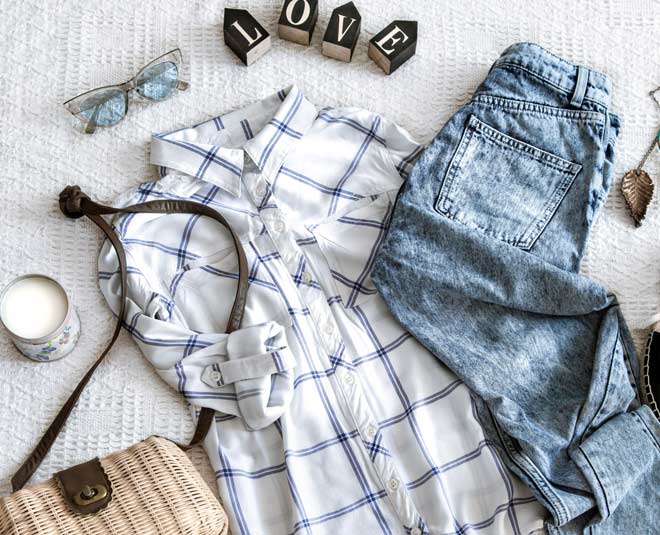 When styling clothes, accessories play a crucial role in amping up your personality. A bold wide belt around the waist can turn a simple loose dress into attractive couture. Similarly, shoes, bags, earrings, hats and jewellery play a vital role when you dress up to go somewhere.
You can even upgrade a casual outfit with a trendy scarf. It adds a polished effect to the outfit. When styling, you must also keep a DIY kit handy to remove lint. You must keep a double-sided tape, needle and thread, safety pins, paper clip, bra clip, etc. You never know when you might need them.
Did you like our extremely cool dressing tips? Share your awesome tricks with us in the Facebook comments. Till then, stay tuned with HerZindagi for more styling tips.