How To Style Kurti With Different Bottoms
Are you looking for easy ways to style kurti with different kinds of bottoms? Here are a few styling tips.
Kurtis are traditional Indian attire that most of us like to flaunt. The soft fabric, intricate work and embellished design make them ideal for casual and office wear. It fits girls and women of all ages and amplifies the appearance in no time.
Find A Perfect Fit
Here are a few things to keep in mind while buying a kurti
1.Shape of your body
2.Fabric of the kurti
3.Your budget range
4.Style of the kurti
Tips To Style Kurti In Different Ways
Pair With Churidar
Churidar is a traditional bottom that you can easily pair with a kurti ranging from knee-length to ankle. Although it is not a common choice among bottoms these days, it still looks elegant with printed floor-length kurtis. A detailed kurta with bright accessories appears elegant with churidars or leggings during festivities and a casual day out.
The best tip that one should keep in mind is to avoid short kurtis with churidars or leggings. Anarkali kurtis, full sleeves kurtis and collar kurtis fit impeccably with leggings or churidars.
Pair With Jeans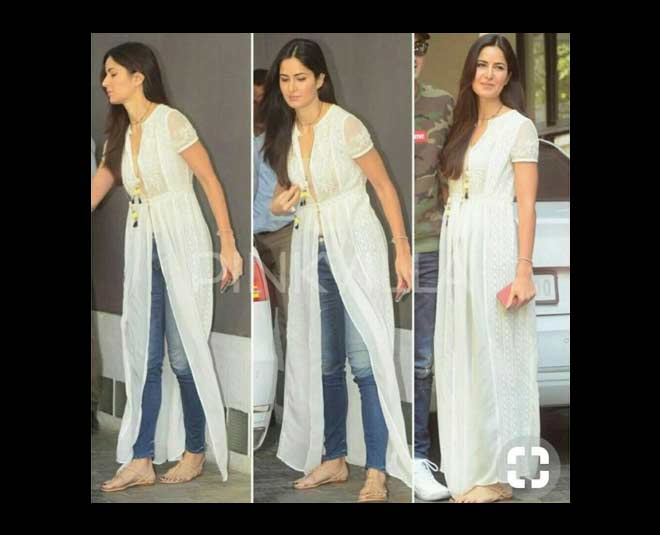 Image Courtsey:G3+ Fashion
Getting a pair of jeans and wearing them with a kurta is old-style but classic. Slit-cut kurtis, short kurtis and knee-length kurtis look fabulous with skinny or ankle-length jeans.
It is a casual-smart style that never runs out of fashion. You can wear it to a date, office or casual gathering of friends and family. It is an effortless look that you can amplify with neutral makeup, oxidised jewellery and heels or flats.
Boot-cut jeans pair impeccably with a waist-length or short kurti. If you are looking for a professional style, a cotton kurti with jeans is the best choice of all. However, one must avoid cap or short sleeve kurtis with jeans. Sleeveless, 3/4th sleeves or full sleeves in kurti offer an illusion of tall height when paired with jeans.
Pair With Patiala Pants
Do you have a short kurti and wondering what would be the best bottom to it with? The answer is patiala pants. Not only they are comfortable, but they also offer an undeniably uber-cool traditional look.
Patiala pants have originated from the regions of Punjab, but today, they are a part of style statements. The versatile look of a patiala with a short kurti and dupatta is perfect for a wedding function, bridal wear or casual wear.
Patiala pants add a bulky shape to the legs and allow free movements. They keep you comfortable irrespective of the weather conditions. You can buy patiala pants made of chiffon, silk, cotton, georgette or any other material that matches the kurta.
Pair With Dhoti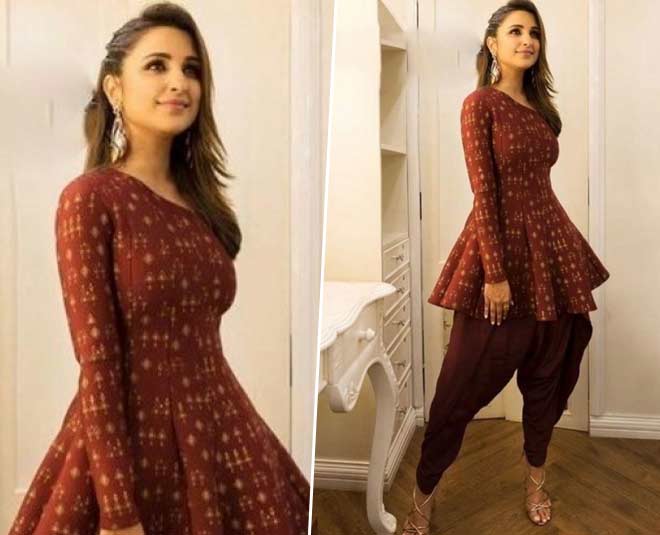 Image Courtsey:Bling Sparkle
With several pleats around the thigh area, dhoti pants can be an amazing addition to the collection of bottoms in your wardrobe. The pleats remain in the upper area, and the fabric tapers down near the ankles.
Most dhotis have the one-size-fits-all mechanism, and they look good with short kurtas. For a traditional look, you can pick an embellished kurta to pair with a plain dhoti or vice versa. However, one must avoid lycra fabric for dhoti because it does not have the requisite flare to the design.
Pair With Palazzo
To amplify the appearance, you can pair a kurti with a flaring and vibrant palazzo. A palazzo pant is a blend of Indian with Western-style. They look stylish with a long kurta that extends a little below the knees.
If you want to pair a short kurti with a palazzo, the best choice would be to get wrap-around palazzo pants. Women can wear palazzo with angarakha kurti, peplum kurti and high-neck embroidered or printed kurti.
Don't Miss:How To Style Your Wide Leg Pants In Different Ways?
Pair With Cigarette Pants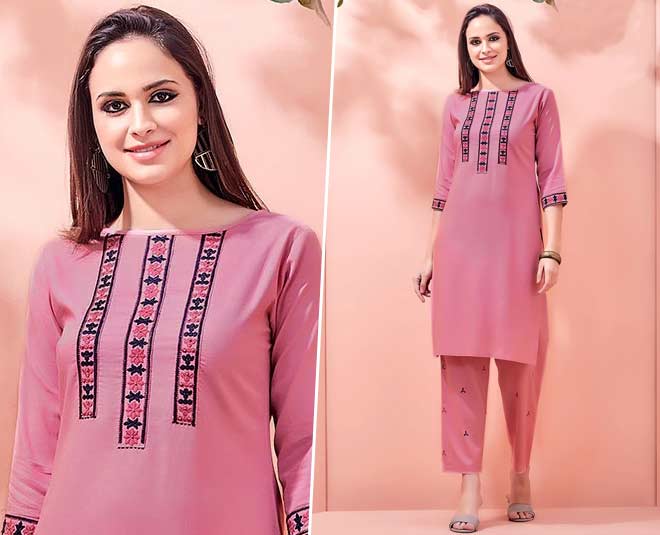 Image Courtsey:G3+ Fashion
Cigarette pants are a part of the latest trends and seem to have taken over from leggings and churidars. They offer tight-fitting with any rings forming near the ankles. They are lightweight, comfortable and scale up the fashion game.
You can wear a flared kurti, tail-cut kurti, kaftan kurti, lawn kurti or long kurti with cigarette pants. They are ideal for office or a day out with friends and family. Women can also enhance the look by wearing contrasting heels or flats and matching lightweight jewellery.
Don't Miss: Tips And Tricks To Look Slimmer When You Dress
Pair With Long Skirt
A new traditional look that is making headlines is pairing a long kurta with a flared skirt. If you have an embellished kurti, you can wear it with a skirt to a party. A dupatta with the ensemble can finish the look.
Now you do not have to worry about that kurtis sitting idle in your wardrobe. You can get any of the above-mentioned bottoms and make a stylish pair to wear for an occasion. Stay tuned with Her Zindagi for more kurti styling tips.