Bollywood is bringing back the 90's trend that we all love, denim dungarees. Well, you might think this is just for kids but you are absolutely wrong as our Bollywood divas think otherwise. So, here are some Bollywood actresses who have slayed in denim dungarees. Read on to know how to style it like them.
Kangana Ranaut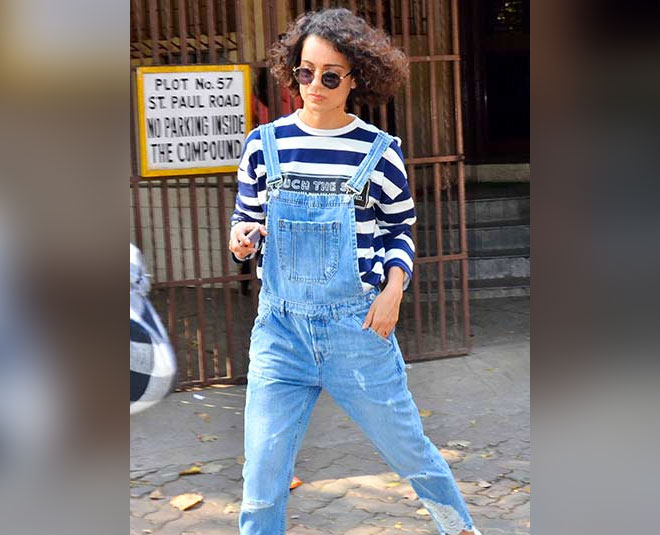 Kangana Ranaut is looking effortlessly chic in this blue denim dungaree which she has paired up with a full sleeve white and blue striped t-shirt. Along with this, she has kept her look natural and just added a pair of sunglasses.
This will surely make you look stylish and at the same time you will be comfortable. Full sleeve t-shirt will also protect you from the sun. Just pair up your dungarees and full sleeves t-shirt with a pair of sneakers and you are good to go.
Parineeti Chopra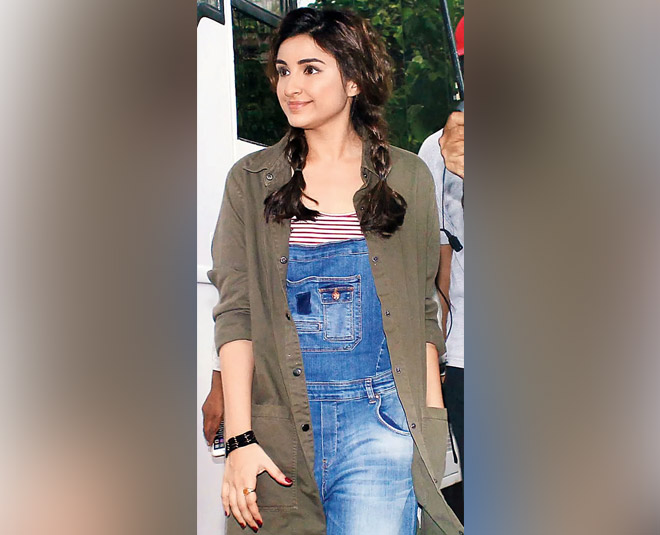 This look of Parineeti is perfect for winters. She is wearing a denim dungaree with a striped t-shirt and has layered it with an olive coloured long jacket. She looks perfect with her natural look and two braids.
You can easily pull off this look and this will give you change from the regular jeans and sweaters during the winter season. Just put on a dungaree with your favourite t-shirt and layer it up with your favorite jacket. Make braids for a quirkier look and add accessories according to your style.
Alia Bhatt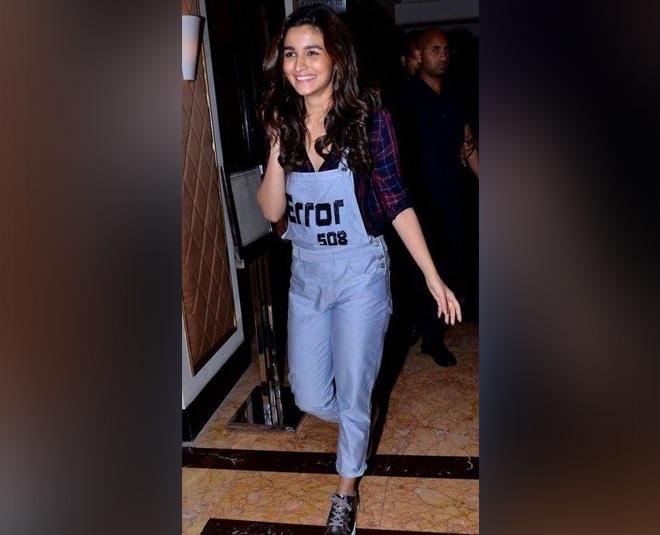 Alia Bhatt is wearing denim dungaree with a plaid shirt. Her dungaree is different from others as it has something on it which is giving it a funkier look. She kept her hair and makeup natural and is wearing a pair of sneakers with the outfit.
You can easily recreate this look. Just find a quirky pair of dungarees or even simple ones and pair it up with a plaid shirt. Either let your hair open or tie them in a ponytail and you are good to go. Just remember to wear your favourite pair of sneakers.
Don't Miss: 3 Times Alia Bhatt Showed Us How To Wear Pink Lehenga
Priyanka Chopra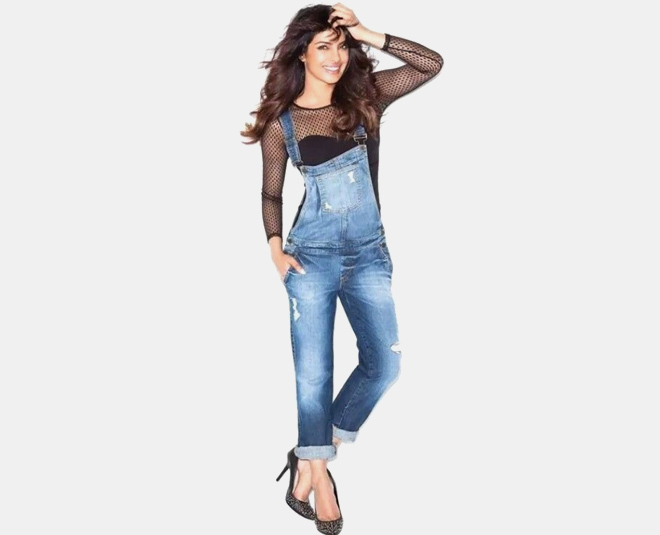 Who says that you have to look cute while wearing a dungaree? Priyanka Chopra is looking smoking hot in this denim dungaree as she has paired it up with a black net top along with black heels (side effects of wearing high heels). She has blow dried her hair and went for nude makeup along with smokey eyes.
You can also look glamorous in dungarees. Just pair it up with a trendy top and your favourite pair of heels and you are good to go. Remember that along with your outfit, your hair and makeup should also be on point.
Don't Miss: Outfits You Can Steal From Radhika Madan's Wardrobe For A Day Out With Your Girls
Sanya Malhotra
Sanya Malhotra is wearing a pair of denim dungarees which has flared pants and is looking super stylish. She has paired it up with a black halter neck top and is carrying a handbag. For a pop of colour, she is wearing a yellow hairband (types of headbands) and is looking effortlessly chic.
You can also get a pair of dungarees with flared pants and look like a true fashionista. Pair it up with a halter neck top and carry a handbag for all your essentials. Also, don't forget to wear a colourful hairband for a more stylish look.
For more such stories, stay tuned to HerZindagi!