Saree Blouse Designs To Look Slim 
Wish to look slim and cover all your problem areas while wearing a saree? Try these fashion tips and tricks.
Nobody is blessed with a perfect body, we all have a different body shape, weight and height. We do wish to look a certain way and work towards it in some way or the other. Many of us desire to get that flawless body, slim and tall, just how we spot those models and celebrities in clothing advertisements. However, reaching the goal isn't a single day task, it takes time.
Till the time you don't finally achieve that goal, you can try some easy fashion tips and tricks which can make your body look the way you want to. Case in point, looking slim in a saree.
Saree is one of the most loved Indian garments. From carrying it for work as daily wear to opting for it on special occasions, sarees are truly a staple in our closets. We earlier shared with you some fashion tricks which can help you look tall in a saree, if you missed reading it, read it here.
Here, we will be telling you how your blouse design too can turn your overall look and make you look slimmer.
Opt For Longer Sleeves
If you are on the heavier side, make sure you opt for long blouse sleeves rather than opting for sleeveless or cap style sleeves which bring all the attention to your arms. If you don't wish to go for a full length, you can opt for 3/4th style sleeves which make your arms appear thinner.
Learn To Balance The Blouse Style
When it comes to sarees, the variety is crazy. From silks to chiffons, you might have all of them in your closet but to make yourself look slim in it, it is important you balance it with the right blouse. How? Check for the pattern, work on your saree, is it heavy or light? With a heavy embroidered saree, opt for a plain, block colour blouse so that you are able to cut down the volume of the saree look and appear slimmer. Similarly, with a light georgette or chiffon saree, you can go for a heavy embellished blouse so that the look is balanced.
Go Light With The Blouse
Your saree look is incomplete if you don't wear the right blouse with it. You might want to wear a heavy embellished blouse with your saree but remember that it will only bring more attention to your bust area and shoulders which you might not wish to flaunt. You can opt for the other way round. Pick a heavier saree and team it up with a light blouse. Go for a single colour blouse with borders on the sleeves to lift the look or a printed blouse that doesn't add volume to your upper body.
Don't Miss: How To Look Slim In A Banarasi Saree
Pay Attention To The Neckline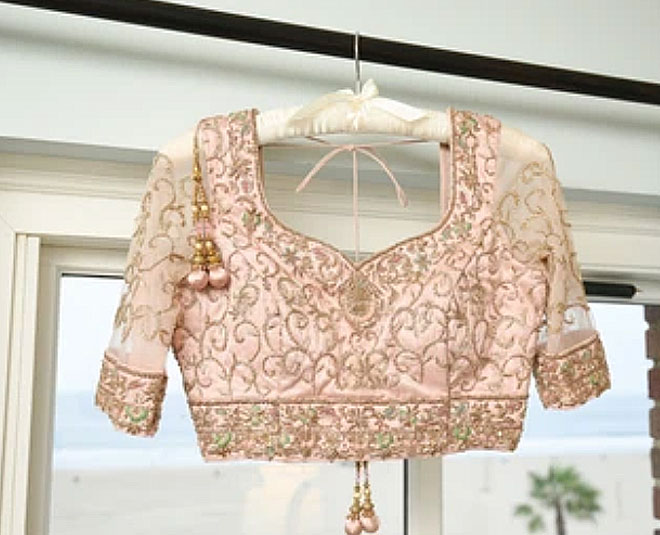 The neckline of your blouse can make or break your look. If you have a heavier bust area (blouse designs for heavy bust), opt for blouse designs that have a wider neck so that all the attention goes to your neck. Instead of very fancy styles, go for safe designs like a broad square or a sweetheart neckline. While draping the saree, make sure you don't cover the entire front area so that the collarbone steals the attention.
Collar Neck For The Win
If you have heavy arms then an easy way to distract eyes off the sleeves is by picking necklines that take all the attention to the neck area. A collar neck or a band Nehru neck can be a good choice. However, you should completely avoid it if you have broad shoulders.
Experiment With Indo-Western Look
A lot of you might not be comfortable with wearing a traditional blouse because of its fit or your size. In that case, you should experiment with an Indo-Western style look. Go for a crisp white shirt with a bright coloured saree. You can tie the shirt above the waist in a knot or tuck it in as per your liking. You can also opt for a simple, crew neck tee and carry your saree with it.
Don't Miss: Choose Saree According To Your Body Type
Say No To Puffy Sleeves
Puffy, voluminous sleeves are in trend today but they just might not work for you because they add instant volume to the arm area. You can still take a fashionable route by going for flowy long sleeves or sleeves with decorative borders. However, puffy sleeves will only make you appear heavier.
We hope these tips and tricks help you look slim in a saree. Other than the blouse design, the fabric of the saree, the draping also plays a crucial role in your look. Make sure you do the draping right. It shouldn't add volume to your problem areas. The draping should be such that it gives you a slimmer appearance.
For more such fashion tips and tricks, stay tuned to HerZindagi.