The beauty industry today is growing at a super fast pace with companies and brands exploring arenas people thought had no possibility. One such area is that of the nail art. Nail art today has thousands of possibilities right from going for a French manicure to a transparent or nude nail look or different designs using just different shades but also rhinestones for that matter.
This boom means the growth of an insudtry with so many professionals who master the art of fine lines and dealing with nail paints. But how does one become a professional nail artist in India and take the right steps?
If nail paint wasn't enough, we also have nail art extensions. You can infact begin your own nail studio or even begin working with good nail salons due to the high demand. To be approx, working ata nail salon can earn you Rs 50,000 to 3,00,000 and a nail technician can get anything from Rs 10,000 to Rs 50,000. It also depends a lot on your work experience and your talent for the art work in demand.
Nail art trickled into our country two decades ago but the one with 3D nail art is comparitively quite new. It is not something you and I can easily do. For 3D nail art, you need a specialist that uses various products including, flower petals, glitter, beads, and acrylic enhancements, not to miss the umpteen tools available.
Courses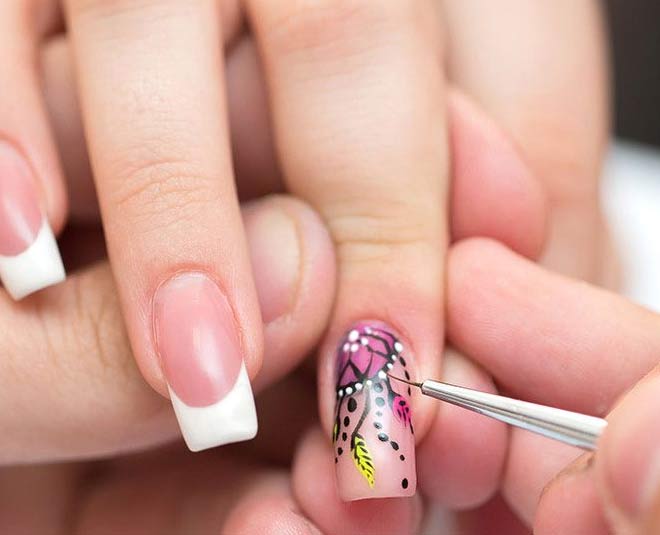 To work as a 3D nail artist, you can go for short-term certification courses available in India. Here is a list of colleges that offer the course.
VLCC Institute of Beauty and Nutrition
Certification courses in Advance Nail Art and Extension
Orane International Beauty Institute
Diploma in Nail Art and Extension: 1 month
Certificate in 3D Nail Art: 2 weeks
Diploma in Nail Technician/ Nail Art: 2 months
Lakme Academy
Certification in Nail Art: 17 months
Jawed Habib Beauty School
Certificate in Nail Art: 1 month
ISAS International Beauty School
Certification in Nail Art/ Nail Extension: 1 week/ 1 momth
YMCA New Delhi
Certificate Course in Nail Art and Nail Extension: 1 month/ Rs 25,000
Kapil's Academy of Hair and Beauty
Certificate Course in Nail Technician: 1 month/ Rs 35,000
Don't Miss: Catch Up On The Breathable Nail Polish Trend For These Amazing Benefits
Vibes Institute
Certificate in Nail Artistry: 1 week
Eligibility Criteria
If you are interested in the course, you must fulfil the eligibility criteria of each of the respective colleges. The common eligibility criteria is:
Be a Class 10th pass
If you have completed class 12th, you can easily pursue 3D Nail Art Certification courses.
Don't Miss: These Hacks Will Make Your Short Nails Look Longer In No Time
Course Syllabus for 3D Nail Art Certification
Product knowledge
Built-in glitter
Builder french white
Manicure
French tip
Characters (rhinestones, petals, gems, flowers, pearls)
So are you going to take up this course? There may be some changes in the courses and their availabilities so it is best to call up the institute and cross check once. Stay tuned to HerZindagi for more info on different courses that you can pursue and expand your horizon.