As they say that conceiving and becoming parents is a gift to all living beings, some people have no issues but some couples face problems even if they are healthy enough to have a baby. In India, having a baby after marriage is like the second main step and if they face issues, they are sadly looked down upon or taunted a lot, given unasked advice by people. Yes, there are many treatments available for the same now but they are not always successful. If you believe in god and also want to turn over every stone and try everything then one solution is visiting temples which are said to bless all those who are wanting to start a family and conceive, When all else fails, many pray to the almighty and there are some temples indeed which are well known to answer those prayers. Here is a list of some temples which you may want to visit in India which could be your last stops to opening the gates of happiness.
Hucchu Gopala Temple
The story behind this temple is that after having an 11th girl child, one of the Chola Kings prayed for a male child but he again had a girl. The king then left that baby in the temple out of anger and the next day they found a baby boy instead. Another story that has been passed around regarding this temple is that it turned the dead into a living child. The story is that once a 6-year-old child died suddenly and its parents cried out of shock in front of the temple. They prayed for their kid's life and after some time that child stood up and looked happy as if nothing had ever happened.
Puja Ritual:
Some couples offer a small silver cradle with the baby form of Lord Krishna. Once they are given as an offering, those cradles are hung to the roof. The prasad has beaten rice and kumkum that only the couple seeking an answer are supposed to have.
Location:
It is 30 kms away from Mysuru airport.
4 kms away from the Badanavalu railway station.
If you are coming from Bengaluru, it is 180kms away from there.
Sri Santhana Venugopala Swamy Temple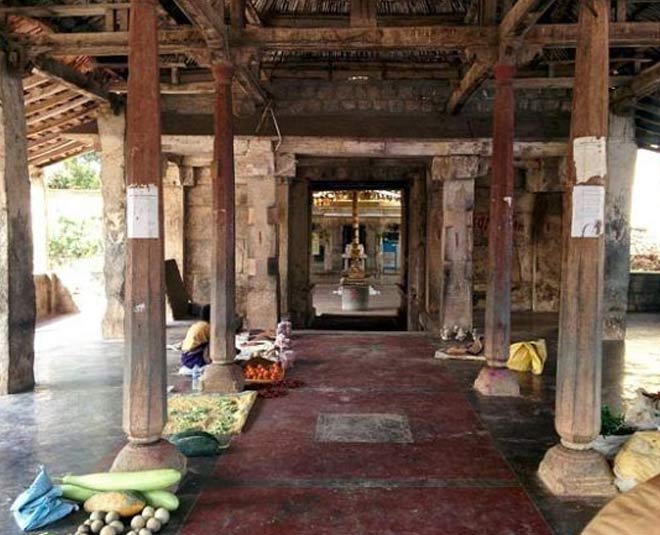 Located in the village Hemmaragala, Nanjanagudu, Mysore, this is an 1800-year-old temple which is also known as 'Dakshina Govardhana Kshetra'. This temple gained importance and became rather famous after Shri Koundaniya Maharishi, a pre-Buddhist era saint, offered penance in this temple. This is temple is well known not just for blessing childless couples but also for freeing true devotees from monetary and health problems.
Shri Satyagiriswarar Temple
Built by Mahendra Pallavan 1300 years ago, this temple is located 21 kms away from Pudukottai, Tamil Nadu. It is situated in Thirumayam and is one of the major tourist attractions dedicated to Lord Shiva and Goddess Parvati. It is also believed to be the place where Sathya Maharishi performed his penance.
It is just next to a 1000-year-old Lord Vishnu temple. It is said that both the temples have been built from a single rock which signifies the idea of maintaining friendly relations between devotees of Lord Vishnu and Lord Shiva.
Lord Sathyagiri Nathan is said to be the form of linga, that overlooks every soul's destiny, calculating everyone's good and bad deed. Therefore also known as Sathya Moorthy.
Puja Ritual:
The temple is open from 7 am to 8 pm and festivals like Thaipoosam, Adipuram and Chithrai are celebrated here with grandeur. It is believed that if you pray with full dedication and a true heart, all their wishes come true especially if they are related to having children or marriage alliances.
Don't Miss: Signs That Warn About Issues In Pregnancy As Per Palmistry!
Location:
It is 64 kms from the Trichy airport and 85 kms from Madurai.
Sri Andal Temple
View this post on Instagram
Located 80 kms from Madurai, this is an 8th century temple in Virudhunagar. This temple is dedicated to God Vishnu and Goddess Laxmi. This temple is said to be the birthplace of 2 important Vaishnavaite saints – Periyazhvar and his foster daughter Andal. This temple is made in a Dravidian style where the Andal part of the temple is adorned with paintings of Rangamannar and Andal, a cosmic couple. The other part of the temple has an image of Lord Vishnu seated in a reclining posture with other gods and goddesses surrounding him.
Puja Ritual:
Interestingly, the prayer rituals are conducted 6 times in a day at 7 am, 8 am, 12 pm, 6 pm, 7 pm and 10 pm. Every ritual has 3 steps – food offering, decoration, and waving of lamps. Fridays and Saturdays are considered auspicious days to offer prayers.
Location:
It is 70 kms away from Madurai airport.
The nearest railway station is 10kms from Sivakasi.
The nearest cities are Chennai, Coimbatore and Madurai.
Stay tuned to HerZindagi for more such stories around Indian temples.