From having the most Majestic Mountains including the third highest peak Mount Kanchenjunga to beautiful forests, valleys, monasteries, and lakes Sikkim is the house of everything that one wants to have on a trip. If you are someone who wants to experience peace and adventure on the same trip then you need to visit this place at least once in your life. This Himalayan state is a gateway to the northeastern corridor of India which is not only famous for its serene beauty but also boasts a lot of adventure activities too. Here some places that you need to visit if you are planning a trip to Sikkim.
Gangtok
The capital city of Sikkim, Gangtok is a beautiful city surrounded by the Himalayas, nature, and river. If you are a nature enthusiast then you need to visit Gangtok as it's going to provide you with mental peace and calmness that you might be looking for on a trip. One of the famous places to visit in Gangtok is Tosmgo lake which is formed with the glacier making it the most stunning place to explore in the city. The snow-covered mountains surrounding the lake with their reflections falling on it is the most picturesque view that you can witness and treasure for life.
Kanchenjunga Base camp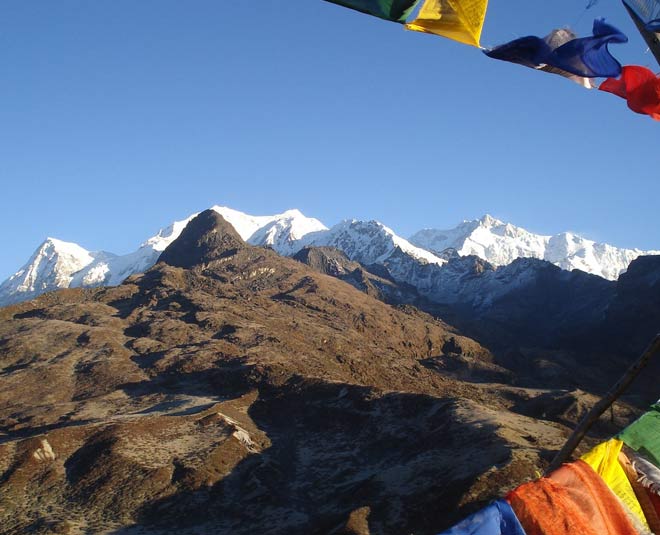 It is the favorites spot for adventure enthusiasts as they get to see the third highest peak in the world so closely. The base camp is located at the height of 14000ft above sea level that is visited by a large number of tourists every year. The snow-covered mountains around you and the clear blue sky above your head are such a mesmerizing experience that you wouldn't want to miss at any cost. The best time to visit the Kanchenjunga Base camp is from April to June or between September to October.
Don't miss: Do These Things When You Visit Kerala
Yuksom
This pristine beauty was once the capital of the state that lies in the west of the state. It is the base for many adventurous treks that takes you through mesmerizing nature, landscape, and waterfalls. Yuksom is popularly known as the meeting place of three lamas that holds the oldest monasteries of the state. It is one of the most peaceful and serene destinations that you can consider visiting in Sikkim. The weather throughout the year in Sikkim is pleasant but if you are planning to go to Yuksom then March to June and between September to October is the ideal time visit.
Don't miss: Check Out The Top 10 Mountain Passes In India
Goechala
One of the most breathtaking places of Sikkim is Goechala that is visited by many trekkers and adventure-loving people every year. This place is located 4,940 m above sea level that is surrounded by the highest mountains of the Himalayas that are mostly covered with heavy snow. One of the prime reasons for Goechala to be visited by trekkers is its majestic view of mountains especially Mt. Kanchenjunga that the place offers to the visitors. If you are planning to go to this place then you should plan your trip between April to June or September to October.
We hope you found these ideas of must-visit destinations in Sikkim useful. Stay Tuned to Herzindagi for more.
image courtesy: unsplash
Did you like this article ?