Rishikesh: River Rafting Should Definitely Be A Part Of Your Bucket List
River rafting in Rishikesh is once in a lifetime experience.
Rishikesh, a place situated in the foothills of North India has something for everyone. You can immerse yourself in spirituality, get familiar with yoga, party till midnight and have once in a lifetime opportunity to experience several adventure sports.
River Rafting In Rishikesh
My recent trip to Rishikesh over the Holi weekend was a mix of all these experiences. Each and every experience was a delight in itself. However, the best memory of the trip has to be rafting in Rishikesh. The one hour that I spent rafting has to be one of the best one hours of my life.
The time spent in the middle of the water made me forget all my worries and I went into another dimension. The cold breeze and the water droplets pouring on my face was a delight.
Details
I went on the trip with four other people, my cousins, my aunt and I. We were staying in Tapovan and had booked for rafting in advance. We made the booking for 7:30 in the morning. The car came to pick us up at our hotel at 7:30 am sharp. We travelled for about 30 – 40 minutes and reached Shivpuri which was the starting point of our 16 km rafting.
The rafting ended at another point. The car was already there to pick us up and drop us at our hotel.
Safety First
Safety first, therefore the first thing we did upon reaching the destination was to wear our safety gears which included a life jacket and a helmet. After this, we were given a few safety instructions by our trainer. These instructions were extremely important as river rafting is not a cake walk. Also, we kept all our valuables in a waterproof bag so that they don't get spoiled.
We were also asked about any medical conditions as it is dangerous to go on any adventure sport when you are not fit and healthy.
My aunt was more than 45 years old without any prior experience. The trainer made sure that she knew what is she going to experience in the water and whether she was ready or not. He made her familiar with the details of the rafting as well as all the risks involved, especially at her age. However, my aunt wanted to take up the challenge and went ahead with confidence but with few lines of worries on her face. It was the right decision as she enjoyed it thoroughly.
Don't Miss:Top 5 Adventurous Honeymoon Ideas For Newly Married Couples
The Journey Begins
After the trainer was sure that we were all healthy and we knew all the safety instructions, we started our 16 km journey in the water. The whole 1 hour was great and it was really worth it. In order to equip us with the water temperature, our trainer threw water on us and we were all delighted with the cold water in the hot weather.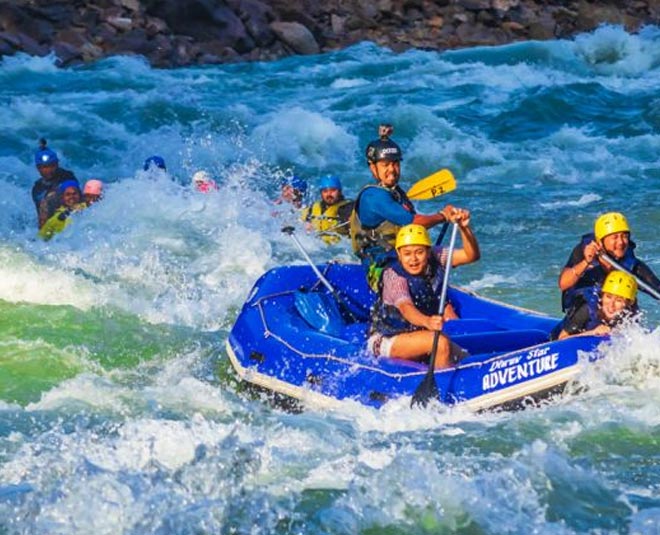 We were given an oar in order to move the raft forward. We were taught by the instructor on how to use it and when to use it. It was really fun and tedious to move the oar. All of us put our energy towards using the oar to make the boat move forward.
Soon, rapids started and it was surely scary but the level fun surpassed the scary part. At one point of time we were inside the water. There was water underneath us as well as over us.
At this point of time, I really had nothing on my mind except that I have to save my oar. I couldn't open my eyes due to the water and the water pressure was so much that my small hands weren't able to hold a grip over the oar. It was chaotic at that time. The oar was stuck due to the water pressure, my eyes were shut and there was water in my mouth. However, I was still enjoying every minute of it and would do anything to go back to that moment.
Don't Miss:Explore These FREE Places In Delhi To Get The Most Out Of Dil Walon ki Dilli
As we moved, there were several rapids but not as major as the previous ones. All the way, we were chanting, 'Har Har Gange'. The chant instantly filled us with power.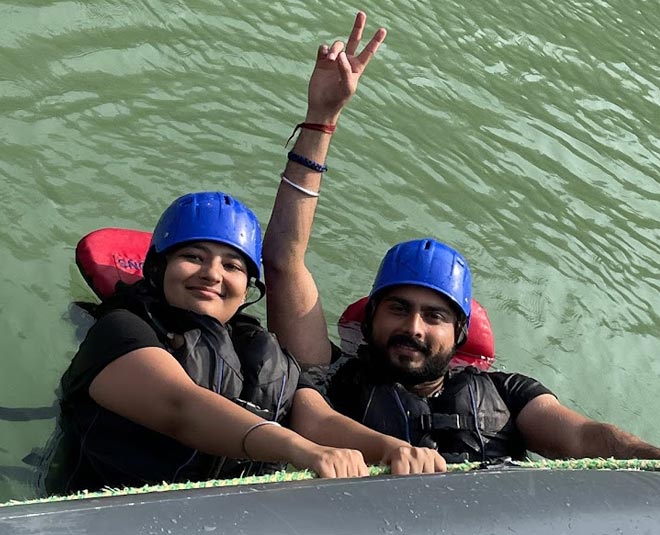 Towards the end, when we reached the last rapid, our trainer said that we could go in the water but we had to hold the rope at all times. We all just jumped at the chance and went into the water except for my aunt.
We were all in the water together for at least 10 minutes and we had so much fun. If I'm being honest, I screamed to pull myself back up as soon as I went into the water but I soon realised that I am wearing a life jacket and I won't drown. After this, I was freely floating in the water and had a lot of fun.
Soon, we reached the end point and ended our 16 km long journey filled with thrill and amusement. It was truly a surreal experience.
For more such stories, stay tuned to HerZindagi!