Hummus is a Middle Eastern dip, spread, or savoury preparation made from cooked, mashed chickpeas blended with tahini, lemon juice, and garlic. The standard garnish in the Middle East includes olive oil, a few whole chickpeas, parsley, a dash of lime, and paprika. It is usually eaten as a dip, with pita bread.
As to where it truly comes from, no one can say for certain, though the earliest mention of the spread dates back to Egypt during the 13th century. The truth is, hummus has been made all over these areas for hundreds of years, a dish likely imported west from the chickpea-growing Arab countries to Greece.
Benefits Of Hummus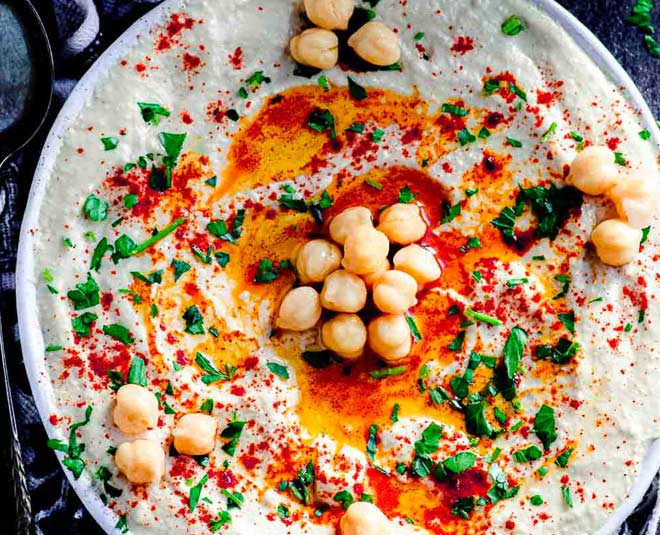 Hummus is a popular Middle Eastern dip and spread that is packed with vitamins and minerals. Research has linked hummus and its ingredients to a variety of impressive health benefits, including helping fight inflammation, improving blood sugar control, better digestive health, lower heart disease risk, and weight loss. Hummus is a truly healthful snack, combining a trifecta of protein, fiber, and healthy fats, people who regularly eat hummus tend to have higher intakes of fiber as well as a slew of nutrients including folate, magnesium, potassium, iron, and vitamins A, E, and C, as per a number of studies.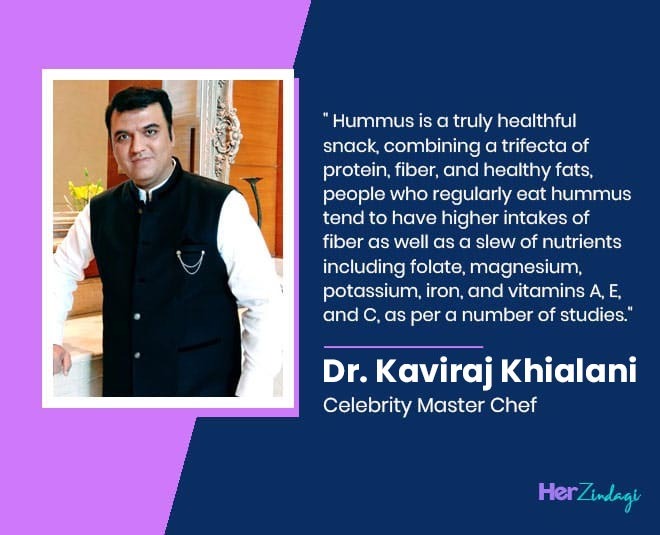 However, if one is on dialysis or needs to limit potassium or phosphorus, hummus is not a good choice as beans and peas may be high in both potassium and phosphorus.
Culinary Uses Of Hummus
The method of eating hummus usually involves dipping pita bread, flatbread, crackers, or tortilla chips into the hummus plate, while in some places it is commonly garnished with chopped cucumbers, tomatoes, cilantro, hard-boiled eggs, and sautéed mushrooms. Hummus is an aphrodisiac as well and it's a fact that some of us may already know. Usually, no one would think that hummus would have any aphrodisiac properties. However, most chefs respect legumes as being "The Kings of aphrodisiacs". Chickpeas are said to contain loads of iron, magnesium, zinc, and potassium which makes them a power-packed ingredient and dish on the whole.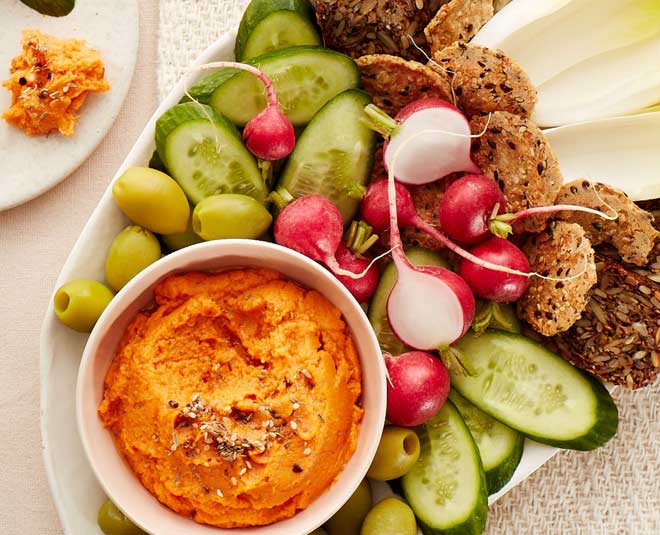 There are lots of countries that take hummus as their own dish. However, each culture has a different method for its preparation. For example, Turkish people usually make it with butter, while in Jordan they replace the tahini with yogurt.
Each region also serves the dip in varying temperatures. Some countries prefer to eat it hot, but others like to enjoy it cold. For me, hummus is always great to enjoy slightly chilled and the kind of fusion touch given to hummus these days is truly mesmerising and gives a feeling of excitement, and entices us to try out the new combinations and concoctions.
Don't miss: Chef Kaviraj Shares Benefits Of Avocados And Its Uses In The Kitchen
Some Fusion Funda Ideas With Hummus
Desi Chatakdaar Hummus
Basic hummus with the addition of chaat masala + chopped green chilies + a dash of tamarind chutney + dash of tabasco sauce.
Hummus Ka Ankhokha Andaz
Basic Hummus with a little touch of mango pickle masala + mint leaves + chopped black and green olives + dash of honey
Albela Hummus
Basic hummus with addition of little date puree + paprika powder + rock salt + basil leaves+ pomegranate seeds and mint.
Don't miss: Try These Fusion Pao Bhaji Recipes By Chef Kaviraj
Kaviraj Khialani is a celebrity masterchef, author, consultant, food designer, food writer, and creative cuisine specialist with varied experience in hotels and airlines. For more recipes and articles like these, stay tuned to Her Zindagi.