The concept of an 'English Breakfast' is gaining a lot of popularity these days. Initially, we would go out only for lunch and diner but off-late we have been indulging in casual brunches, a rather young concept, only to pamper ourselves with the perfect English Breakfast. While all this is cute and merry, the problem starts when you expect a guest at your place during breakfast hours. There is very little in our cuisine that counts as a lavish breakfast. Moreover, a lot of people don't like fried items for breakfast. At times like these, you can up your game by setting up the perfect English Breakfast table! I know you may be having too many questions in your mind right now with respect to how to set up an English Breakfast table, read this article till the end, and rest assured because your guests are up for a pleasant breakfast experience!
Before starting with the table set up, do you know what all food items are included in English Breakfast? Here is a list of all the veg and non-veg items that can be included: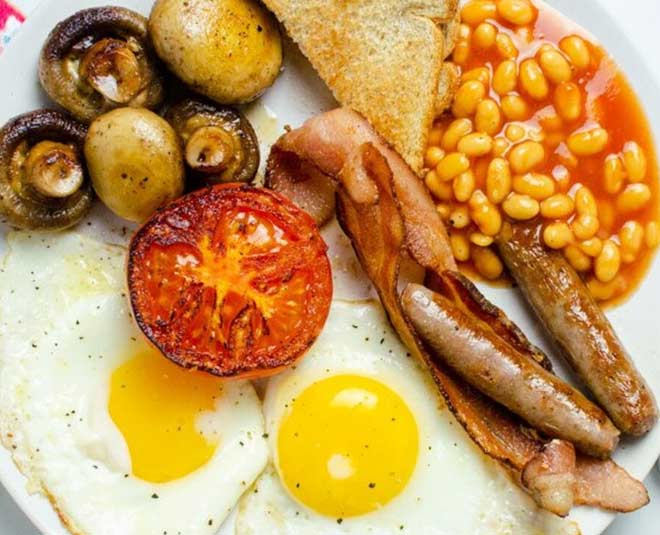 Image Credit: wideopeneats
Veg Options
Roasted tomatoes
Baked beans
Mushrooms
Hash browns
Bread
Butter
Sauces
Non-Veg Options
Read More About Breakfast- Cornflakes Health Benefits: Why You Should Have Them For Breakfast
What Is The Correct Way To Set Up The Table?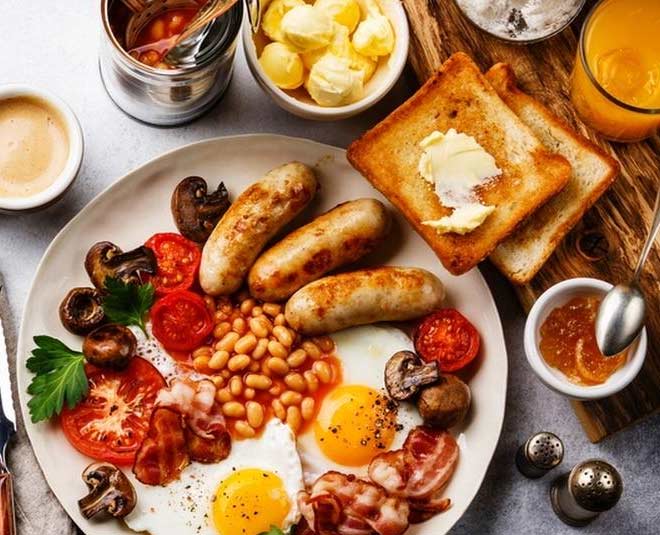 Image Credit: im.whatshot
In order to set the table up, you need to lay a beautiful and sophisticated table cloth on your table. Preferably white, make sure the table cloth does not have any funky patterns on it as that would kill the entire vibe of an 'English Breakfast'.
On the table place cutlery. Add a plate, preferably white and gold in front of each seating and complement it with a side spoon, knife, and a fork.
Place cups and saucers that match the plates.
Place the napkins.
Make sure you have a gorgeous flower vase at the center of the table. Don't overdo the flowers, 3-4 would suffice. Even the choice of flowers matters. If you are going for a rose, go for lighter colors like pink or yellow and not a red rose.
On the center of the table, around the vase, place the breadbasket, and around it place the rest of the food items. All of this must be in white cutlery. It would look extremely obnoxious if the plates that are there to eat on are white while the ones that have the food are multicolor.
You can have a kettle of coffee or tea or a jug of fresh juice.
Apart from these absolutely necessary items, place a small plate with sugar cubes, have salt and pepper shakers, sauces, butter, jam, some milk for the coffee. Make sure to have a stand with extra spoons, forks, knives.
For sweets, while we wait until breakfast is over to then wash our hands and sit with the dessert, that is not the case here. If you are serving an English Breakfast, then you will have to place the sweet items on the table itself. You can have croissants, muffins, and danish under dry items. Make sure the plate with the dry items is carefully covered with a white napkin. Apart from this, you can even have fruits like blueberries and strawberries. Along with this, you can also place pancakes on the table. To keep it authentic, preferable classic or blueberry. To complement it, place honey and maple syrup on the table.
Learn How To Make Pancake- 2- Ingredient Pancake Recipe To Make Your Morning Simple
There you have it! Your breakfast setting is perfectly aligned with the English style! If you recreate this at home, there is a high possibility people would only come to your place for breakfast and your lunch and dinner might start to feel insecure! Stay tuned to Her Zindagi for more such content!