As COVID-19 has put a stop to all our travel plans, the one concept that has been gaining much popularity is the culture of staycation. What exactly is a staycation and how is it any different from a vacation? While a vacation generally refers to travelling out of your home town, to a different location all together, a staycation is when you stay indoors in your own city. During the pandemic when there are several social distancing norms and borders have been closed between many states in India, people have been forced to stay at home staring at the computer screen and typing all day. This can be exhausting. As they say, we humans can find a way out of any discomfort and staycation attests that. In the pandemic, when the hotels and tourist spots have faced a downfall, the only thing that keeps these hotels going are the WFH people who come there for a staycation. Going to a hotel and staying in for a few days proves to be a change of environment, luxurious work space and a much-needed break which is why this culture is so popular now.
There are a lot of hotels and resorts around the country that provide staycation facilities. However, if you live in any of the cities mentioned below then you must go to these staycation spots without fail!
The Tree House Resort, Jaipur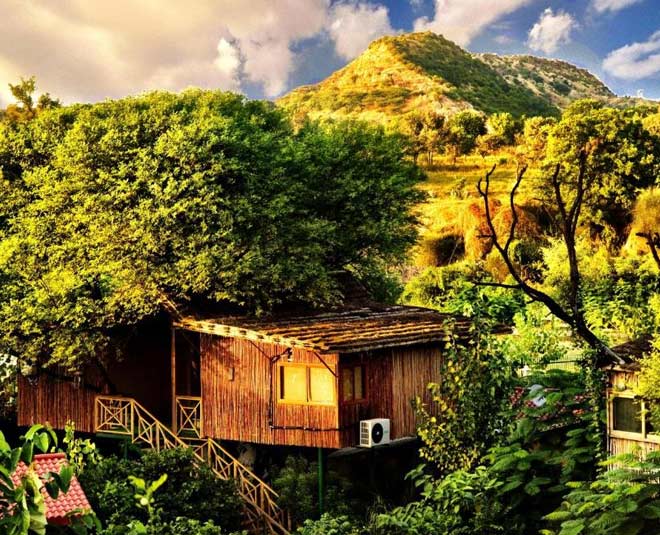 Image Credit: cf.bstatic
Just about 15 minutes from the Amber Fort, this resort is situated in the lap of nature breathing the fresh air of the forests of Syari Valley. Along with beautifully designed rooms, there are facilities of an outdoor pool, tennis court, billiards room, spa and mini golf. It provides a family friendly ambience and an excellent menu for both vegetarian and non-vegetarian meals. Looks like a stay here is going to be the best indoor vacation you will take in the lockdown.
Vedic Village, Kolkata
Image Credit: images.trvl-media
This is a themed resort in Kolkata that creates the vibe of a village. The resorts here are designed in the form of huts but this in no way compromises with the luxury of this resort. This hidden gem in Kolkata is a must visit if you plan a staycation in Kolkata. It is spread over 150 acres and houses various breeds of flora, fauna, butterflies, birds etc. If you miss your trips amidst the nature and forests, this is where you should head to. Safe, luxurious yet provides a rustic village vibe, Vedic Village is a staycation that will satisfy the wanderlust in you!
Don't Miss- Dating Back To 705 AD, Checkout Some Of Oldest Existing Hotels In The World!
Vythiri Resorts, Wayanad
This is the perfect jungle getaway in the pandemic. It is located beneath a huge canopy of rainforest; this place is beautiful is every aspect. Lush green forests, dew drops in the mornings, along with modern facilities of a spa, Ayurveda centre, coffee shop, health club, pool, natural pool and so much more. This place will surely make your WFH a once in a lifetime experience.
Wildflower Hall, An Oberoi Resort, Shimla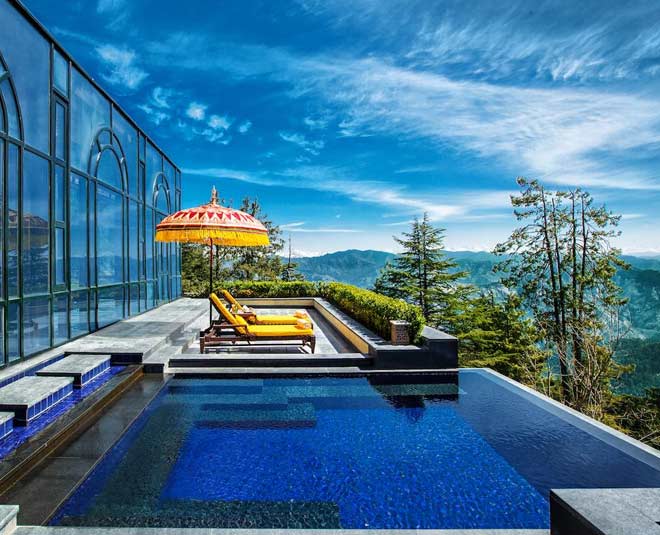 Image Credit: cdn.lifestyleasia
If you live in and around Shimla, you don't want to miss out on this extremely luxurious resort with breath-taking view and every amenity you can think of! This 5-star hotel has different kinds of rooms, facing the gardens, the valley, the mountain and even suites. They have three in-house restaurants and amenities like a spa, a swimming pool, gym, and a gazebo where dinner is served. This break in the Himalayas will do you nothing but good. Stay here and forget about the outside world.
Madhubhan Spa And Resort, Gujarat
This resort, spread over 25 acres is nothing short of a paradise on Earth. 7 places for food and beverages, a rejuvenating spa, 7 stay options, 3 board rooms, Gujarat's largest Spa and swimming pool, jewellery shop and the list goes on. A staycation at this place is going to be the best decision you have made in the pandemic!
Don't Miss- Planning A Pre-Wedding Shoot? Here Is Why You Should Consider Going To Honnavar, Karnataka!
What are you waiting for? Go ahead and book a stay at any of these staycation spots and you will not be disappointed! Stay tuned to Her Zindagi for more such content!