The Maldives is the most favourite vacation spot of many Bollywood celebrities, and why not, it is one of the most affordable luxury travel destinations and offers a perfect panoramic view of the natural beauty of the environment. From Ayushmann Khurrana to Alia Bhatt all celebrities just love this place. And recently Mandira Bedi was also caught sharing the inside pictures of her trip to the Maldives on her Instagram handle and we are totally envious of her. Mandira is travelling in a time when most of us are sitting back home due to the Coronavirus Pandemic, plus, she is seen donning some very cool swimwear and bath suits that we have loved. So, here's a sneak peek into Mandira Bedi's Maldives trip.
Mandira's Stay In The Maldives
Image Courtesy: Instagram
The Maldives is a very beautiful getaway for one and all. For one, it is affordable to travel there ( at least for Indians) and it is a perfect blend of modern and rustic. The Maldives is a small island nation that is bordered with numerous luxury hotels and stays that offer umpteen services. Mandira shared several pictures on her Instagram tagging the location of her stay which came out to be Suneva Fushi which is a luxury resort lacing the desert island. It is superbly spacious and is a hub of luxury villas that are hidden amidst the dense foliage on a private island.
Why Is Mandira In The Maldives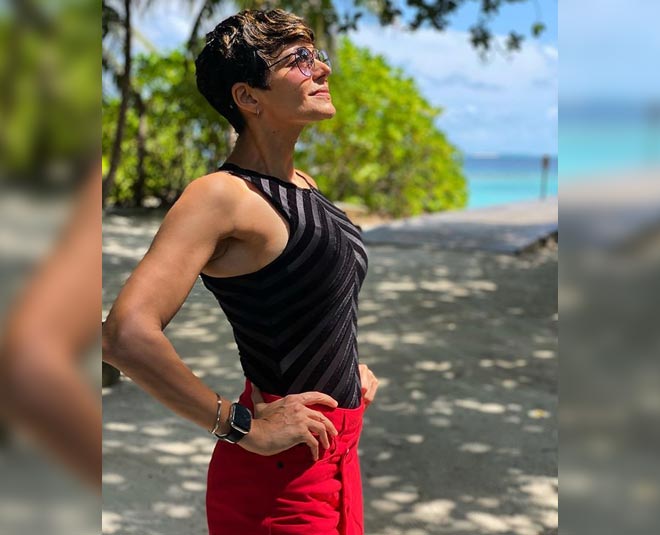 Image Courtesy: Instagram
Mandira Bedi and Mouni Roy are great buddies and it is the occasion of Mouni's birthday that took Mandira to The Maldives to have a great time there. It was the 28th of the September of this year that these celebrities were all gathered in The Maldives. They celebrated Mouni's Birthday on the deck of the Island, enjoyed drinks and danced their hearts out to make the day special for their friend.
Don't miss: Visiting Maldives? Here Is A List Of Best Indian & Maldivian Restaurants For Pure Vegetarians!
Activities That Mandira Performed In The Maldives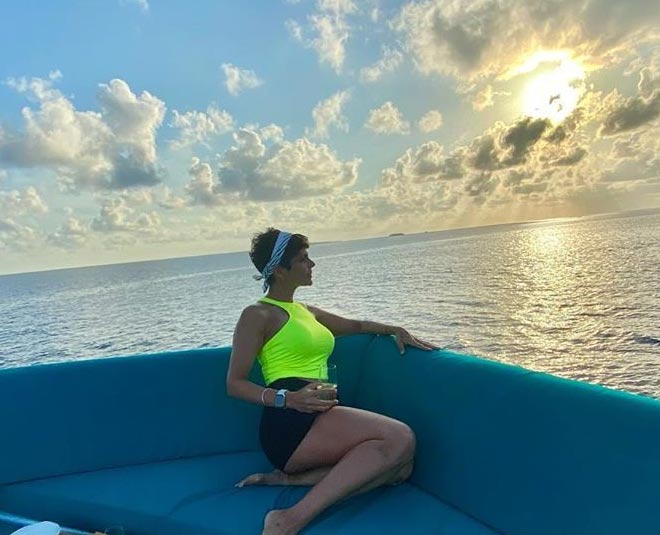 Image Courtesy: Instagram
Mandira is a great fitness freak. She prioritizes her dream to be fit and healthy over everything else and that adds to the beauty of her pictures. The perfect calves and thighs with broad shoulders and shredded tricep muscles. It's a delight to see her. In the Maldives, Mandira was seen performing yoga, having really great food, working out and swimming to burn the extra calories and catching up with the dolphins on a boat ride on the beautiful waters of Maldives.
Style Check On The Trip
Image Courtesy: Instagram
Mandira Bedi is quite a stunner when it comes to outfits. Her style is very decent and sober and we really appreciate the confidence she carries herself with. Her Maldives trip has been full of fashion surprises for us from a black bikini to a neon swimsuit her style has been totally on point. Since swimwear is quite a in trend this season, we would give her full marks on her outfits too. In addition to that, she was also spotted wearing an off-shoulder dress in the black colour on the occasion of Mouni's birthday dinner on the desert island and we are totally in love with her. In a video that Mandira shared, Mouni was also seen wearing a dark blue bikini and a thin summery shirt with her cool sunglasses. Mandira is still is The Maldives and having loads of fun there with her friends and camera and will soon return home as she is worried about her son back in Mumbai.
Don't miss: Mandira Bedi Shows Off Her Chiseled Abs In A Red Bikini And We Wonder What's The Secret
Stay tuned to Her Zindagi for more articles like this.
Did you like this article ?