Exploring virgin destinations has been my passion. Every summer I (Raja Muzaffar Bhat) along with my friends go trekking in the mountains of Kashmir. We chose calm and pristine forest and mountainous areas for our trekking. During the first 3 months of COVID 19 lockdown I hardly went outside my house. It was frustrating to be confined to one place for 24 x 7. When the weather became warmer by end of June and people started moving out, me and my friends decided to go for hiking in Pir Panjaal mountains around central Kashmir's Budgam district. I also belong to the same district which is not far away from Srinagar.
On June 25 th I along with some 11 friends started trekking from Doodh Pathri, a tourist destination in Budgam. Doodh Pathri is 44 kms from Srinagar located at an altitude of 2730 meters. We began hiking at 8:30 am from Doodh Pathri after parking our cars in Doodh Pathri. We hiked 1000 meters which took us around 3 hrs. It was a steep hike, exhaustive a bit but we enjoyed it a lot.
By 11:30 am we reached Diskhal, a lush green meadow inhabited by Shepherds during the summer months. After another 45 mins walk, we reached another meadow called Corag which is also a rangeland thronged by shepherds in summers. We pitched our tents at Corag near the Shepherd huts. Kashmiri Shepherds also known as Chopan's are a valiant community who work very hard to earn their livelihood.
Chopan Community
Chopans are a unique nomadic community of shepherds. Like other nomadic shepherds across the world who have their own sheep, the Kashmiri Chopan's hardly own the sheep which they carry along with them during summer season. These sheep actually belong to Kashmiri farmers who pay a particular amount to the Chopan's every season. For each sheep a Kashmiri farmer on an average pays Rs 350 to 400 to the shepherd per season which lasts for 5 to 6 months maximum.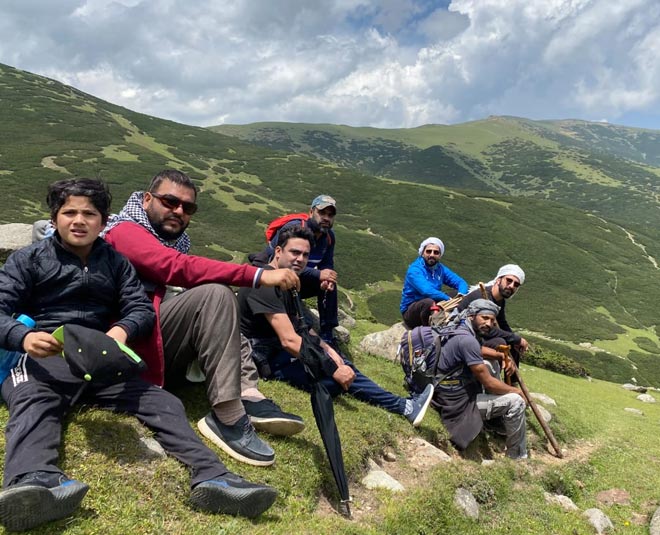 Image courtesy: Raja Muzaffar Bhat
For the rest 5 months Chopans have no work. They work in the fields of farmers of work as daily wage labourers in small towns and cities. The life of chopans is very miserable. They work almost 24 x 7 as they hardly sleep during the night. They face lots of challenges as wild animals continue to attack their sheep during night hours and that is why they hardly sleep during the night hours in harsh weather conditions. Their children hardly get proper schooling as mobile seasonal schools meant for chopan and gujjar kids are not operational for last several years
Towards Navkan
Next day, on June 26th , we trekked towards Navkan which is the source of Doodh Ganga river. It took us 3 hrs to reach Navkan from our basecamp at Corag. The hike was not steep. On the way to Navkan we saw purple and yellow flowers spread on hundreds of acres of land with snow-capped Pir Panjaal mountains on its background. This was an amazing landscape which reminded me of an English quote "wildflowers aren't meant to be cut & tamed. They're meant to be loved and admired "
The view was like traveling through some fairyland. I had never witnessed such a lovely landscape before. To witness these wildflowers and snow-capped mountains one has to visit the area between June 15th to July 1 st.
Ashtar Valley & Trusar
On July 11 th we again trekked in the same mountain range. I along with a group of 10 other friends including my 9-year-old son Ubaid began our trek from Doodh Pathri. This time we went towards Ashtar valley, a rangeland located at an altitude of 3800 meters near the foothills of Mount Tatakoti. This was a 5 hr trek.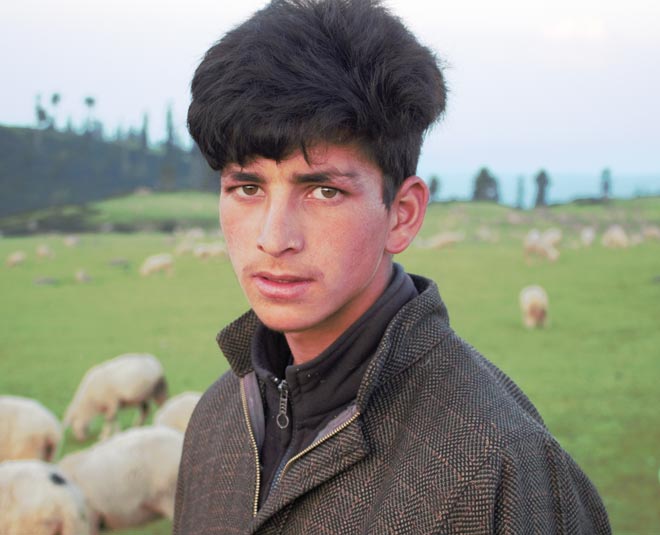 Image courtesy: Raja Muzaffar Bhat
Mount Tatakoti is the highest peak in Pir Panjaal mountain range located at an altitude of 4700 meters. Pir Panjal is a group of mountains around 290 kms long. Its width changes between 40 to 50 km. The mountain range starts from Ramban area of Jammu on east and then extends to Muzaffarabad across LoC towards west.
Don't Miss: My Trip To Bayali, A Village Amidst The Rajaji National Park, Uttrakhand
There are several passes in Pir Panjaal called Galli's. Pir ki Gali connects Kashmir valley with Poonch and Rajouri districts of Jammu through a road. Rest of the gali's like Nurpur Gali, Choti Gali and Chor gali are all trekking routes to Poonch. We camped at Ashtar for 2 days and returned back on the third day.
On August 14th I along with my friends and my 9-year-old son once again trekked from Doodhpathri. We reached Corag meadow then crossed Doodh Ganga towards east and reached Bargah which is also a valley of Shepherds (Chopans).
We were lost in forests for two hours as our poney-walas took a different track. It took us 11 hrs to reach Bargah from Doodhpathri. We trekked up to Trusar the 3 alpine lakes the next day (Aug 15 th ). It was a hectic trek but we enjoyed thebeauty on the way as there were lots of maroon flowers making the mountain landscape more attractive.
The areas I mentioned above are completely safe for tourists and local shepherds are very cooperative and helpful. Those interested to trek in Pir Panjal can contact me for more information...
Raja Muzaffar Bhat is a Srinagar based activist and columnist. He is an Acumen fellow and presently undergoing a Fellowship programme on Climate Action at Anant National University…
Stay tuned to HerZindagi.