It's winter time and the season most of us look forward to for many reasons and to me, it is very special since it is time to relish the greens from the farms from sarson to methi and the list goes on! While the chilly mornings are a little difficult at times to get over with the due course of the day, does come by with many options to eat and enjoy satisfying the palate from garma garam chai to the mooli ke paranthey and not to forget the gajar ka halwa!
Methi has been one of those greens which somehow taste much better during winters and the mere aroma of its leaves and the mouthfeel of it being cooked with a little tadka and spices and a hot phulka or roti on the side, shalgam ka aachar, and a glass of lassi or chaas! Trust me you won't be really asking for a better treat than this.
Also called Fenugreek it's a Latin word that means 'Greek Hay' besides the fresh methi, we also have the dried leaves called kasoori methi in Hindi, fenugreek seeds or methi dana which are also used in many ways in our kitchens in Indian cooking. Kasuri methi is used in curries, dals and subzi, pulao's, and much more with this herbed aromatic and nutritious ingredient.
Health Benefits Of Methi Leaves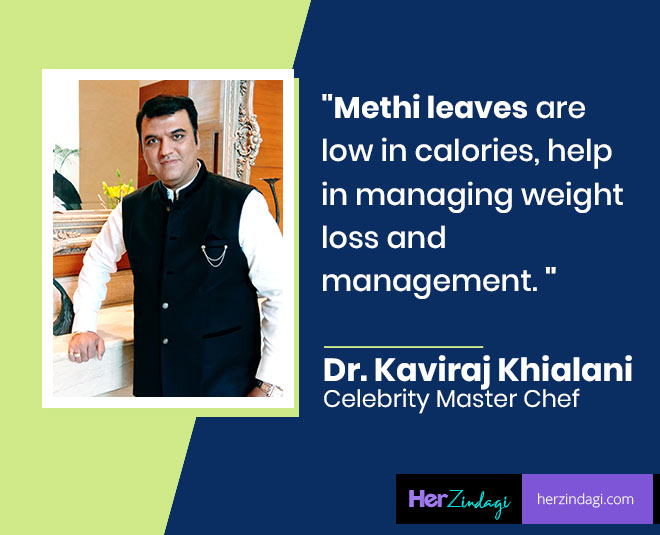 Methi leaves are low in calories, help in managing weight loss and management.
Fresh methi is good food for the heart care.
Methi leaves contain a good number of anti-oxidants.
Methi has been considered good to manage diabetes.
It is regarded as a good conditioner for the skin, reduces blemishes.
It helps to reduce cholesterol levels in our body, use it effectively.
Methi leaves help curing bowel issues, helps prevent anaemia.
Methi Trivia
Fenugreek or methi leaves have been used as an important part of the greens category and also known for their medicinal properties for ages. The leaves are popular since they are aromatic and have a unique flavor to them. Though there are a few who complain about its bitterness, it's a must-have in our diets.
Always select fresh methi bunches that are bright green in color, crisp and fresh to their best. Avoid if the leaves are dry textured or yellowish on the outlook.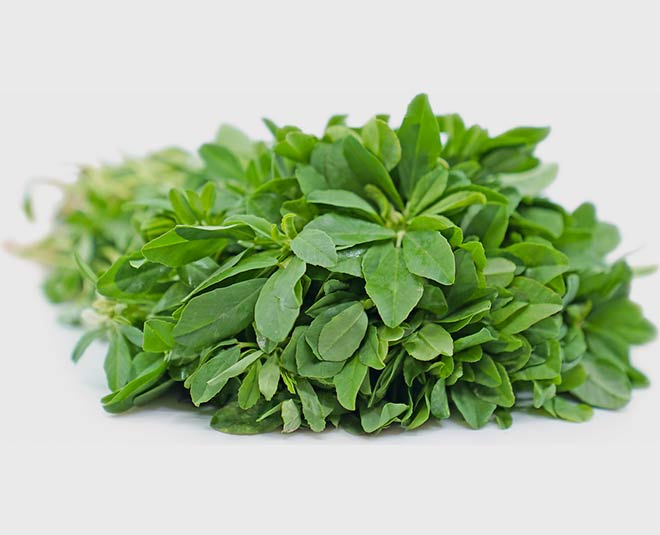 Methi seeds are a wealth of health benefits as per experts and a must to be on our kitchen shelf to use in a number of ways be it in small quantities but yes for sure, we usually add them to rasam, sambhar, and even curd rice. The best way to use them is it add them in a tadka mix to our popular kadhis, a few subzis as well can carry their values and taste well, at times I also powder them and use them in some recipes to avoid the crunch in the mouth. Some of us also have heard of having methi seeds soaked overnight in water and having them in the morning for weight loss!
Culinary Uses Of Methi Leaves
Methi ka saag is the most popular one which we find popularly being made in most of our homes, try adding a few additions in them sometimes like I usually add soy granules or aloo - wadis to them and they taste yum!
Methi ke paranthey- yet another common sounding dish, try this one with a combination of methi with anardana, methi with grated carrots slightly saute it with garlic and chilies, and stuff it into the dough. Use combination of flours like atta + soy flour, atta+ makkai + sunflower seeds powder, all the possible grains, and gluten-free options can also be tried once in a while.
Methi aloo, methi gajar ki subzi, methi shalgam curry, methi makhane ka korma, Bhopla coconut methi stew, try adding saute methi with garlic or with some seeds like flaxseeds or pumpkin seeds into idlis and steam them.
Don't Miss: Simple, Easy Ideas To Use Pumpkin In Our Kitchens, By Chef Kaviraj
In the non-veg varieties recommended with methi are some options like methi, makkai aur ande ki bhurji, methi murgh kadai masala, Lasooni methi machli, jheenga methi jhalfrezi, methi mutton tava masala and many more.
One important thing to keep in mind while cooking with methi or any greens is that we should not be over cooking them for too long, they are delicate leaves and cook in minutes, avoid covering and cooking them for too long or don't really pressure cook them.
Kasoori methi, however, plays a different role being in a dried form, try to dry toast the leaves on a medium hot tava for a few seconds, allow them to cool and crush them between your palms add them to your tomato-based gravies or masalas, curries, dals, subzis and even in a pulao, dough for parathas, naans or even your favorite biryani.
Dr. Kaviraj Khialani is a Celebrity Master Chef based in Mumbai. He is a Food Designer, Creative Cuisine Specialist, Author, Food Writer, and Consultant. Through his journey, he has managed to master 33 International Cuisines and has featured on various food shows on Star Plus & Colors Television. For his contribution to the Food and Hospitality Industry, he has been awarded several National Awards and received global recognition.