Mother's Day 2023: Places Near Delhi Within 150km To Spend Quality Time With 'Maa'
Are you planning an outing for Mother's Day 2023? Well, you can plan a weekend getaway with your mom and gift her a relaxing vacation. Here are a few recommendations for you to check out.
Mother's day is just a couple of days ahead, and we cannot keep our excitement intact. Although we must make our mothers feel special every day, this particular day calls for celebrating her love, respecting her individuality and honouring her sacrifices.
What is the date of Mother's Day in 2023? This year, we will celebrate and honour motherhood on May 14, Sunday. We have prepared a list of places near Delhi within 150km where you can take your mother and spend some quality time with her. Let's take a look!
Meera's Bistro For Mothers Who Are Foodies
Located about 108km from Delhi, Meera's Bistro in Meerut is a must-visit place to relish delicious food on Mother's Day. It has lively vibes that will allow you to spend precious time with your mother. The eatery is famous for Chinese, Biryani, Continental, North Indian and Italian cuisines.
Damdama Lake For Mothers Who Like Sports And Nature
Image Courtesy: Holidify
If you want to reduce travel time without cutting short on the fun, there is no better place than Damdama Lake. Why is Damdama Lake famous? Located about 63km from Delhi, it is a place for adventure enthusiasts.
You can try parasailing, trekking, air ballooning and cycling with your mother. There are motorboats, rowboats and paddleboats that will allow you to spend some time in the calm water. Mothers and daughters can also indulge in birdwatching.
Manesar For Mothers Who Like Sightseeing
Situated only 54.1km from New Delhi, Manesar is a developing industrial town in Haryana. Why is Manesar famous? Have you heard about Maruti Suzuki vehicles? Maruti Udyog point in Manesar is where these automobiles are crafted in India.
Why do people go to Manesar? It is a tourist attraction that has many spots to cover in a day. You can take your mother to sightsee Sultanpur Bird Sanctuary, Shri Mata Sheetla Devi Temple and Amusement Parks.
Neemrana For Mothers Who Like Palaces And Forts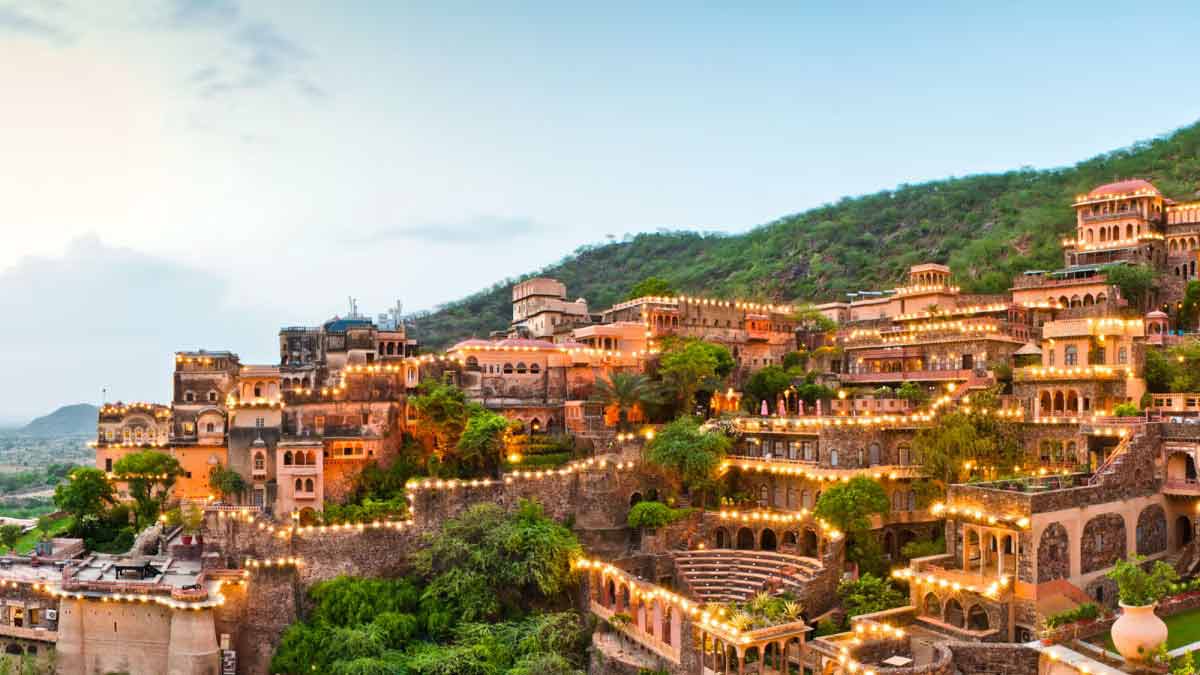 Image Courtesy: Neemrana Hotels
Why is Neemrana famous? Neemrana is a small town famous for Neemrana Fort Palace. Named after the fort, the town is located only 147.1 km away from Delhi. You can stay at the fort palace and enjoy the luxury around.
People also like to explore Siliserh Lake, Sariska National Park and Ancient Vrindavan Palace. Is Neemrana worth visiting? It is one of the famous spots for weekend getaways near Delhi.
Kuchesar For Mothers Who Like To Get Acquainted With The History
Located around 109km from Delhi, Kuchesar was a princely state of Zamindari under the British Raj. It is situated near Bulandshahr, Uttar Pradesh. It is known for its rich history and the Mud Fort of Bulandshahr. The fort has been turned into a heritage hotel where you can stay. This Mother's Day, help your mother feel royal.
Alwar For Mother Who Like Museums And Forts
Image Courtesy: Thrillophilia
Why is Alwar famous? Boasting several tourist attractions, Alwar is one of the oldest cities in the state of Rajasthan. It is located about 163km far from Delhi. You can take your mother here for a day of sightseeing.
The places to visit in Alwar include Alwar Fort, Sariska Palace, Alwar Museum and Bala Qila Fort. You can explore the old roads and unique architecture. People also indulge in adventure activities like pedal boating, jet-skiing and crocodile sightseeing.
Don't Miss: Hill Stations Near Delhi Within 300km
Kurukshetra For Mothers Who Like To Explore The Land Of Mahabharata
About 153km from Delhi lies Kurukshetra, mentioned in the Hindu epic, Mahabharata. Many Hindus visit it as a pilgrimage. If you have ever heard the fables of the epic, you must plan a visit here with your mother.
Don't Miss: Best Summer Wedding Destinations In India
Jyotisar is another place that you can visit near the city. It is believed to be the spot where Lord Krishna narrated the Bhagavad Gita to Arjuna, one of the five Pandavas. Kurukshetra Panorama and Science Centre is a famous tourist spot to read about the tales of the war between Pandavas and Kauravas.
Share your Mother's Day 2023 plans with us in the Facebook comment section, and stay tuned with HerZindagi for more such recommendations.