Best Summer Wedding Destinations In India
From beaches to mountains, plan your dream wedding in the cities or towns that boast a stunning landscape. Take a look!
The summer wedding dates are around the corner, and we are here with astounding recommendations for destinations. If you are planning a wedding in the scorching weather, the list below will help create a mesmerising décor. Some of these destinations may be expensive, but they will be worth every penny if you pull off the wedding plans.
Why Go For A Destination Wedding?
Destination wedding might not be everyone's cup of tea, but those interested in it can make their big day most memorable. Many destinations in India are only renowned for their beauty on location, and they make for the perfect backdrop of wedding images.
Summer Wedding Destinations In India
Goa
Whether it is a wedding or solo trip, Goa is where you can plan anything at any time of the year. Its beaches are renowned for the beautiful backdrop they offer during the sunrise and sunset.
Since it is famous for tourism, you can find ample resorts, hotels and wedding venues that will allow you to get married on the beach. You can choose among the vibrant wedding décor or deck up the mandap with swoon-worthy flowers. There is no limit to how you can make your wedding memorable in Goa.
Rishikesh
Image Courtesy: Weddingz.in
Rishikesh is not only a pilgrimage centre for Hindus, but it also boasts mesmerising natural beauty. If you want to get married Ganga Kinare (on the banks of Ganga), what could be a better city than this?
Rishikesh also has lush greenery surrounding the city, and there are valleys where you can choose a spot for wedding destinations. There are many tributaries of Ganga flowing through the terrains of Rishikesh and besides them are ideal wedding venues to enjoy the wedding festivities.
Pelling
Located in Sikkim, Pelling features a serene and calm aura to enjoy the vibrant rituals of a wedding. It is one of the most underrated towns in the state, and therefore, you will not have to hustle through the traffic. Moreover, the blue sky and starry nights will elevate the wedding decorations.
You can pick a location where you can catch a glimpse of giant mountains in the back. There are retreats that you can book for organising the wedding festivities. Your guests can also visit monasteries and scenic beauty nearby.
Havelock Island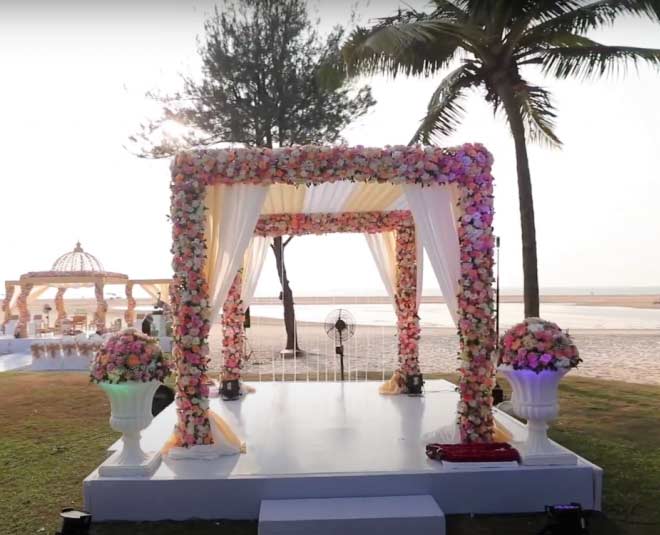 Image Courtesy: Andaman Island Travels
Boasting white sand, blue water and clear sky, what could be more alluring than this in the backdrop? Situated in Andaman and Nicobar Islands, Havelock is one of the most beautiful places to plan a destination wedding.
You can book ocean resorts, plan a cocktail party and choose colourful décor. Not only that, but you can make your wedding fun by indulging in water sports like surfing, snorkelling and scuba diving. If your dream wedding had a beach, Havelock is a place definitely worth a try.
Udaipur
Though located in Rajasthan, Udaipur experiences pleasant weather through most of the months in a year. It is renowned for palaces and other palatial destinations to plan the wedding. Do you remember Aditi's wedding in Yeh Jawaani Hai Deewani?
It happened in Udaipur. Therefore, if you are looking to give your wedding a touch of a royal, there is no better city than this. Similarly, one can try out other cities of Rajasthan, including Jaisalmer, Jaipur and Jodhpur. The experience will be unforgettable.
Pondicherry
Image Courtesy: V Decors and Events
Whether you want a beach wedding or want to marry in a church, Puducherry (Must Things Do In Pondicherry) is the best place to think about. It has clean beaches and world-class bakeries and cafes that you book for catering. After all, it is the French capital of the country.
You can have an array of dishes on the menu. From French and Italian to Indian and Mediterranean, your guests can relish their favourite cuisine. There are many clean beaches as well in the Union Territory that you can choose as the destination for the main wedding ceremony.
Don't Miss: Goa Hotels That Are Perfect For Weddings
Shimla
Another popular destination to explore for weddings is Shimla in Himachal Pradesh. Located in the foothills of the Himalayas, you can have a mesmerising view of the backdrop.
It also has many hotels, resorts other wedding venues that will help you plan the wedding ceremonies effortlessly. While you are at the venue planning for wedding festivities, you can also indulge in local sightseeing.
Don't Miss: Indian Winter Wedding Destinations Of Your Dream
Lakshadweep Islands
Another gem among the wedding destinations in India is Lakshadweep Islands. Situated in the middle of the Arabian Sea, there is bountiful beauty to behold. You can choose from an array of beaches to create a stunning mandap for the wedding.
Imagine performing wedding rituals engulfed in the evening breeze or capturing the perfect shot with your husband-to-be during sunrise or sunset. Some of the renowned wedding venues that you book are Seashells Beach Resort and Bangaram Beach Resort.
Did you like the recommendations? Share your thoughts in the Facebook comments, or let us know of the destination you are booking. Till then, stay tuned with HerZindagi for more tips on wedding style, décor and food.