It's been so long that we have been stuck inside our houses due to the pandemic. So many of us have been craving for that one getaway. With things getting back to normal and tourist places following all precautionary measures, we can finally think of planning a getaway.
Neemrana Fort is one of the favourite weekend getaway destinations, especially amongst the Delhiites. The historical destination is located about 122 km from Delhi.
Neemrana Fort and Palace was built back in the 15th century as a hill fort where the royal Chauhan family used to reside. Decades later, now the fort has been converted into a hotel that offers you a great day exploring every bit of the royal fort set amidst lush greenery. A trip to the palace is just perfect for a day tour, weekend trip with family, friends, or solo. The fort itself is so huge that you get so many things to explore around. However, if you don't want to end up exploring just the fort or wish to explore further for a few more days then you have a lot of options. There are a lot of fun activities to do around. Read on.
Explore Sariska National Park
If you have a thing for wildlife then you won't be really disappointed going to Neemrana as the Sariska National Park is located nearby. The tiger reserve is a popular attraction near Neemrana and you must visit to explore those dense jungles and streams. The park is home to tigers, nilgai, chital, peacocks, and sambars. Do check online if you are pre-planning for your safari bookings.
Have A Meal At Kesroli Fort
If exploring Neemrana Fort didn't satiate you enough them time to explore another fort. This hill fort of Kesroli is equally popular. It is located 2 hours away from the Neemrana Fort. It was built back in the 14th century by Yaduvanshi Rajputs. It was then into a hotel. The heritage site is maintained by Neemrana hotels and you can explore and have a meal here at night while enjoying the scenic view. If you wish to stay the night then there are beautiful heritage room options.
Don't Miss: Craving For A Quick Picnic? These Places Around Delhi Can Be Good Options For A Weekend Getaway
Go For A Photoshoot At Baori Stepwell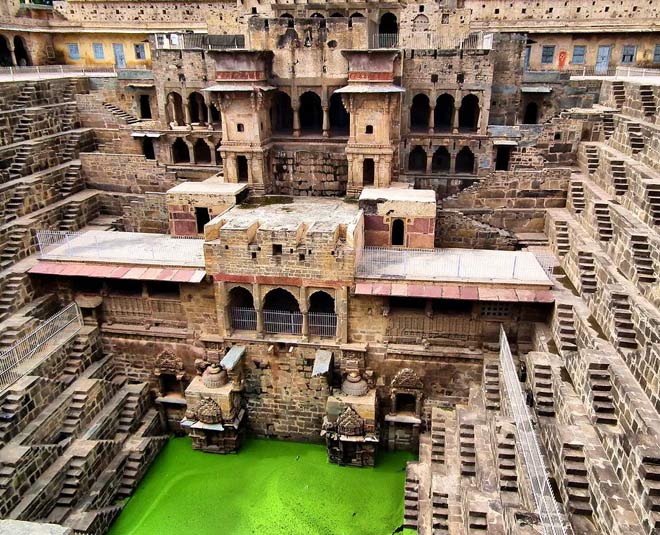 Set very close to the Neemrana Fort, Baori stepwell is another great attraction. If you wish to have a glimpse of ancient India's architecture, you can't miss visiting this place. The stepwell has 170 steps that keep getting narrow. The whole building can be a great location for a fun shoot with friends.
Try Ziplining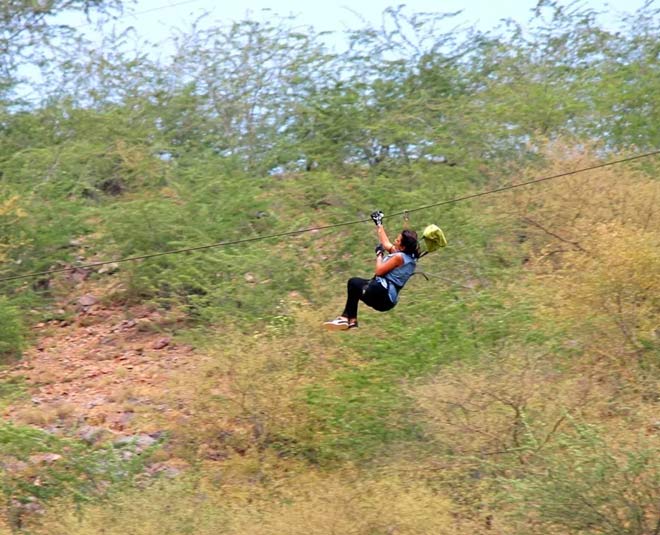 Adventure lovers, don't be disappointed because you also get to try fun activities like zip-lining here. The zipline activity is available at the Neemrana Fort. The zipline takes you through the fort palace and the Aravali hills set at around 1250 metres. You can zip as long as 400 m at a speed of 40 km ph. For this, you need to climb up the hill which takes 30 minutes.
Don't Miss: International Buzz: Zipline Off Eiffel Tower For The Grandest Exit Ever Possible!
Well, the Neemrana Fort has now opened doors for the tourists with all the precautionary measures and it can serve as a great picnic option for any type of traveller. Do try exploring these attractions around Neemrana to make the most of your trip.
Have you been to Neemrana earlier? If yes, what is your favourite attraction? Share with us! For more stories around travel, stay tuned!