When you read the word Thailand, what's the first thing that comes to your mind? Thai cuisine, long coastlines or glittering temples? One of the most travelled international destinations, Thailand is home to some of the finest temples and beaches in the world. People from all across visit the Land of Smiles to explore the much talked about Thai culture. I have been to Thailand twice and can say that the destination welcomes you with so much warmth that you feel like at home! Also, the vibe of the entire country is so relaxing and refreshing that you don't really feel like going back home. If you are a fan of this stunning land or just wish to know more about it then here are some lesser-known facts that would interest you.
Touching Someone's Head Is Disrespectful
In India, when someone touches your head, it is considered to be a blessing but the case isn't the same in Thailand. Thai people consider the head as sacred and touching it isn't considered apt. Feet on the other hand are believed to be unclean. Putting feet near someone's head is also considered disrespectful.
The Royal Family Is Deeply Respected
In Thailand, the royal family holds huge importance, and every citizen respects it. Criticising any member of the royal family is against law. The king is believed to be a living god and citizens bow down to him in complete obedience without making any eye contact. Any disrespectful acts performed against the king and queen are punished with imprisonment.
Home To Smallest And Largest Creatures
Many don't know that Thailand is the place that is home to the smallest and largest creatures. From bumblebee bat to the whale shark, you find it all in the Thai waters.
Don't Miss: No Thailand Visa Fee For Indian Travellers And 17 More Countries As Per New Rules
Real Name Of Bangkok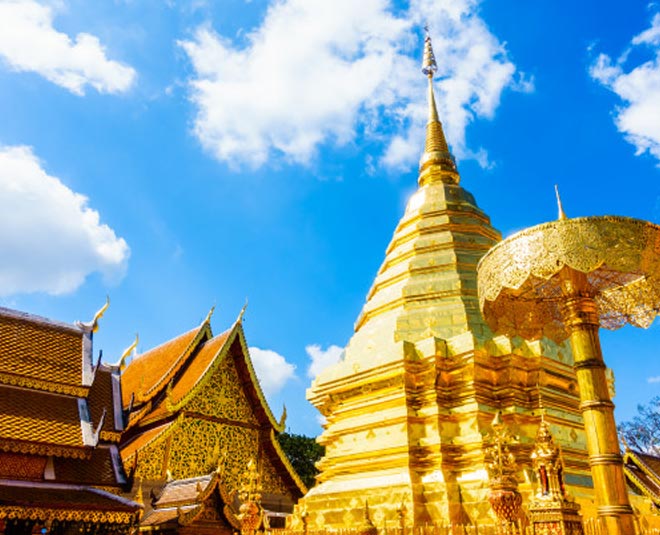 Bangkok is one of the most visited destinations in India. Do you know what's the real name of this place? Krungthepmahanakhon Amonrattanakosin Mahintharayutthaya Mahadilokphop Noppharatratchathaniburirom Udomratchaniwetmahasathan Amonphimanawatansathit Sakkathattiyawitsanukamprasit. Well, yes, that's a long name! This basically means "City of Angels, Great City of Immortals, the Magnificent City of the Nine Gems, Seat of the King, City of Royal Palaces, Home of Gods Incarnate, Erected by Visvakarman at Indra's Behest." This name was one of the longest names of a place in the world. We wonder how did it become Bangkok.
The Monkey Festival
Every year, Thailand hosts a huge festival dedicated to monkeys. A special buffet is arranged and about 600 monkeys are invited to enjoy a buffet of over 200 tonnes of food. The menu usually includes rice, salad, tropical fruits, sausages, and ice cream. This festival is believed to bring good luck. The locals believe that this is a way to say thank you to the monkeys who help them bring thousands of tourists every year.
Don't Miss: A Fav Of Bollywood Celebs, Beaches Of Thailand Beckon You To Beat The Heat This Summer
Heaven For Orchid Lovers
Love orchids? Thailand is the place you should visit. The orchid is Thailand's national flower. It is also the world's largest explorer of the flower. From temples to markets, you will find this exotic flower just everywhere. There are 1500 different varieties of orchids that grow in Thailand's jungles and forests.
Birth Of Red Bull
Red Bull is one of the most popular energy drinks today but many don't know that its birthplace is Thailand. This drink was based on Krating Daeng which was a sweet and uncarbonated drink. This drink was sold all across the country in the year 1976. Later, it was modified by an Austrian, Dietrich Mateschitz and that's when Red Bull was born.
Have more interesting facts to share about Thailand? Write to us! For more such stories, stay tuned!