After their fairytale wedding in Mumbai, Kajal Aggarwal and Gautam Kitchlu headed to the Maldives for their honeymoon. Kajal Aggarwal has been treating all her fans with pictures from their relaxing honeymoon and we just can't keep calm!
Earlier, Kajal Aggarwal took to her social media and shared pictures of her travel preps. She shared a picture of their personalised passport covers and a packed suitcase. She captioned it, "Bags are packed." Well, we knew they were travelling but soon we got to know that it was Maldives!
Kajal Aggarwal And Gautam Kitchlu's Honeymoon In Maldives
Maldives - think of clear waters and a relaxed vibe. The couple has been enjoying it all as they vacay in the Maldives. Kajal and Gautam have been spending a lot of time by the beach and pool. Kajal Aggarwal shared a couple of pictures posing in a noodle strap, lacy maxi dress with a hat.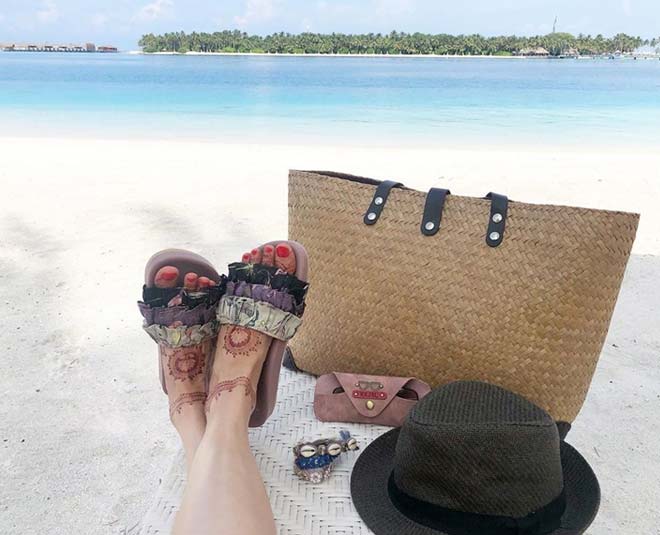 Kajal Aggarwal also took to her Insta handle and posted a picture of her beach essentials which included a hat, a pair of quirky slippers, a tote bag, and a pair of sunglasses. Well, that's what you need as you enjoy a day just by the beach.
Don't Miss: Everything To Know About Mandira's Trip To The Maldives
Well, we are too craving for a holiday to this beautiful destination seeing all these amazing pictures. We thought of taking you through some reasons that make the destination a must-visit for couples. Read on.
Accommodation Options
The first thing that may come to your mind while planning your trip is the place you are going to stay in. When it comes to the Maldives, you just don't have to worry about it. The destination offers you plenty of options, right from floating villas to beach stays to resorts. Resorts here are not like the regular ones, you get a secluded place for you and your partner and that's what makes it a lot more special.
Treat For Adventure Lovers
If you have a thing for water sports like snorkeling, parasailing, kayaking then the Maldives is the place for you. There are endless water sports activities which you and your partner can enjoy here. This is just the perfect way to relax your mind and refresh yourselves.
Photo Opportunities
If you and your partner have a thing for photography then Maldives is the destination you need to head to. The beauty of the destination is surreal and capturing it all on your camera gear is a true treat. From capturing your fun sides to getting the most cheesy couple pictures clicked, Maldives gives you so many photo opportunities.
Don't Miss: Visiting Maldives? Here Is A List Of Best Indian & Maldivian Restaurants For Pure Vegetarians!
Budget-Friendly Destination
A lot of people think that Maldives is an expensive destination but interestingly, it is not! The Maldives is a budget-friendly destination and if you are a couple who wishes to enjoy the place at an affordable price then it can happen for real. Right from the flights to the accommodation, you can get it all at amazing prices if you plan your vacay well in advance.
Heaven For Foodies
If you and your partner bond over food then Maldives is a heaven for you. Maldives is known for its amazing food, especially seafood. Maldivian curry, Mas Kashi dried fish, Garudhiya are some amazing treats to enjoy here. The best thing about relishing your food here is the view you get to enjoy along, serene blue waters and a soothing breeze.
If you have been planning for a holiday anytime soon then Maldives can be a good option. The destination has reopened its borders and there are no travel restrictions as such. However, do note the travel guidelines of the place you are travelling from for a smooth journey. For more such stories, stay tuned!