4 Must-Visit Historical Gurudwaras In Delhi
Visit these historical gurudwaras in Delhi to find your inner peace!
Our national capital Delhi is not only famous for its scrumptious street food, slang language, and metro but also for its religious monuments that hold the ground with their charming appeal.
The capital is also associated with a special significance in the history of the Sikh religion. It was the seat of power for the Sikhs during their peak.
It is also one of the few special places because, over time, five of the ten great Gurus have turned Delhi holy with their visits. And because of this sole reason, there are some of the most beautiful and historically significant Gurudwaras in Delhi.
Though you have heard of these Gurudwaras because they have now become the tourist attractions, food hotspots (near them), and serene escapes in our bustling city. But do you know that all these famous holy sites have a history attached to them? No?
Fret not! We are here with a list of 4 must-visit historically significant Gurudwaras in the city with legends (Sakhis) associated with them that have helped shape the Sikh religion.
You can visit them for experiencing the serenity these holy sites offer combined with the soothing Gurbani. So, let's get started, shall we?
1. Gurudwara Bangla Sahib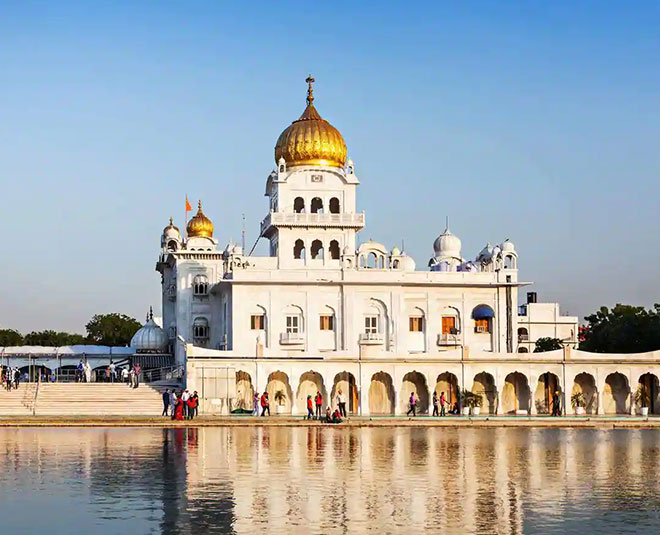 Image Courtesy: Justdial
Does Gurudwara Bangla Sahib need any introduction? This holy place runs 24×7 and feeds 180 people every 15 minutes in their langar service. But most people don't know the story behind this place.
The Gurudwara is associated with the eighth Sikh guru, Sri Guru Har Krishan Sahib Ji. It was constructed on the site where Guru Sahib spent several months.
This period collided with the time when smallpox was prevalent worldwide, so as a solution, Guru Sahib dipped his feet into the water and poured Charan Amrit into a small tank. Anyone who drank water from the tank was cured of their smallpox sickness.
Because of this incident, even today, people come here to take a dip in the holy water here in the hope of curing themselves of any sickness.
Talking about the construction, it was built by the Sikh General, Sardar Bhagel Singh in 1783, during the reign of Mughal Emperor Shah Alam II.
Today, the Gurudwara complex has the main prayer hall, Sarovar Sahib (holy lake), higher secondary school, a hospital, a library, and Baba Baghel Singh Museum. The premises also include a 'Yatri Niwas' or House for tourists.
So, cover your heads, take off your shoes, wash your feet and visit the Gurudwara to directly connect with the divine power!
Where : Gurudwara Bangla Sahib - Hanuman Road Area, C.P.
Don't miss:Gurpurab Special: 10 Most Famous Gurudwaras In India
2. Gurudwara Sis Ganj Sahib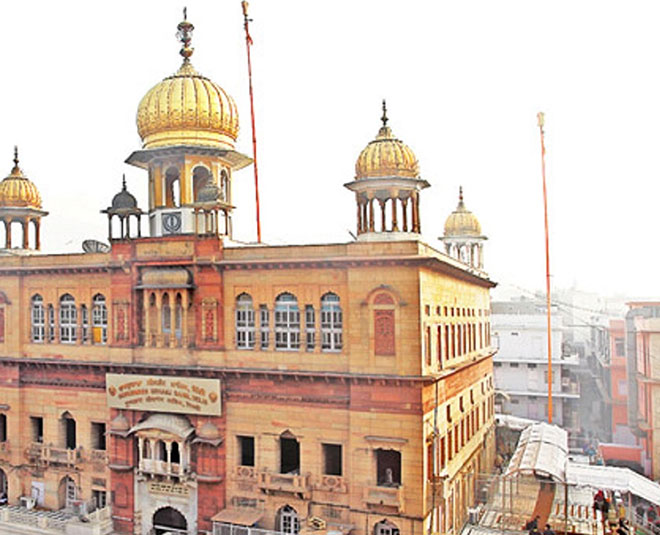 Image Courtesy: dsgmc.in
Situated in the Chandni Chowk area of Old Delhi, Gurudwara Sis Ganj Sahib is one of the most famous Gurudwaras in Delhi. It is also one of the nine historical Gurudwaras that were built by Military General Baghel Singh in 1783. This holy place marks the martyrdom site of the 9th Guru of the Sikhs, Sri Guru Tegh Bahadur Ji.
Guru Sahib was executed on this site on the orders of the Mughal Emperor Aurangzeb in November 1675 as he refused to convert his religion to Islam. He was beheaded here and therefore the term 'sis' literally translates to 'head'.
Before the body could be displayed for view for the devotees, it was stolen by Guru Sahib's disciple, Lakhi Shah Vanjara, who burnt his house down to cremate his Guru. At present, Gurudwara Rakab Ganj Sahib stands at that spot.
Visit this Gurudwara which stands as an example of the defence of the community as a whole and do take out the time to savour its massive 'langar' (in post-COVID times).
Where : Gurudwara Sis Ganj Sahib - Chandni Chowk Road, Maliwara, Chatta Pratap, Chandni Chowk
3. Gurudwara Nanak Piao Sahib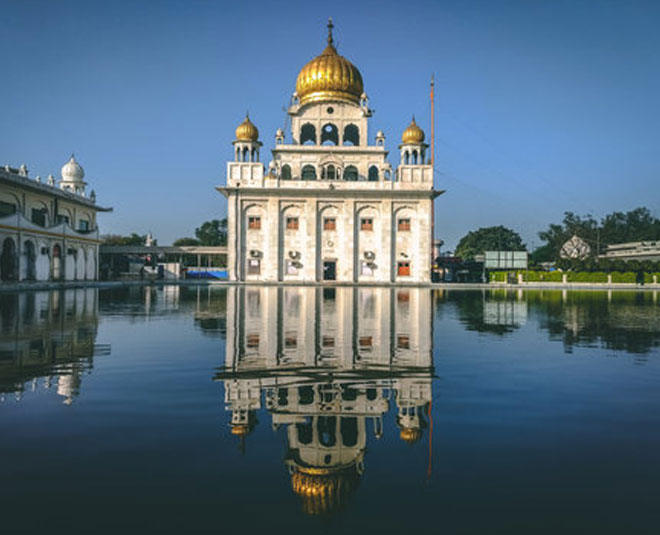 Image Courtesy: Adobe Stock
Gurudwara Nanak Piao Sahib is built on a site where Sri Guru Nanak Dev Ji camped in the year 1505 during Sultan Sikander Shah Lodhi's rule in Delhi. During Guru Sahib's stay, he started serving food and water to the tired travellers. He transformed a well in the midst of the garden into a Piao sahib where passersby would get water and food for free.
This holy place signifies one of the pillars of the teachings of Guru Sahib - Vand Chhako (share what you have and consume it together with the community). Guru Nanak Dev Ji's death anniversary is also observed at this Gurudwara.
Head over to this gurudwara to rejuvenate your soul, stay safe, and don't forget your scarves and masks!
Where: Gurudwara Nanak Piao Sahib - Grand Trunk Karnal Road, NH 1, New, Rana Pratap Bagh
Don't miss:Now Visit Gurudwara Darbar Sahib in Pakistan's Kartarpur Visa-Free!
4. Gurudwara Damdama Sahib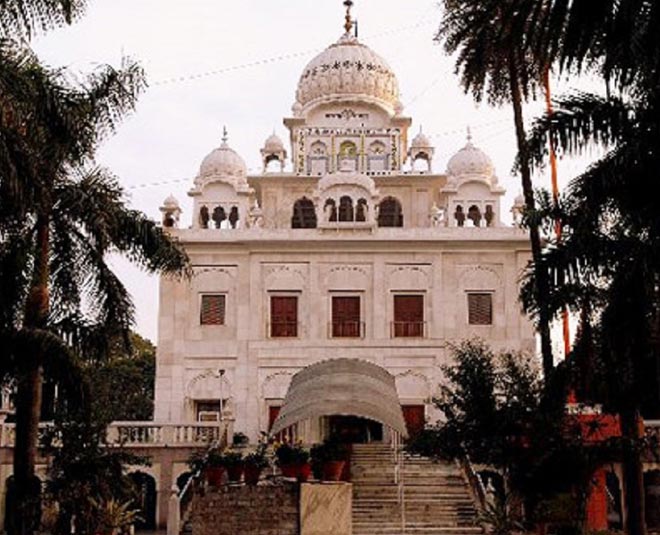 Image Courtesy: dsgmc.in
This Gurudwara is a hidden gem in the bustling city of Delhi. Situated near Humayun's Tomb, Gurudwara Damdama Sahib is devoted to the tenth Sikh guru, Sri Guru Gobind Singh Ji.
This holy place marks the meeting site of Guru Gobind Singh Ji with Bahadur Shah (son of Aurangzeb) in 1707. Not only did he treat Guru Sahib with utmost respect and regard, but Guru Sahib was also honoured by the Mughal army.
Earlier, the Gurudwara was built in 1783 by Sardar Baghel Singh and was later renovated under Maharaja Ranjit Singh's rule.
Throngs of devotees assemble here annually to celebrate Hola Mohalla. You need to visit too, It would surely become an experience that you will cherish for the rest of your life!
Where : Gurudwara Damdama Sahib - Bharat Scouts and Guides Marg, Nizamuddin, Nizamuddin East
Which of these gurudwaras are you going to visit next? Share your thoughts with us on our Facebook page. For more such stories, stay tuned to HerZindagi!