We often visit a different place for our holidays. Green hills, rivers, waterfalls, mountains, all these things make your mind calm and refresh. Enjoying the pleasant weather and clicking photos is also a lot of fun. Nowadays, most women share their vacation pictures on social media. Every woman wants to be the most beautiful in her pictures.
Also read: See Pics Alia Bhatt Shares Her African Safari Vlog Giving Us Major Travel Goals
To have the same, many women also use several filters. But there are some places in the world that are so beautiful that you don't need any kind of filters. These places are world-famous due to their beautiful landscapes. The pictures clicked here look the most beautiful even without any filters. So, let's know about 5 such amazing places.
'The Wave' in Arizona, USA
Dinosaurs roamed this place at one point in time. At this place, you will see stripes everywhere, as if nature has covered a sheet, in which there are shades of everything from thick to light colours. Photos were taken at this place also look quite beautiful. But it is not easy to reach this place as only 20 people are allowed to roam around at a point of time.
Mount Fuji Of Japan
Mount Fuji is one of the three sacred mountains in Japan. It is the highest mountain in Japan. The beauty of this place isn't worth missing when the cherry blossom trees are laden with flowers. The view on this mountain can also be seen from the popular amusement park named Tocto and Fuji-Q Highland.
Natural Spring Of Peru
If you are a fan of nature then you must visit Peru. There are about 20 natural waterfalls in Milipu Lagoon, where the water is of turquoise colour. This place is located in the Ayacucho region of Peru. It takes about 4 hours to reach this place in the city. After coming here, you can enjoy the wonderful ambience here while taking beautiful pictures.
Watch Amazing Dragons In Wat Samphran, Thailand
Though Buddhist shrines and temples are found in many countries of the world, Wat Samphran temple of the temple of Thailand is very unique in itself. The 17-floor pink building looks as if it has been wrapped by a green dragon. It is said that the design of this temple came to its founder when he was fasting and meditating for 7 days. It is built 80 meters high in honour of Lord Buddha's life on earth. If you ever go to this place, then you should definitely reach the head of the dragon. If you wish, you can touch the dragon's head from the ceiling.
Also read: Try These Top Hacks To Save Money At The Airport Next Time You Travel
Chand Bawadi Of Jaipur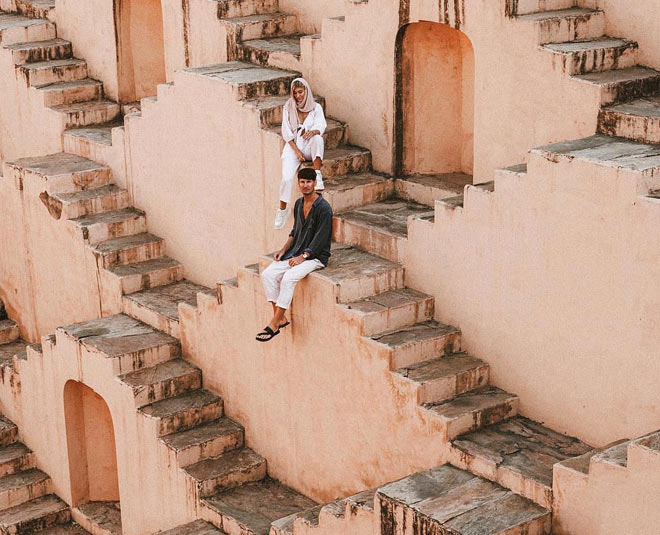 If you are fond of art and culture, then you must visit this beautiful destination of Jaipur located near Delhi. It is really exciting to see the step like the texture of the place. There is a special kind of thrill in climbing up and down the stairs which you will hardly feel anywhere else. It is located near the Bawdi temple. This place has 3500 steps and 13 floors. Its depth is about 100 feet.